Enchiladas With a Side of Blogger Education at Type-A Parent West
What do blue corn enchiladas, agave wine margaritas and PowerPoint presentations have in common? Well, to be fair, not a whole lot, unless you're in Santa Fe, NM, with a group of bloggers enjoying some delectable southwestern foods while soaking up knowledge about blogging, social media and influencer marketing.
The #FlipBlogger team joined Type-A Parent attendees last week at the beautiful El Dorado Hotel and Spa for three days of intensive learning and networking. We welcomed bloggers into the Flipboard suite where we showed off how bloggers can easily incorporate Flipboard into their content creation and promotion process. We might have also wooed them with some tasty snacks. It's not impossible that the guacamole, along with our smiles and the promise of the knowledge we had to impart, is why the suite was such a popular spot!
In between countless demos, we sat bloggers down in some red director's chairs (stand-ins for our usual "red couch") for some quick interviews during which we explored our fellow attendees' passions and asked them to share a little advice with others. It's always a treat to get to know the bloggers behind the blogs!
Take a peek at some of the knowledge shared, fun had and more in the magazine we created just for this event.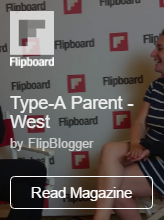 You can watch all of the interviews we conducted, see some of the Tweet highlights and vicariously experience a taste of the Southwest through the collected photos. As a bonus, we're sharing the profiles of Type-A West attendees as well as any post that is written about the event. It's like being there in person—minus the altitude.
Bummed you couldn't hang out with us at Type-A Parent West? The #FlipBlogger team will be at Blogalicious in November! We hope to see you in Atlanta, GA, and of course let us know if you plan to attend.
Wish you could have gotten an in-person demo? Check out the #FlipBlogger recorded Webinar and tweet any questions you might have to @flipboard with the #FlipBlogger hashtag.
~JessicaR is curating Blog Tips for Bloggers on the @FlipBlogger profile