<![CDATA[
I am a mobile video junkie. It's highly likely that you are too. From YouTube to Facebook to Instagram to Snapchat, we spend an ever increasing amount of time watching video on our phones. Friends are posting clips from the concert they just saw. News outlets are posting video recaps of the day's news. And everybody is STILL sharing any and all cat videos—who would have guessed felines would still rule the internet? This shift in consumer behavior to high consumption of video is an exciting opportunity for brands, and many are rapidly changing their advertising strategy because of it. It's easy to see why: video is an effective way for brands to entertain people while still informing them about products. And consumers welcome it: based on a survey last year from cloud-based video creation service Animoto, 63 percent of consumers say companies that use video know how to reach their customers. But advertisers have to be smart about the type of video content they promote. We're not going to watch any video for the sake of watching video. We, consumers, still require something engaging. That's why I'm loving the Promoted Video Ads with Cinema Loop on Flipboard this month. Every brand is running a unique and captivating campaign, powered by video. Here are just a few of the ads that show both the wide range of advertisers and their distinct motivations for using Flipboard to distribute their message.
AMC's Night Manager AMC.Tom Hiddleston. Hugh Laurie. What's not to love? This new 6-part miniseries is an espionage drama that's been getting both great reviews from critics and great video ad performance from Flipboard. The suspenseful cinema loop crams so much intrigue into four seconds—speedboats, tense handshakes and luxury resorts, oh my! You just can't help yourself but tap on it to see more.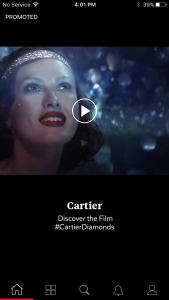 Cartier Diamant Cartier quickly immerses us into the world of glamour and luxury with their promoted video. She's elegant, stunning and covered in diamonds. You get to follow her into a decadent dreamscape. It truly doesn't get classier than Cartier.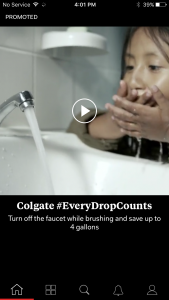 Colgate's Every Drop Counts Admit it, you've left the faucet on while brushing your teeth. At least once. Colgate directly addresses this and the grave impact it has on the world. Their cinema loop calls out the four gallons potentially wasted by leaving the water running, and the full-length video drives home the message further by showing what that wasted water could have been used for instead of going down the drain. It's moving, effective and vital. We're proud Colgate chose Flipboard as a platform on which to share this socially conscious message. The variety and quality of the current Promoted Video ads on Flipboard have definitely impressed this mobile video junkie. Sorry, cats. ~JessicaR reads 10 For Today in Black America