Flipboard's Promoted Roundup Goes Live: Sony First to Share Their Stories with Newest Ad Unit
Notice
: Trying to get property of non-object in
/usr/share/nginx/www/wp-content/themes/flipboard/includes/helper-functions.php
on line
508
/ December 9, 2016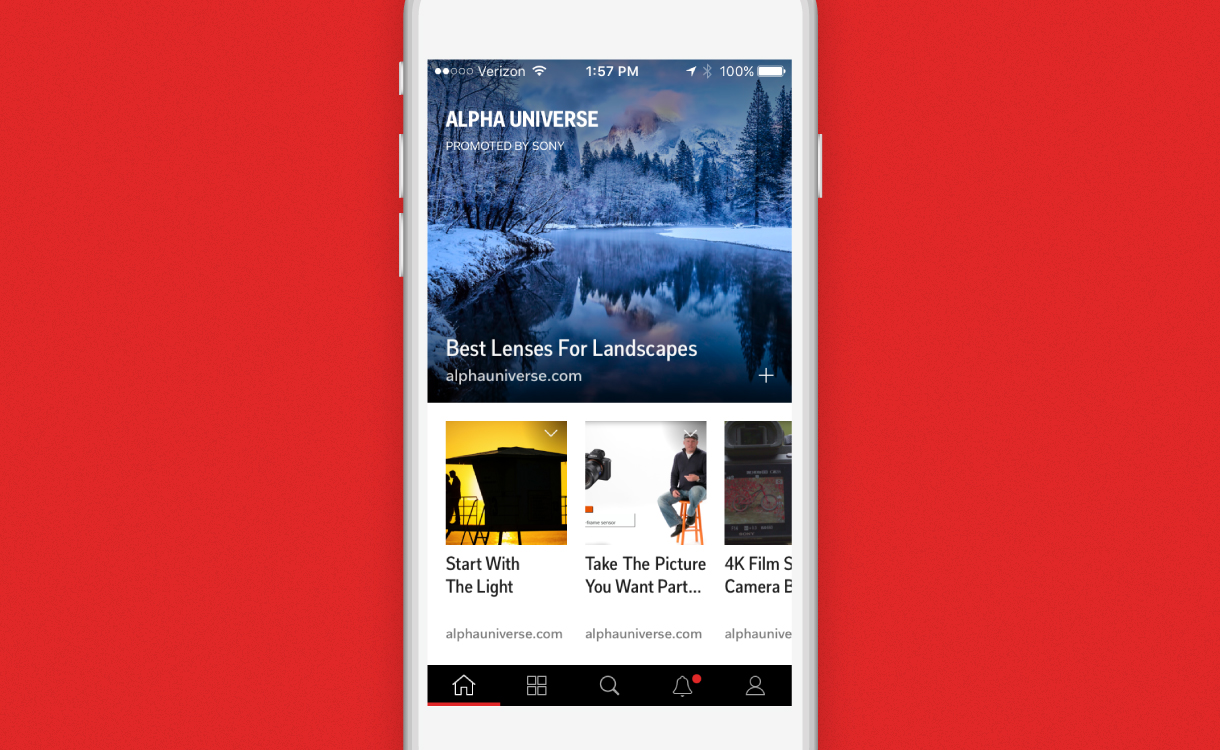 Today, Flipboard launches a new native ad product named Promoted Roundup that allows brands to tell stories, share content or create mini product catalogs. Originally created as an editorial tool to package related stories together, now brands can adopt the Roundup layout as a native ad unit, too. The first brand to take advantage of the opportunity is Sony Electronics' Digital Imaging group. They will be using the Promoted Roundup to share a variety of informative and visually appealing content pieces as part of their Alpha Universe campaign.
A Promoted Roundup consists of one "hero" unit—which can be a story, video or image—with up to eight thumbnails along the bottom creating a carousel that users can swipe through. The thumbnails can be images, stories or products with shopping links. Sony's Promoted Roundup incorporates stories from Alpha Universe about photography inspiration, gear advice, lighting techniques and more, making for a truly native experience.
Alpha Universe is a custom site created by Sony. The site is designed to educate, inspire and empower people throughout the photography community, while serving as a hub for both current and prospective customers. Sony also curates a magazine on Flipboard with stories from Alpha Universe, which has over 60,000 viewers. The goal of this content marketing initiative is to generate even greater visibility for the popular site and its great content.
Flipboard is a platform that helps foster growth among Sony's target audience, as our Interest Graph informs the reach of the Promoted Roundups. Flipboard's Interest Graph uses, uses our first party data to match relevant ads with people based on their passions and interests.
While native ads have been popular with direct response ad buyers as well as brand advertisers who publish original content, the introduction of Promoted Roundup lets brands expand their native advertising on mobile. Sony's excellent stories add quality content to our platform and reach an audience that's already interested in the photography.
Promoted Roundup is the fifth new ad experience added to the Flipboard platform this year and completes our suite of mobile native ad experiences. Earlier this year we launched Promoted Collection, Cinema Loop with Vertical Video, Storyboard and most recently Promoted Gallery. The latter allows brands to tell a story purely with images, including Instagrams, which is particularly useful for brands with content that's visual in nature such as product catalogs and travel destinations. Sephora is the first brand to embrace this new visual ad format.
~AmitaP is reading Alpha Universe