<![CDATA[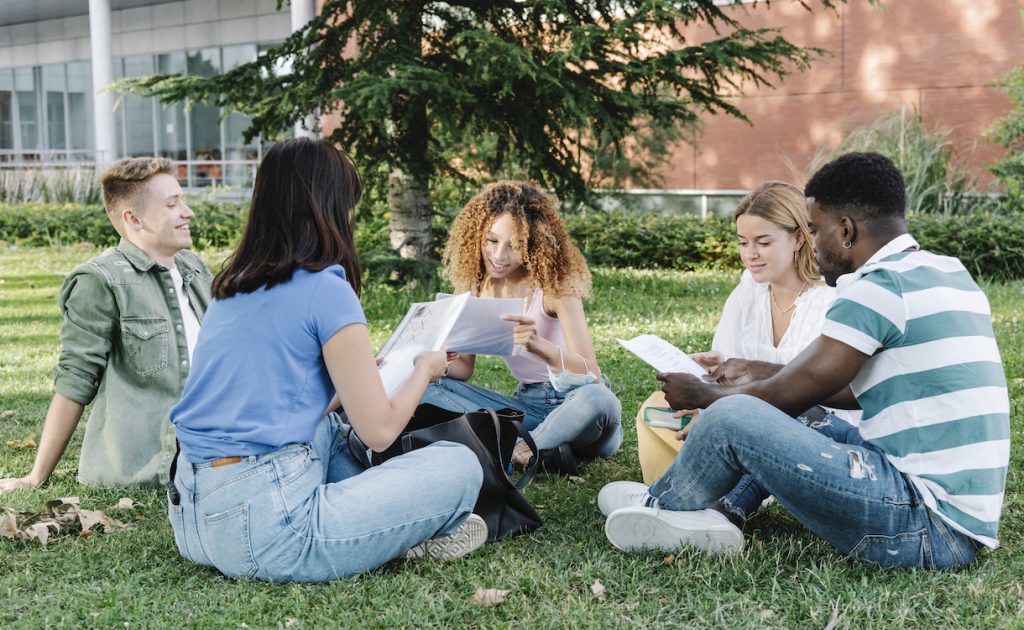 College enrollment has declined across the country. The National Student Clearinghouse Research Center found that it dropped by almost 5 percent in 2021, most likely due to cultural and behavioral shifts as a result of the pandemic. 
At the same time, recent content trends on Flipboard suggest our audience is becoming more interested in higher education. This year alone we've seen a significant increase in the amount of higher education content people engage with on our platform, with a notable 148% increase in the topic #College & University and a 96% increase in the topics #Bachelor's Degree and Graduate School.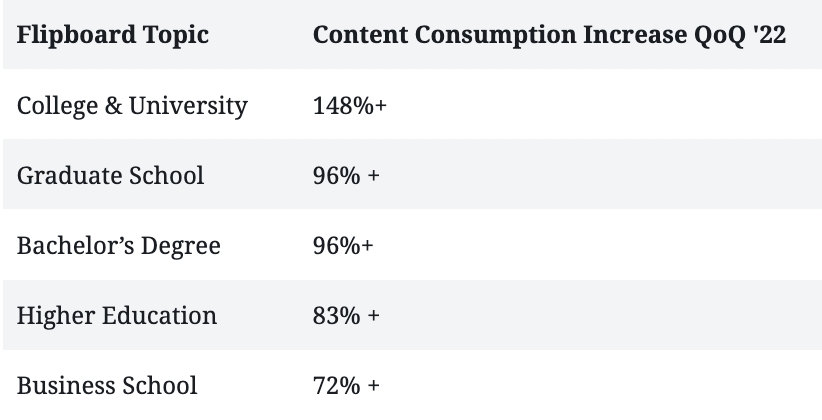 Educators throughout the world use Flipboard as a tool to bolster student collaboration, creativity, and critical thinking. They curate magazines to share recommended reading with students and spark conversation in the classroom. Teachers know that Flipboard's visual, user-friendly environment invites students to learn and engage with reliable information.
Universities and colleges are welcome to share articles and other information their faculty and staff generate. An example from Stanford Graduate School of Business shows it's a great way to increase the reach of their stories and connect with people who use our platform to discover more about higher learning opportunities.
Promoted Content
Schools with strategic marketing programs aimed at growing enrollments or driving traffic to their websites can also choose to promote content on Flipboard. Promoted content allows marketers to define specific audiences to connect with and measure conversions. Some examples of promoted content that can be used on Flipboard include:
Short-form video showcasing virtual campus tour
Blog posts featuring student wins and alumni endorsements
White papers highlighting university research and thought leadership
Two Key Audiences For Higher Education
As we dive deeper into the Flipboard audiences interested in education-related topics, two key demographics stand out: our core audience defined as "influential achievers" and active parents. Many schools already create content with these audiences in mind and Flipboard becomes a great way to help reach them.
Influential achievers are curious about the world, strive to achieve more, and are eager to learn new skills and information. 76 percent value being successful and 65 percent prioritize developing new skills throughout life, something often obtained through graduate and master's programs.
Parents make up 72 percent of Flipboard's total audience and almost half of them have children at ages within the college prep years (ages 12-18). Research from the Education Advisory Board shows that parents deeply influence the college search process and play a large role in determining a student's final choice. From topics such as #Higher Education to #College & University, #Learning, and #Scholarships, parents on Flipboard are actively engaging with education-related content on a consistent basis.
Effective marketing strategies start with understanding your audience. Programs are successful at generating meaningful results when they're focused on driving value, not volume. From curating magazines that highlight university research to amplifying faculty publications and reputation-building marketing pieces, higher education institutions on Flipboard are able to communicate their unique value and connect authentically with receptive audiences.
—Anya Cekauskas, product marketing manager, is following Zen of Productivity.