Flipboard EDU Podcast Episode 7: The Flipboard EDU Community
Stacie Boudrie, Dr. Micheal Milstead, and William Jeffery / June 5, 2020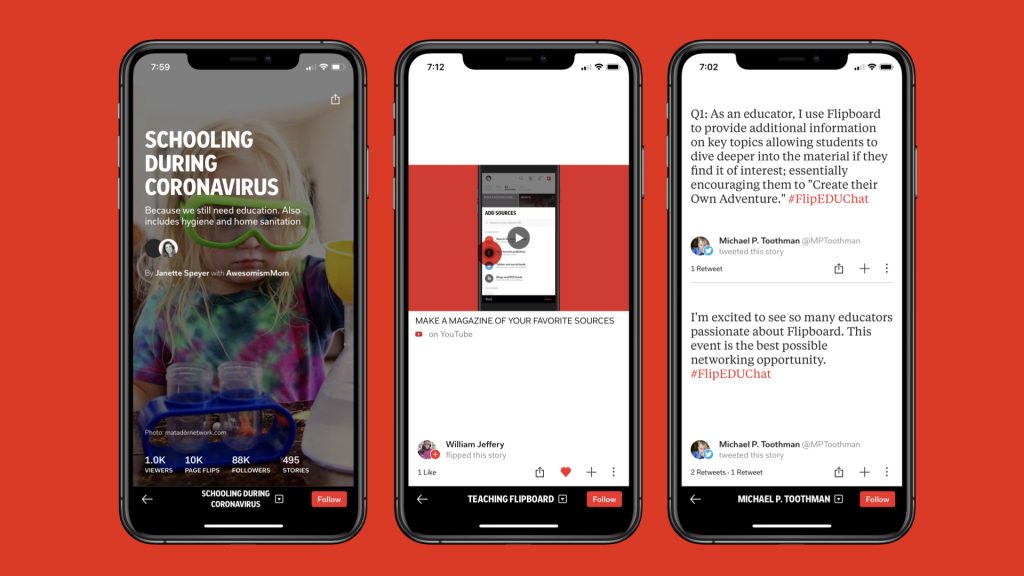 In this episode, we have three amazing guests who are the backbone of the Flipboard EDU community: Janette Speyer and Terry Porter chat with Michael Toothman about the many creative ways to use Flipboard. In case you don't know, Janette is a marketing executive/partner at Hot Ice Media, and Terry Porter is a former systems administrator passionate about educating others on Flipboard's versatility. While these women are not teachers by trade, they've been working with University of California-Riverside professor Michael Toothman on Flipboard's ability to engage his college students.

Janette and Terry are also the organizers of a new weekly Twitter chat for educators: #FlipEduChat happens on Wednesdays at 2pm PT/5pm ET. In fact, these online events have been instrumental in my own journey with Flipboard. The weekly chats have increased my knowledge of the platform and boosted my curation skills.

Michael is internationally known for teaching excellence in business and project management. We talk with him about how he uses Flipboard in his college classroom to engage students and differentiate his own instruction. For Michael, Flipboard functions as an engaging teaching assistant that helps him collect extension activities, lecture notes, videos, presentations and more, all of which helps to pique the interest of his students and enhance learning outside of the classroom. We wanted to highlight the community because the support and collaboration it provides makes Flipboard even more special.

— Stacie Boudrie, Dr. Michael Milstead, and William Jeffery

Stacie Boudrie has been in education for 20 years and is currently the coordinator of instructional technology at Wharton ISD, Texas. She develops instructional technology programs to effectively support students and staff with their 1:1 initiative. She began her career as an elementary teacher teaching all subjects and supporting a variety of learners, including ESL and gifted students.
Dr. Michael Milstead is an award-winning educator with three decades of experience as a public school administrator. He has served as a building principal at both elementary and secondary level schools. In 2019, Dr. Milstead was inducted into the Texas Southern University College of Education Hall of Fame.
"Coach Jeffery" is an award-winning digital learning educator and assistant principal at Columbia High School in Texas. His tech pedagogy continues to drive him to curate educational content on Flipboard that highlights teaching strategies, edtech, and ways to improve student success. He started co-hosting the "Flipboard EDU Podcast" as yet another way to share resources with his peers.