5 Things to Read If You Love Music Festivals
Inside Flipboard / July 29, 2016
It's that time of year again–Lollapalooza, one of America's oldest music festivals, is back and bigger than ever. Right now and throughout the weekend, Chicago's Grant Park will be a massive celebration of music—from alternative rock and pop to EDM and hip-hop—headlined by Radiohead, Red Hot Chili Peppers, LCD Soundsystem and Lana Del Rey. This year marks the music festival's 25th birthday, and to celebrate the milestone, they've extended the standard three-day event with an extra day of booming jams and vibrant crowds. That's four days, eight stages, and over 170 performers, not to mention Chow Town, Art Market and Kidzapalooza for the little ones.
Here are five essential reads for Lollapalooza lovers and festival fanatics:
Lollapalooza: Think of this Flipboard Magazine as Lollapalooza 101. Detailed lineups and schedules help attendees plan out the what, when and where of their agendas, while style guides, lists of Chow Town vendors, and rundowns of the top afterparties will help make the experience easy and painless. And to further amp things up, a playlist of songs by big names and emerging artists from the festival's lineup are included to get you rockin'.
Fest300: Fest300 is dedicated to curating the world's top 300 music and cultural festivals for the curious, collective-loving vagabond. From the legendary and popular to the strange and ritualistic, the digital publication has 19 Flipboard Magazines featuring updates, lineups, opinions and views inside the best parades, parties and celebrations across the globe. Whether you want to browse festivals by location, learn tips to enhance the festival experience, or get the lowdown on how to stay out of trouble at your favorite event, Fest300 has got you covered.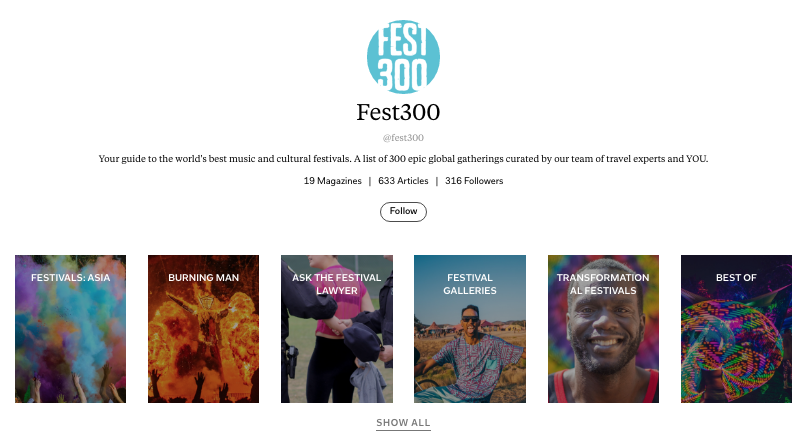 Live Music Discovery by Monty Arnold: For concert junkies and those who delight in live performances, this Flipboard Magazine features headlines, videos and galleries of the latest music shows, tours and festivals. From Bruce Springsteen's upcoming tour and Jaden Smith's recent duet with Justin Bieber duet to Josh Groban's broadway debut and guides to Lollapalooza and Panorama, keep up with what's happening on stage.
Music Festival topic: From big mainstream events to niche festivals you've probably never heard of, this comprehensive topic is a wide scope roundup of the latest news, announcements, guides and galleries of music festivals big and small, across all genres. Check out what's new in EDM, hip hop, folk and more.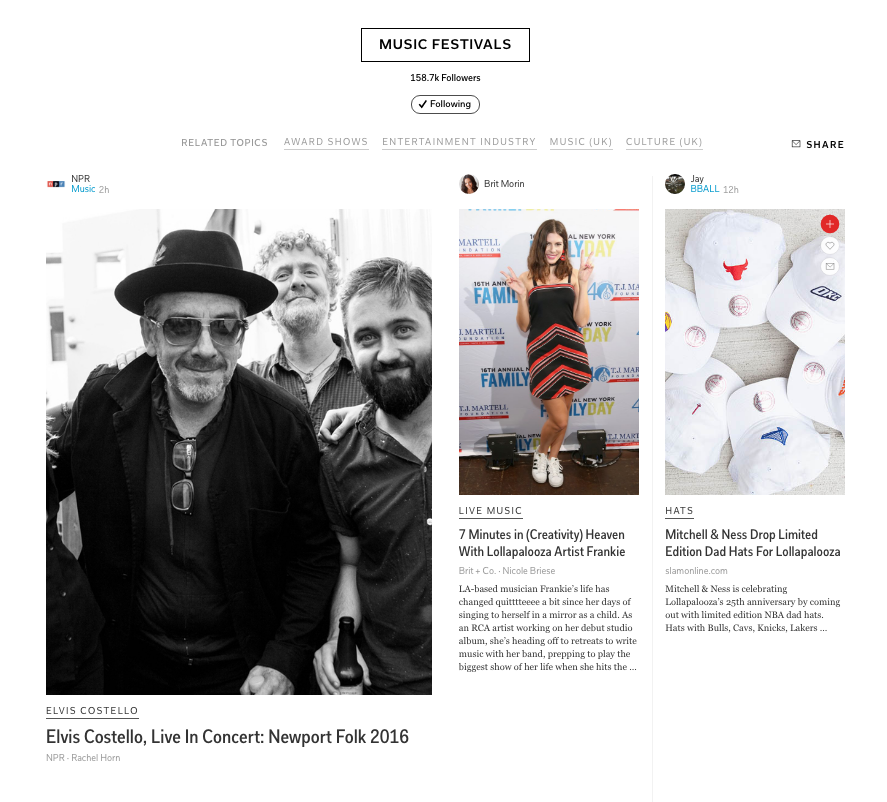 Festivals & Music by Caroline Jackson: Fun and tunes aside, music festivals can reflect important issues happening around us. This Flipboard Magazine does just that, taking a deeper approach by highlighting articles about the realities, confessions and studies of popular festivals. But it's not all heavy. Guides, news, industry insights and artist and event reviews make it a well-rounded addition to your reading list.
Now, don't forget a cool pair of shades, a statement-making choker, and of course your festival spirit.
~AngelaH is curating Jaw Dropping