54 New Titles That You Must Read on Flipboard
Mia Quagliarello / August 1, 2017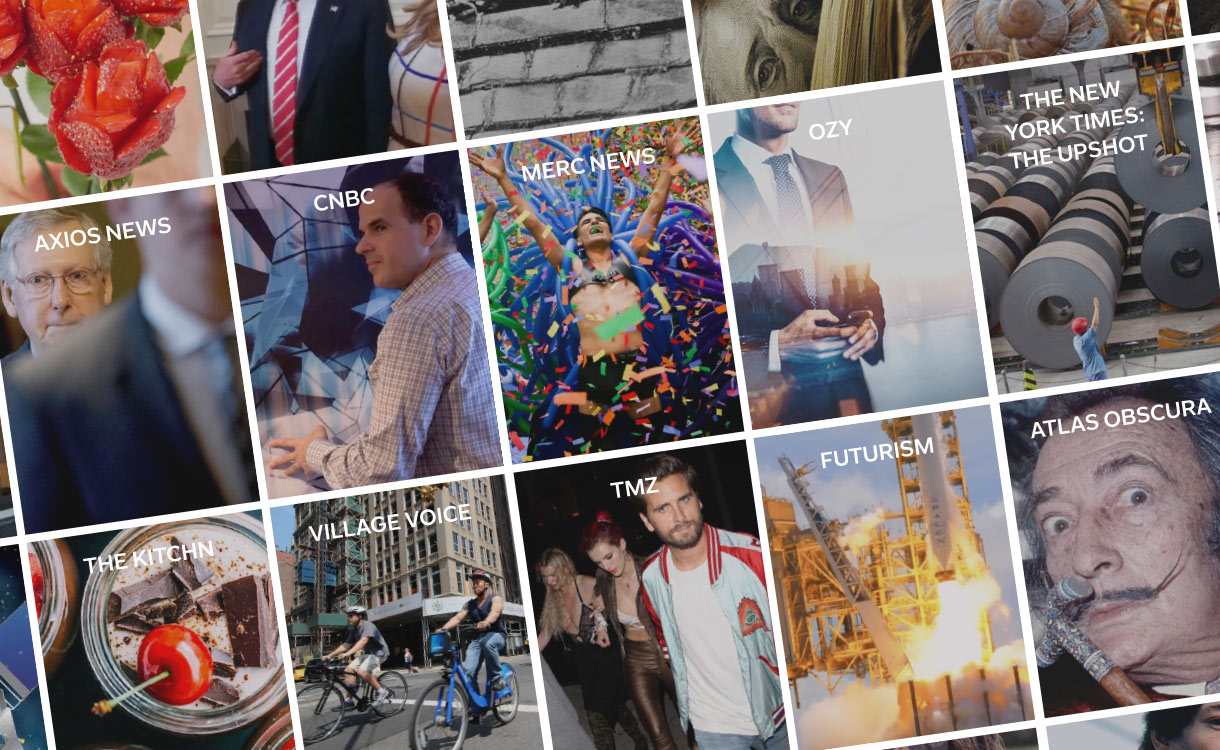 As the single place for news for every passion, we're proud to be partnered with some of the best content creators on the planet. No matter which Smart Magazine you follow, Flipboard surfaces quality stories from experts who bring authority and enthusiasm for whatever they're covering. Here's a list of some of the titles that have joined us so far in 2017. Check 'em out if you haven't already, because there's so much goodness here…
ABC News: On the air since 1948, ABC News covers international and national breaking news—and brings that broadcasting expertise to Flipboard with a video-heavy presence. Flagship programs include ABC World News Tonight, Good Morning America, Nightline and 20/20.

A Plus: A Plus broadcasts positive journalism from every corner of the globe. In just three years, the site grown to reach over 80 million monthly viewers. Founded in 2014 by Ashton Kutcher, also a Flipboard investor.
Atlas Obscura: "The definitive guide to the world's hidden wonders," Atlas Obscura explores places that are off the beaten path as well as other unusual and fun curiosities (such as the hidden rules of the puritan fashion police).
Axios: Axios serves up data-driven content that offers quick takes and reactions from the biggest political, media and tech stories. It was founded by several former Politico staffers: Jim Vandehei, Mike Allen, and Roy Schwartz. "All of us left cool, safe jobs to start a new company with this shared belief: Media is broken — and too often a scam," they write on their site.
Buffer: Buffer's vision is "to build the simplest and most powerful social media tool, and to set the bar for great customer support." Sure, but if you've ever read their blog, you know that they also dispense valuable advice about social media management and growth.
Byrdie Beauty UK: Byrdie delivers beauty tips and tricks to its readers, as well as product reviews and articles covering various pop culture themes. This is its U.K. edition; the U.S. edition is on Flipboard, as well!
Cheddar TV: Cheddar is a live news network targeted to millennials. Founded by Jon Steinberg, former president of Buzzfeed and CEO of the Daily Mail, Cheddar broadcasts daily from places like the New York Stock Exchange, the White House briefing room, and the Flatiron building.
CNBC: With CNBC, you can watch your business news on Flipboard. The video-centric feed focuses on stock market updates, financial reports, and earnings data. In addition, parent company NBC occasionally delegates sports coverage to CNBC. (This led to curling acquiring a cult following on Wall Street during the 2014 Winter Olympics.)
Decider: Decider helps readers navigate the dizzying options on platforms like Netflix, Hulu, and Amazon Prime. In addition to reviews, the site has watchlists and articles about the latest in entertainment.
Digg: Digg is a survivor. The site, founded in 2004, lives on as a news aggregator with a curated front page. In its Flipboard Magazine, you'll find some of the most talked about stories on the internet right now.
DW News: Germany's public international broadcaster Deutsche Welle first hit the air in 1953; now it's available in 30 languages and reaches 100 million people around the world every week. This is its English-language feed.
Elite Daily: Elite Daily, "the voice of Generation Y," is a millennial-focused site that covers topics ranging from politics and health to dating and celebrities.
Expert Reviews: From the newest version of Mario Kart to the latest and greatest in the world of washing machines, Expert Reviews offers verdicts on newly released tech machines and gadgets.
Extra Crispy: Dedicated to discussing morning culture, with a specific focus on breakfast and brunch. The site is also home to the most enviable job in food media, if not the world—the bacon critic.
Fatherly: From the best beach games to play with your littles to toy ideas to turn your backyard into an obstacle course, Fatherly is a lifestyle guide for men entering parenthood.
France24: France24 is a 24/7 news network based in Paris, serving France and the French diaspora—it can be seen in 177 countries and three languages: French, English and Arabic. (This edition is in English.)
Futurism: Through science news, videos and infographics, Futurism hopes to inspire the next generation of scientific minds and innovators.
Glixel: Glixel founder Gus Wenner has said: "Gaming is today what rock 'n' roll was when Rolling Stone was founded." And he should know: Gus is the son of RS founder Jann Wenner. Tap here for video game culture and news.
GoldDerby: Acting as a virtual awards show 'racetrack,' Gold Derby allows experts and ingenues alike to guess the big winners at The Emmys, Oscars, Grammys, and other celebrity-honoring ceremonies. On Flipboard, they've got film, TV and music mags.
He Spoke Style: You won't find hoodies and flip-flops here. He Spoke Style is a fashion manual for the modern man, with tips on how to dress like an Italian, what the Duke of Windsor can teach you about style, and rules for wearing a T-shirt with a blazer.
Hypebae: The sister publication to Hypebeast, Hypebae showcases female leaders in fashion and culture. Cool women, read up!
Indiewire: Since its launch over 20 years ago, Indiewire has remained at the forefront of news for everything in the film industry, from small independent films to big box office hits. The site's dedication to covering a variety of f film-related topics was noticed and celebrated when it won two webby awards for best film website.
Investing.com: Investing covers global financial markets through up-to-date data, charts, financial analysis, and breaking news. Though their website is available in 18 languages, this Flipboard Magazine is only in English.
Ladders: Used by over 9 million professionals, Ladders aims to bring employers and job seekers together to fill $100,000+ openings. Readers can learn how to improve their resumes as well as get other advice on being a powerhouse in the workplace.
Laptop Mag: For latest in the world of personal computers, the Laptop team has you covered. Comparisons include longest battery life, top 4K laptops, and best cheap external drives.
Lifewire: "Get the most out of technology to get the most out of your life"—Lifewire offers how-tos, shopping guides, reviews, and tech support for connected people.
Live Science: Explore the inner workings of both the natural and manmade world with Live Science, for "the science geek in everyone."
Moneyish: From mancations to costly mistakes when buying a car, Moneyish is all about—yep—those dollar bills: spending them, keeping them, and understanding the world through "cash-colored glasses."
MSNBC: The news network MSNBC has a history of left-leaning commentators like Keith Olbermann, Chris Matthews and Rachel Maddow. They've re-oriented around hard news programming during the day, while their evening programs are primarily left-leaning.
Obsessee: The social-only property Obsessee targets young women through coverage of fashion, beauty, art, and makeup. It's the "little sister" publication to WhoWhatWear, MyDomaine and Byrdie.
One Green Planet: If we must consume, One Green Planet wants our behavior to have minimal environmental impact. Flip for a guide to making conscious choices.
Ozy: Founded by former MSNBC news anchor Carlos Watson, Ozy is an online news outlet that looks ahead, predicting the next trends in news, business, sports, politics and culture. Bill Gates and Condoleezza Rice have been contributors.
Page Six: The celebrity gossip column Page Six is an institution from the New York Post and a must-read for fame watchers. (Contrary to what you might think, it is not published on page six of the paper.) On Flipboard, you can get all the juicy tidbits in one attractive magazine.
RFI English: English-speaking Francophiles can congregate here, at Radio France Internationale's feed world news, features and sport broadcast from the French capital.
Spoon University: Written by students for students, Spoon U coaches coming-of-age cooks to feel confident in the kitchen. "On a mission to make food make sense" is the motto of this 'university,' which also organizes content by campus.
SPY: Described as "your daily dossier into everyday luxuries, undiscovered gems and the people and products making news around the world," SPY hunts down the latest and greatest products, events and experiences so you can be first in the know.
Tom's Guide: Tom's Guide offers reviews, pricing guides, and tips for technology, including support when problems arise. The TG team says it spends over 4,000 hours per year researching products so that its writeups are as thorough as possible.
10Best: 10 is (roughly) the magic number as the editorial team at USA Today lists the top things in travel and lifestyle. On Flipboard, they have 26 magazines, organized by continent and type of travel.
Tech Republic: Tech Republic is a resource for IT professionals, with articles on how to make the most out of all manner of computers, devices and cloud services.
The Cannifornian: Buoyed by the legalization of marijuana in California, The Cannifornian shares new discoveries regarding the science of cannabis, as well as how to best utilize the plant, reviews of different strains, and recipes.
The Kitchn: Part of the Apartment Therapy suite of sites, The Kitchn is about "food, cooked at home, nourishing ourselves and our households." That includes recipes, design ideas, product reviews, and renovation advice.
The Manual: The Manual wants to help men achieve more engaged lives through coverage of culture, fashion, travel, food and lifestyle. Editor-in-Chief Cator Sparks resides between Charleston, South Carolina, and New York City.
The Mercury News: Known as "The Merc," San Jose's The Mercury News covers lifestyle, sports, entertainment, and news specific to the Bay Area. Fun fact about the paper's name: apparently it refers to the importance of the mercury industry during the California Gold Rush.
The Motley Fool: Named after Shakespeare's As You Like It play, The Motley Fool helps its readers make smart investments through various stock, finance, and investment tools and advice.
The Nest: From the creators of wedding website The Knot and baby destination The Bump, The Nest services another milestone: setting up house. Browse for interior design inspo as well as tips for entertaining and maintaining healthy relationships.
The Plus Paper: The Plus Paper is a hub for global creatives and their ideas. Though their Flipboard presence is in English, The Plus Paper also publishes in Chinese.
TMZ: Launched in 2005, TMZ became a staple for celebrity watchers after breaking two big stories: Mel Gibson's DUI arrest and subsequent encounter with law enforcement, and Michael Richards' ill-fated trip to the Laugh Factory. Flip here to see which stars are making waves today; sister site Too Fab has more.
TV Guide: TV Guide's inaugural issue was published in 1953, when the TV landscape was so totally different (just a few channels!) than it is today. In 2017, the mag is keeping up just fine, guiding readers through infinitely more entertainment options for their precious screen time.
Upshot: With three graphic journalists on staff, Upshot is The New York Times' data-driven answer to re-thinking how journalists tell stories and impart information. (It also serves as a replacement for Nate Silver's FiveThirtyEight blog, which started at the Times.)
U.S. News & World Report: U.S. News and World Report is home to numerous rankings, including best colleges, best graduate schools and best hospitals. They've also got much car coverage on Flipboard.
Village Voice: Founded as the first "alternative newsweekly" in the country in 1955 and covering NYC's vibrant creative side, the Voice has published work from many well-known writers and underground cartoonists over the years, including Ezra Pound, Henry Miller, Colson Whitehead, Lester Bangs, R. Crumb, Matt Groening and Lynda Barry.
VinePair: Enter the world of wine, beer and mixology. VinePair educates imbibers about what booze to buy, what cocktails to make, and how to properly enjoy a drink.
Sweet: Sweet, from Hearst, covers the hippest trends in fashion, beauty, and culture. A goal is to introduce readers to something new to enjoy every day.
Who What Wear UK: Joining its U.S. edition which is already on Flipboard, Who What Wear UK reports on fashion trends, updates in the fashion world, and provides outfit inspiration for a variety of situations.
~Mia Q and Sabrina Hall both love music