#FlipboardChat Summary: Using Flipboard to Create Digital Brochures
Jenn de la Vega / May 26, 2015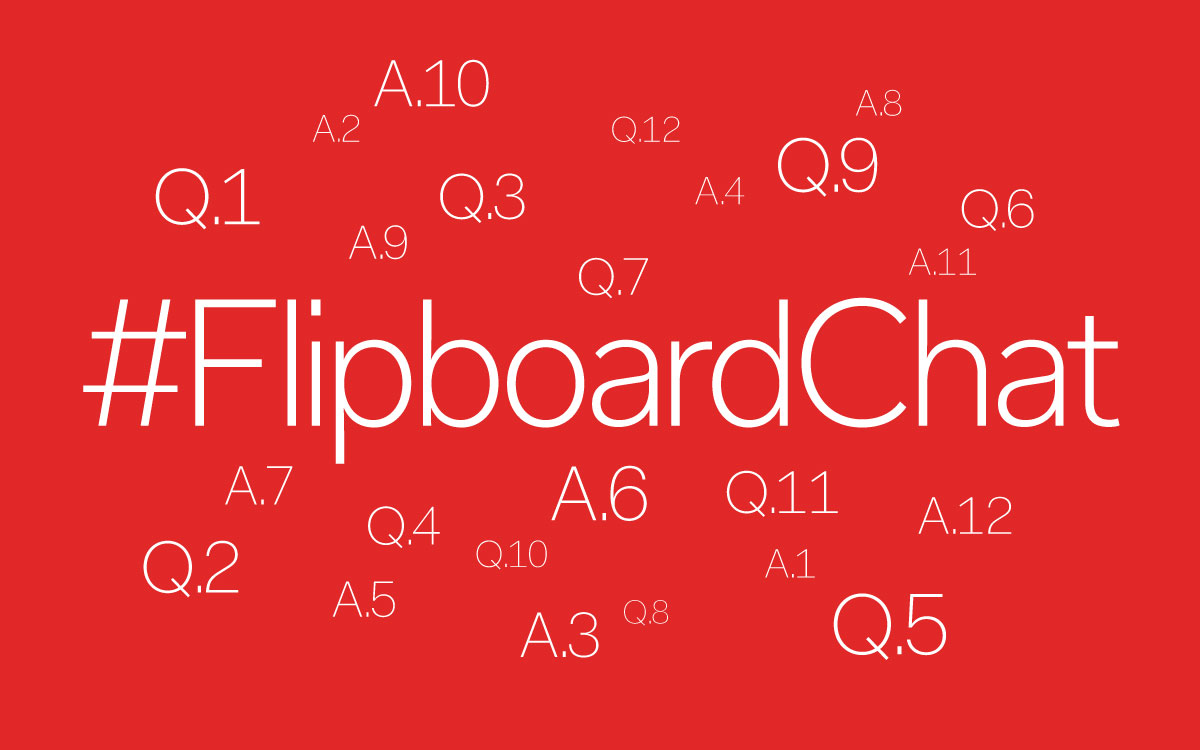 Every Wednesday evening, members of the Flipboard Club—an unofficial group of passionate evangelists—hold a Twitter chat about a Flipboard-centric topic. We share the tips and ideas discussed there each week and let you know what the next topic is going to be. Tomorrow's topic is an open mic night to answer any questions you have about Flipboard. Join in the chat at 7pm PT / 10pm ET via the #FlipboardChat hashtag on Twitter. If the time zone doesn't work for you, join their Facebook group to stay in the loop.
 Last week, participants chatted about using Flipboard to create digital brochures. Here's what they said:
 What is a digital brochure and how do businesses and institutions use them?
A digital brochure is informs people about a brand, an introduction to say, "We're cool. This is why. Join us!" online.
It's a calling card to showcase your products and services.
A digital brochure might want to sell something at the end of the day or inspire a behavior.
It can be magazine with any personal or brand media mentions/quotes/appearances.
A digital brochure is a little booklet that doesn't need to be printed.
 What are the pros and cons of using Flipboard to create digital brochures?
Pros:
Flipboard is optimized for all devices and the Web.
A digital brochure on Flipboard is visual, easily updateable on the fly, readily available, and doesn't kill trees.
Easy to share and easy to collaborate.
You can curate from branded social channels and monitor readership with analytics.
A Flipboard mag is easy to show off on an iPad. Trade shows, hiring fairs.  Makes starting conversations a breeze.
Can include all kinds of content, and allows for reader interaction through comment section.
It's free to create and you don't need to keep reordering from the printer.
 Cons:
Limited layout options.
Mags that aren't not focused enough or have too much content.
People unsubscribe static content, mags need sustainment.
Still need to proceed with the sales process via other methods. No face to face interaction.
 What steps should a new Flipboard user take to create a digital brochure?
Ask yourself: What story do you want to tell?  The content will reflect the organization.  What are you proud of, best at?
A new user should have an idea before they start flipping like crazy. Think about what you want to do. What is your goal?
Start by organizing your original content before creating a mag. Choose your social channels before flipping.
Once you have an idea, subscribe to appropriate Twitter lists and accounts on all platforms through Flipboard.
 What type of content would make you follow a Flipboard brochure?
 I think the criterion would be the same as for any mag: something that interests me done well.
Eye catching cover, compelling text, great visuals, thoughtful presentation. A story I would like to return to. 
What is your best tip for using Flipboard to create a portfolio of digital brochures?
Great thing about Flipboard: you can have a portfolio to begin with, and also a meta-mag into which you flip them all.
It's like a fashion show – each piece should stand on its own but, together, they should tell a cohesive story.
Put you different topics in a metazine. I.e for education you can create magazines on subjects like geography, history and science.
Organize! Focus on addressing needs with themes and topics for the day, for the week.
Flipping in photos or any local content (like floor plans) like this architect.
 What are some ways businesses and institutions can promote their Flipboard brochures?
You could present your mag on a digital screen at a conference.
At a travel show, for instance, a booth could have lots of tablets with the brochure, and the flip.it link on a card.
#FlipboardFriday, social channels, email marketing, at trade shows, on the website, corporate communications.
If you're ever carrying your iPad around at a convention or networking event, show off your brochure!
They can buy Flipboard Ads and point them to their digital brochure.
 How can brands keep the community interested in their Flipboard brochures?
Get them involved!! It is, after all, THEIR community. Get their opinions – what do they want to see? Use group mags!
Fresh content and good content keeps an audience interested.
Remind readers that they can shop directly from your Flipboard brochures!
Find unique ways to provide value to your readers.
 What types of brands are you most likely to look up on Flipboard for digital brochures?
Brands that I love. Brands that post relevant content that I enjoy, have a laid back personality and are fun!
If I were planning a vacation, I'd look to see if the destination had a Flipboard brochure.
All the parents of HS sophomores: look to see if colleges have Flipboard brochures.
I'm so disappointed when a beloved brand has old, stale content.
Travel, tech, and I like the city mags too. I also like world organizations like WWF and Global Voices.
Don't forget to join the #FlipboardChat this week for open mic night. Start chatting on Twitter on May 27, at 7pm PT / 10pm ET, or come back to this blog for an update.
 ~jdlv on behalf of the Flipboard Club
FOLLOW US ON:
FLIPBOARD / TWITTER / INSTAGRAM / FACEBOOK / GOOGLE+ / TUMBLR /YOUTUBE / SOUNDCLOUD / PINTEREST / MEDIUM