#FlipboardChat Summary: Using Private Group Magazines
Inside Flipboard / March 31, 2015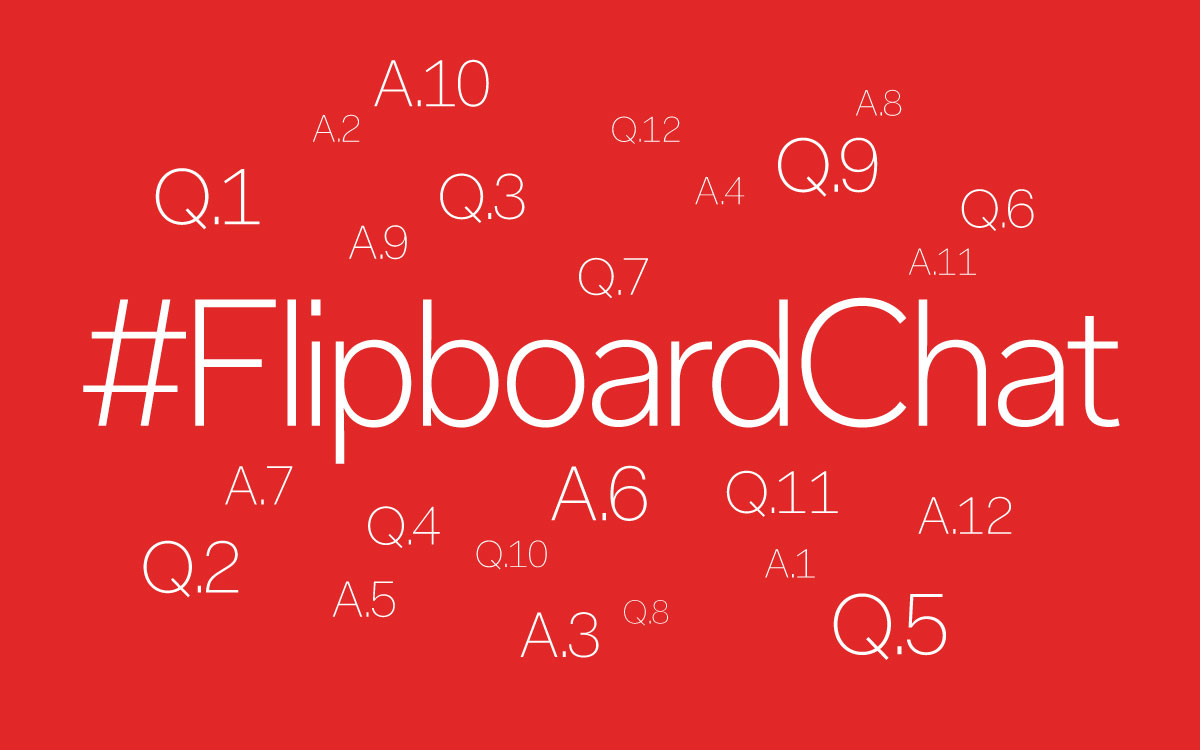 Every Wednesday evening, members of the Flipboard Club—an unofficial group of passionate evangelists—hold a Twitter chat about a Flipboard-centric topic. Last week they covered how to use the brand new private group magazines feature on Flipboard. Highlights from the discussion are below.
Wednesday's topic is "Curating a Worthy News Magazine." Join in the chat at 7pm PT / 10pm ET via the #FlipboardChat hashtag on Twitter. If the time zone doesn't work for you, join their Facebook group to stay in the loop or watch this space for notes from the conversation.
Q1 What do you use private Flipboard magazines for?
Personal and professional events and projects.
We've gotten a lot of love from teachers who want to use private group mags for their classrooms.
To build out mags and try them out before going public. And one ubiquitous Read Later.
I also have a mag called Listen Later, with music.
For things I keep just for my family, like wish lists and party pics.  Also, seasonal mags.
I use private mags to curate articles for my kids, as a staging area and as an inspiration "book."
I use private magazines for research, to test ideas, save things for later and curate things I don't want to share.
Everything from gift ideas to new mags I want to release to information on my clients.
I did to collect articles on house interiors—it was a surprise for my wife!
I use a private mag for keeping articles that give me ideas for potential blog posts.
I have one mag for my friends to share gifs and dumb things. And one w/ head of sales to share ad industry news.
I curate a private magazine send, it to my client before publishing to get an OK.
Q2 How can you benefit from having collaborators on a private Flipboard magazine?
There are so many possibilities! Family events come to mind first.
Everyone brings something new to the mag. Intimate environments are great for learning. Teachers can collaborate to plan lessons, classroom events.
Nothing is of the the table from an idea perspective. express what you like without fear.
I haven't done this but I think it'd be cool to collaborate on a mag with long-distance friends as a way to keep in touch.
Get your clients to work with you! This would be a great way to collaborate with clients.
Private mag curators get a chance to work together without public knowledge until you are ready to publish.
My husband and I share stories throughout the day. It's a fun way for us to show we're thinking of each other.
Q3.  In what ways can companies on Flipboard use private group magazines?
Companies could use group Flipboard mags for team building activities, brainstorming, brand focus.
Compile articles about the competition! Collect customer feedback and press to share w/ employees
Find inspiring posts and share it with employees.
Share all the PR and press.
Show clients after action reports, visual summaries, interaction/engagement and return on investment.
Companies could use Flipboard a place for teams to share all their "what-if?" ideas.
Create an album for corporate events and parties.
Collaborate with VIP brand advocates.
Companies can use private mags to test mag ideas out, show progress of projects. Oh, and say goodbye to PPTs!
Internal training, collaborate with employees on best practices, share customer feedback.
Q4.  In what ways can teachers on Flipboard use private group magazines?
Multidisciplinary! If you have a science and math or historical literature project, those teachers could work together.
Teachers can add students to private group mags to co-curate research for class projects.
I bet they'd be super helpful over the summer to plan the upcoming year.
For class projects, teachers and students can flip things they want kept in their small group.
To collaborate with other classrooms around the world, like "pen pals."
Use it to work with individual students, more one-on-one type help.
Homeschooling parents can create magazines to take kids on virtual trips to museums, different countries, webquests…
For parents new to homeschooling: curate resources, requirements for state, curriculum ideas.
High school homeschoolers can use magazines for research, projects, presentations and co-op classes.
Curate for your child's learning style—you can completely personalize the mag for them.
Great way to gather materials like graphics, photos and videos to help enhance a child's learning.
Q5. In what ways can friends and family on Flipboard use private group magazines?
Wedding planning, posting pics afterwards, vacation plans, journals, etc.
Send this for Christmas in an email rather than a card. You can include a year recap.
Parents can use private mags to engage their kids in planning family events, birthdays, travel, so much more.
Planning family reunions; doing genealogy; planning surprise parties; decorating your home.
House hunting would be great.
For a family, being able to keep things private to a select group. Parents worried about kids pics on Internet, etc.
I'm thinking this is perfect for the high school reunion I have coming up this fall.
Q6. What are your best tips for co-curating in groups on a private Flipboard magazine?
Stay focused! Remember what story you as a group are trying to tell.
Set the scope of the mag and communicate your expectations.  This mag is for ______ and will include _____.
Use comments to have loads fun! It's a closed environment so nobody can see your inside jokes.
Be organized and have a purpose, same as public contributed magazines.
Q7.  How will private group magazines enhance your Flipboard experience?
Greatly! I can't wait to use private group mags to build communities of people who share my personal passions.
It will make followers experience better. I can share what they need to see, not work stuff too.
Everyone can read the same articles and exchange ideas. It's better than sending an email link and waiting on replies.
First of all, private group mags mean I'll be making mags I wouldn't have before because of privacy issues.
I think it's going to be easier to get clients on board. Will be easier to test, play and show it up the decision chain
More of a chance to experiment and see what works since it's private.
Educators will be more apt to create mags with students if they know it is private.
Q8. What other features on Flipboard could enhance private collaboration?
Private messaging could really enhance the private collaboration, ability to upload directly, add notes.
Did you know that by sending someone an article you open a private one-on-one convo via comments in-app? Like messaging!
Communication tools, the ability to discuss with co-curators as we flip.
Don't forget to join the #FlipboardChat this week: the topic is "Curating a Worthy News Magazine." Start chatting on Twitter on March 18, 2015, at 7pm PT / 10pm ET, or come back to this blog for an update.
~MiaQ on behalf of the Flipboard Club