Iowa State of the Race: 'Very Fluid,' says Des Moines Register Columnist
Gabriella Schwarz / January 21, 2016
Iowa voters don't always choose the presidential nominee, but they always have an impact on the race to the White House. The 2016 election cycle is no different. Less than two weeks before the first votes are cast, eyes are on the state where candidates have practically moved in, ads air incessantly and phones ring off the hook in the homes of caucus goers. We spoke with The Des Moines Register political columnist Kathie Obradovich to get a sense for what's happening on the ground in the Hawkeye State and how this year fits into our political history.
As we count down to February 1, follow all the events and candidates in Iowa with The Register's 2016 Caucuses Flipboard Magazine.

Explain the importance of Iowa voting and how it typically impacts the race. What role do you expect it to play this year?
The Iowa caucuses are important because that's the first time actual voters will register their preference for the candidates in an official contest, instead of just in polls. How much it matters to the race varies from cycle to cycle. The last two presidents, Barack Obama and George W. Bush, won the Iowa caucuses on their way to the nomination.  But winning the caucuses is not a reliable predictor of either winning the nomination or the presidency.
Iowa's usual role is to weed out some of the weaker candidates. We've already seen some attrition in both parties, despite the role of super PACs in the race. But the debates get a share of the credit, or blame, for driving some candidates out early, too.
What issues matter most to Iowa voters this year? How do the issues at play this year differ from previous years?
Job creation is a high priority for both parties and that's consistent with past years. Republicans put combatting ISIS/terrorism high on their lists; Democrats are interested in foreign policy but not as much as domestic issues like addressing income inequality. Civil rights are also a high priority for Democrats. Foreign policy and terrorism are a higher priority than they were four years ago, as are issues related to civil rights. Even more than specific issues, Iowa Republicans are looking for someone who will disrupt federal government business as usual.
Is there a candidate resonating on the campaign trail/with voters that has received less national political coverage? If so, what is it about their candidacy that's breaking through?
Ted Cruz is neck-and-neck with Donald Trump in the Iowa GOP race. He's much closer in Iowa than he is in national polls. I'm not sure he's received less coverage nationally than he has in Iowa, except that everybody seems to get less coverage than Trump. Cruz is attracting the evangelical Christian vote, which is an important segment of the GOP caucus electorate.
Who are the candidates with the best ground game in the state? How has that impacted their support?
The ground game is important, because candidates have to not only win over voters but get them to go out for a two-hour meeting on February 1. Cruz is widely considered to have a strong ground game, but frankly it's hard to know for sure how each organization measures up. The Hillary Clinton campaign on the Democratic side is said to have the biggest organization in the state, but the Sanders campaign has beefed up and should be competitive.
Are voters' minds mostly made up? What openings are there for candidates to gain momentum during these last weeks?
The Register's last poll taken earlier this month still had 14 percent of Democrats undecided, which was a higher number than in December. More than 10 percent of Republicans were either uncommitted or not sure. Beyond that, large numbers of caucus-goers could still change their minds. So it's very fluid still.
What previous year does this cycle most remind you of?
It looks like 2008 in some ways, with both parties competitive and lots of candidates on the GOP side. Bernie Sanders is attracting the same types of voters than Barack Obama did in 2008 – first-time caucus-goers, young voters and political independents.
What are the positives and negatives of the caucus system?
The positives are that the process encourages candidates to engage in retail politics, talking with voters face-to-face and answering their questions. It allows lesser-known candidates who may not have the most money to compete and sometimes even win. Voters who participate are engaged and informed, and often have seen multiple candidates in person. The biggest downside is that participation is low, because there is no absentee voting and a caucus requires a larger time commitment than simply casting a vote in a primary.
What are your tips for dealing with withdrawal when the caucuses are over?
LOL!  My preference is a margarita on a beach. But Iowans who really miss being in the national political spotlight just have to wait until next fall. Iowa is a swing state and will be a battleground for the general election, so the candidates will be back. And then we can start talking about 2020.
Read all of The Register's content here and follow their Flipboard Magazine to dive deep on the Iowa caucuses. Check out Election Central for a full rundown of what's new on the trail and with the 2016 candidates.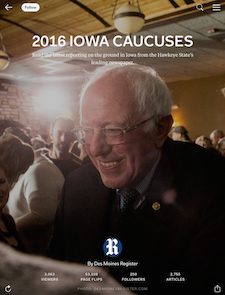 ~GabyS is reading the political history topic
GET FLIPBOARD ON:
iOS / ANDROID / WINDOWS / WEB
FOLLOW US ON:
FLIPBOARD / TWITTER / INSTAGRAM / FACEBOOK / GOOGLE+ / TUMBLR / YOUTUBE / SOUNDCLOUD / PINTEREST / MEDIUM