The Coachella Flipboard Magazine Is Already Rockin' 🤘🏼
Mia Quagliarello / April 14, 2017
Oh happy day. Coachella is here. While some claim it's "officially dead," there's no denying that if you love music, you're watching (and listening to) what's happening on the polo field in Indio. The lineup always makes this writer's heart sing, and this year there are more women than ever set to perform—most notably, Lady Gaga is headlining Saturday night after Beyoncé canceled due to her pregnancy. (For context, the last time a woman headlined at Coachella was Björk in 2007.) I'm gonna have YouTube's live stream on one screen and Flipboard on the other as I read, flip and rock along to the start of festival season.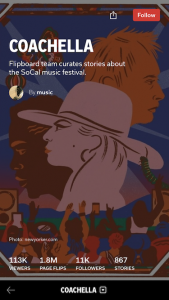 1. Coachella Magazine: Where else are you going to get a Dillon Francis tweet next to a New Yorker article? Right here, baby. Flipboard's Coachella magazine will be curated by our resident music passionista (me!) all weekend long.
2. Coachella topic: Follow this feed for year-round Coachella news. (Our magazine is resurrected for the festival each April and only updated for that month.)
3. Music Festivals Smart Magazine: Swipe left to find "Music Festivals" in the suggested list or just type it in. Then customize your feed with all the festivals you like, or keep it simple for general news. Coachella dominates right now, but if you love frolicking in fields you'll want to keep this on your Home carousel at least from now to the fall.