Topics That Defined 2020
Christel van der Boom / December 28, 2020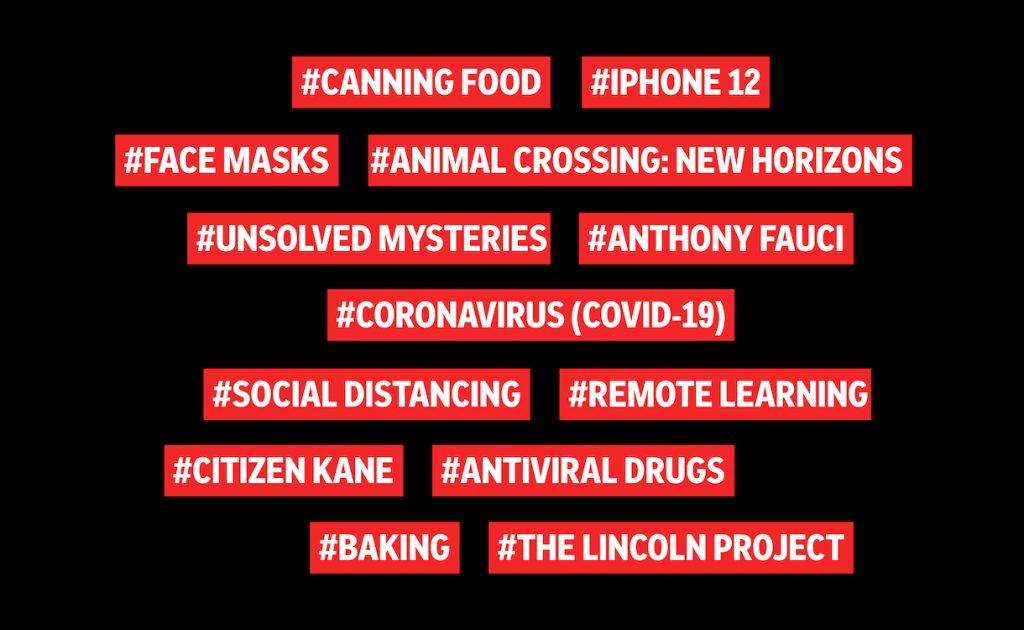 We've been through a lot in 2020. If you're like me, you were glued to the news, especially at the start of the pandemic in early spring, during anti-racism protests over the summer, in the lead-up to the elections this fall, and now again to follow the latest on the COVID-19 vaccine as well as the transition of government.
This year, we indexed hundreds of millions of articles. In addition to the constant stream of stories from our publisher partners, users added articles to their Flipboard Magazines. Our machine learning algorithms used semantic analysis to index all these pieces of content and assign relevant topics to them. Hence, topics are filled with stories, videos and images that you can follow.
In 2020 we added over 10,000 new topics to our platform, from Antiviral Drugs to Zoom.
While the topic Coronavirus already existed long before this year — Covid-19 is not the first coronavirus after all — our vocabulary expanded with dozens of new, related topics as we learned more about the disease and adjusted our lives to it. Looking back, these new topics and when they were indexed tell the story of 2020 and everything we collectively went through.
COVID-19

March of 2020 gave us dozens of new topics related to the COVID-19 pandemic. At the beginning of that month we learned new terms to describe ways to stay safe from the virus, such as Social Distancing, Face Masks, Self Isolation, and Contact Tracing. Around the same time, we were introduced to Panic Buying and Price Gouging. Things moved fast that month: towards the end of March, we started hearing about Antiviral Drugs, Respirators.
COVID-19 Testing, and a COVID-19 Vaccine. This is also when Anthony Fauciand White House Coronavirus Task Force became topics to follow on Flipboard. Just a few days later, in early April, we were learning about Super Spreaders, Asymptomatic Infection and Viral Shedding.
Levity During the Lockdown
All facets of life were impacted by the virus; lockdowns led to furloughs and Remote Learning. Our options for entertainment and socializing were drastically limited, but needed more than ever. So what did we do with our "free" time"? In March, we played Animal Crossing: New Horizons, watched Tiger King and started Canning Food for the first time (yes, we also were Baking, but that's a longstanding popular topic on Flipboard.) Microsoft Flight Simulator took off in August, around the same time the revival of Unsolved Mysteries rose to the top of Netflix' rankings. And when Sarah Cooper went viral, her name was indexed by our topic engine.
Various old movies, shows and books made a comeback in 2020 because of anniversaries or because they thematically fit with the experiences we went through this year. The dystopian novel Fahrenheit 451, for instance, got renewed attention in part because of the author's 100th birthday. Conan the Barbarian, Reservoir Dogs and Citizen Kane were some of the other movies that saw a revival this year.

Anti-racism
For many, 2020 was the year of racial reckoning. At the end of May, the death of George Floyd energized a movement and brought a new level of awareness to the history and impact of racism in the United States. His killing, along with the shooting of Breonna Taylor and many other Black Americans led to an unprecedented number of people — old and young; Black and white — participating in George Floyd Protests all over the country. While Black Lives Matter had been a topic on Flipboard since the launch of our topic engine; in 2020, America — and the world — embraced it as a movement.
Politics
Interest in Politics held steady throughout this election year. New topics that popped up in the realm of politics were The Lincoln Project in early June, CARES Act at the end of July, and the Biden Administration a week after the presidential elections.

Tech
In spite of everything we faced this year, or thanks to it, we saw interest in technology and gadgets remained strong. We especially saw this in the fourth quarter of the year, when many tech companies launch new products for the holiday season. Noteworthy new topics in the world of consumer tech are Xbox Series XIS, iOS 14, Samsung Galaxy S20, and iPhone 12. But also the new G-Shock watch made into our topic database. And of course, Zoom went mainstream in 2020 as we all learned to socialize, learn and meet via this video conferencing software.

Travel

One of the things I, along with many of our users, have missed the most in 2020 is travel. Still, it didn't keep us from dreaming of where we might go on our next trip; the topic category Travel remained in our top 10 throughout the year, and currently has almost 34 million followers. There were a handful of destinations that popped up as topics this year, mostly related to the pandemic. For instance, the Azores became a topic when British tourists started to rush back from the Portuguese islands to avoid COVID-19 quarantine, and Grand Cayman was indexed when an American student was jailed there for violating COVID-19 rules.

What a year it was! As 2020 comes to a close, we wish you happy holidays and hope you'll stay safe as we ring out this unprecedented year. May 2021 bring many new, uplifting topics!

—Christel van der Boom, Flipboard's head of communications, is curating Happiness.