Track Hurricane Irene, and Other Featured Feeds
Inside Flipboard / August 27, 2011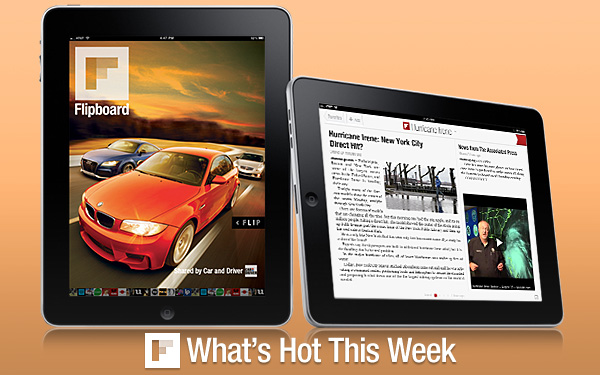 We've just updated the Content Guide with a slew of interesting magazines, blogs, and curators. There's also a new section devoted to breaking news events. The first edition of our news section is devoted to tracking Hurricane Irene. We're following key weather trackers and selectively retweeting essential items about the storm to keep you well informed.
This week's highlights also include several feeds about driving, whether your speed is a $490,000 Aston Martin or a classic '59 Harley or the latest line of Kona mountain bikes. And let's not forget Byliner, a great new site that encourages the discovery of great writers and writing, and The Burning House, a new photo blog that features intriguing pictures of people's most prized possessions. Flip on to find out more, and tell us about your favorite Flipboard reads in the comments.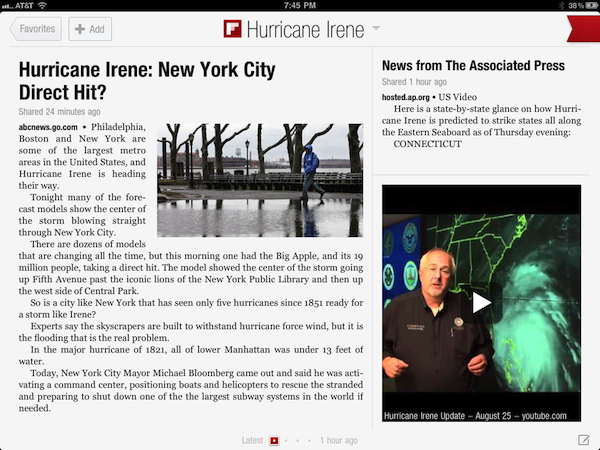 Hurricane Irene – Tap to Add Section
Add this section to your Flipboard to get a streamlined digest of the news about the storm heading toward the East Coast. It's predicted to be a big one, and New York City has already announced a precautionary plan to shut down its public transportation system on Saturday.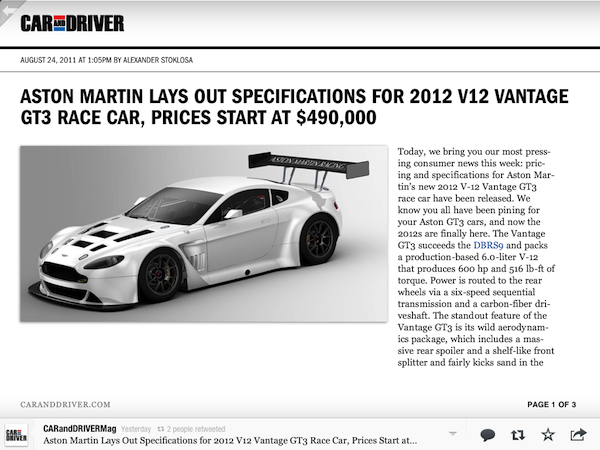 Car and Driver – Tap to Add Section
The world's largest car magazine sits at the heart of the auto industry, offering news and reviews for true car enthusiasts. Go to C/D for tests of the latest models, "spy photos" of future cars, news from auto shows worldwide, and industry insight. Right now, there's lots of news about 2012 models and even a peek at what's in store for some 2013 editions.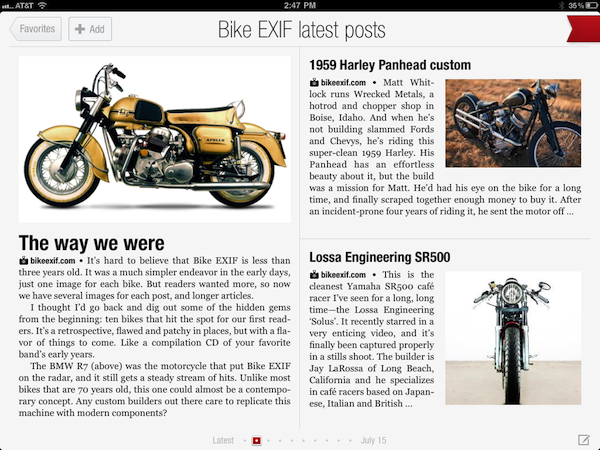 Bike EXIF – Tap to Add Section
Founder Chris Hunter is passionate about design and photography, as well as beautiful motorcycles. That's why his site has appeal beyond the usual biker crowd. EXIF stands for 'Exchangeable Image File format,' the metadata captured by a digital camera when a photo is taken, and that's the tipoff: Hunter only includes the very best photos on his site. Oh, in case you were wondering: Hunter rides a Moto Guzzi V7 Classic.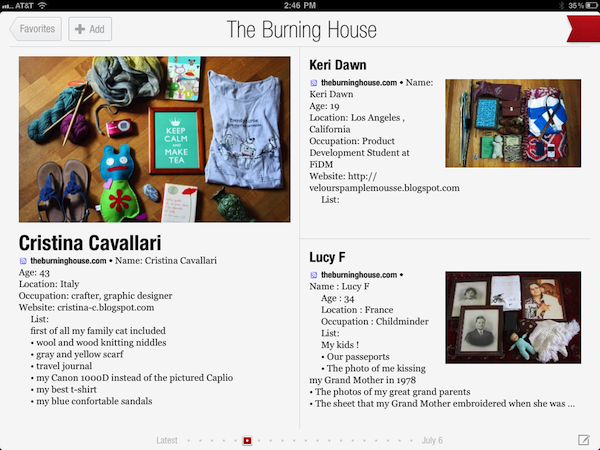 The Burning House – Tap to Add Section
The premise behind The Burning House is simple: if your house were going down in flames, what would you take with you? People from all over the world have responded to this question by submitting photographs of their most prized possessions. Each picture tells a powerful story — "think of it as an interview condensed into one question," writes founder Foster Huntington. What's more, the presentation of each photo is as interesting as the items pictured.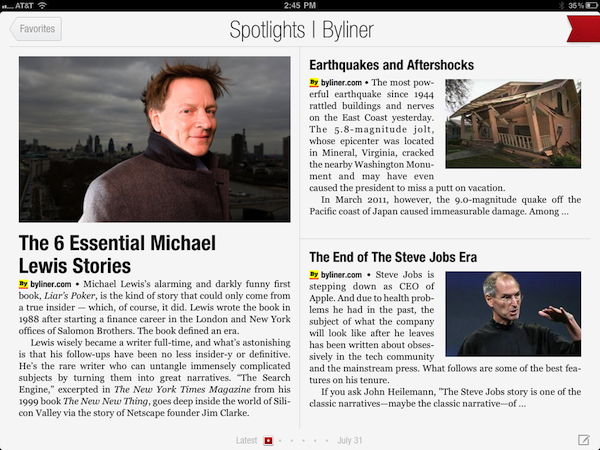 Byliner Spotlights – Tap to Add Section
Byliner pulls together the best feature articles ever written on a specific subject — for example, earthquakes, Michelle Bachmann, reality television, or the whipsawing Dow — and then adds context and insight. (Think: An instant and entertaining primer to every subject imaginable.) This unique feed, curated by the Byliner staff, offers timely and essential readings about the most interesting and important topics of the day.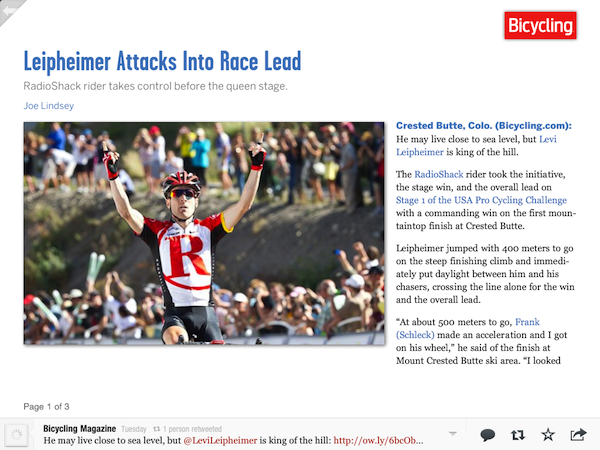 Bicycling – Tap to Add Section
Since launching earlier this summer, Bicycling Magazine has covered the Tour of Spain and the USA Pro Cycling Challenge in Colorado. Mixed in with all the pro action, everyday cyclists get tips on eating well, training smart, wearing the right gear, and even the best beers for post-ride refreshment.