4 Ways Brands and Marketers Use Flipboard Magazines
Anya Cekauskas / September 2, 2022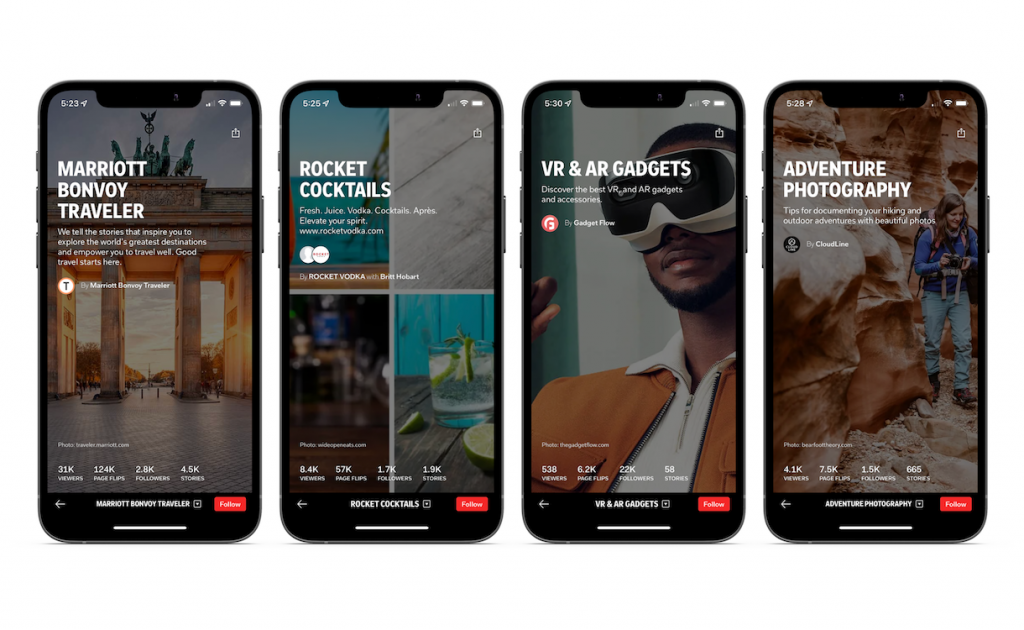 Flipboard Magazines provide a compelling way for enthusiasts to organize and share top-quality content related to their passions and interests. Brands and marketers have always been a part of this content ecosystem, as they use Magazines to connect with audiences and communicate their brand story. From showcasing expertise on a specific topic to amplifying branded content and external press coverage, Magazines on Flipboard allow marketers of all kinds to build their brand in organic and authentic ways. Here are four ways brands and marketers use Flipboard Magazines today.
1. Content distribution and amplification
When it comes to building out a robust digital marketing strategy, content is still king. Innovative brands are able to highlight large-scale branded content campaigns and ongoing brand journalism initiatives on our platform by grouping and showcasing their content in Flipboard Magazines.
Marriott Bonvoy
"We tell the stories that inspire you to explore the world's greatest destinations and empower you to travel well. Good travel starts here."
Sony Alpha
Alpha Universe is where Sony publishes content for the digital imaging community, including the latest gear, the business of photography, industry trends and news, and tutorials and guides for photographers of all skill levels.
Avocado
Avocado is redefining what it means to be a sustainable, ethical brand. As a Climate Neutral Certified business, it is the first mattress brand to achieve net-negative carbon emissions across its entire business.
2. Thought leadership
To build their reputations as thought leaders, brands and businesses curate content from a range of sources into Magazines in order to showcase their expertise or perspective on a topic related to their brand. Brands and agencies also use our platform to package media — articles, videos, images — to share their company vision or provide valuable insights to customers.
Rocket Vodka
This niche Vodka maker shares cocktail recipes, collected from across the web
Beth Blecherman
A marketing consultant who works with founders curates Startup Wisdom
Cloudline
For people who love the outdoors, this sock brand curates a Magazine about hiking, backpacking and life in the wilderness
3. Brochures & Catalog
Savvy marketers use Flipboard Magazines to announce product launches, showcase existing product lines and highlight featured collections. If your business generates revenue from selling products, a Magazine can function as an informational brochure or visual catalog.
4. Media coverage
Magazines are a great way for brands to highlight press coverage to share with clients and consumers. Marketers and communications pros can use Magazines to gather articles and videos featuring product announcements, company accolades, news features and other coverage.
One of the benefits of making a Magazine on Flipboard is that our topic engine understands the content of articles, indexes them and then surfaces them in the thousands of Topics, making sure that people interested in a topic see relevant stories and related Magazines.
— Anya Cekauskas, product marketing manager, is following The Travel Exchange