Content Marketing Conversations: NewsCred's Alicianne Rand
Mia Quagliarello / February 9, 2016
Alicianne Rand is the vice president of marketing for content platform/marketplace NewsCred, a company that she describes almost as a sort of brand whisperer. NewsCred's mission is to help marketers create content people love and to prove great storytelling can drive business growth. It does that in part by offering up things like audience insights, access to a large content marketplace, plus social publishing, distribution and analytics.
NewsCred was created about seven years ago and has grown since then from its three founders to over 200 people today, with locations in in New York; in Dhaka, Bangladesh; and London, as well as outposts in Chicago, Detroit and San Francisco. The company is not only helping brands tell stories that people want to read and share, but also helps clients use analytics to understand what's working, what's not and how to adjust content strategies based on that.
Rand sums up her thoughts about content marketing in terms of a Venn diagram, with the left side presenting "what's uniquely special about you, as a brand." On the right side, meanwhile, are the things customers actually care about. Rand, her team and NewsCred as a whole operate in the middle, helping pull those two circles together, with quality content to be found in the place where they overlap.
In our third Content Marketing Conversation, Rand talks about what brands need to know about content marketing—what it is, its value and how to pursue it in their own businesses. You can also read NewsCred's blog on Flipboard, in its #ThinkContent magazine.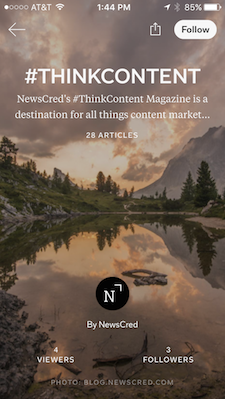 View #ThinkContent
How do you begin to break down the process of helping brands create content that people love?
There's three core pieces to our offer. The first is that brands have a real need for getting access to high-quality content. They're trying to build up a content-production engine, but they don't necessarily have all the the in-house writers or connections to freelance journalists. Through access to our content marketplace, we give brands the variety, volume and quality of content they need to scale across different channels, from Twitter to email to Facebook to LinkedIn. All these companies are trying to tell stories, and they want to be able to do it at a global level while still ensuring relevance.
The second piece is just pure operation. A lot of brands are not set up to be able to create content quickly or to move quickly as an organization, so it really means thinking how to transform the way brands operate and work today.
The last piece ties to this understanding that we have at NewsCred, which is that content powers the customer experience. We really believe that a content journey today actually is the customer journey, and when you think about that it means you need to understand who your customers really are and how they're engaging, consuming and sharing your content at all types of touch points. So we want to provide the analytics and insights to be able to map that customer journey to the content that people are consuming and sharing.
What makes for good content that consumers want to read and share?
Brands need to think about content as the very core of their marketing engine. A lot of brands we work with, when they first come to NewsCred, they're trying to solve a digital channel problem. They're thinking, "What is my Facebook strategy?" "What is my LinkedIn strategy?" "What is my Twitter strategy?" When in reality, it's not about their channel strategy. It's about their content strategy. That really is a fundamental mindshift: from thinking about your marketing strategy as channels and instead thinking about your marketing strategy as content.
The second thing that I think is really important is that there's so much great technology out there and so much data that I think a lot of marketers need to think about content both as an art and a science. Obviously, great storytelling needs to be very emotional, visual and compelling, but in addition to that there's also a science to content marketing that's rooted in both data and technology. When you're creating content, it's really important to think about how you're creating stuff that resonates to you and me individually and our core identity. People share content because it defines them; it speaks to relationships; it connects people to something they actually care about. It helps people feel involved in the world. It helps support a cause that people care about. So relating that content, that storytelling, to your personal interests and motives is very, very core to shareability.
What mistakes do you see most around content marketing?
The number one mistake that we saw is that a lot of clients were eager to embark on the content marketing journey, but they didn't have a documented strategy. So they got executive buy-in to create content, but they didn't have a strategy or framework to begin with in terms of where they were going to publish and what their expectations were across the different audience channels. They were measuring pageviews and traffic but not necessarily thinking about what they wanted that content to actually do for their brand in terms of something deeper.
The second piece is that there was a lot of content created. A lot of brands were embarking on this journey, but there was a lack of creativity and courage in the type of content that was being produced. You can see that in some of the brand blogs you read: a lot of it is very article-based but not necessarily interactive or visual and leaves so much room for growth in that multimedia side of things.
One example of brands that did a great job is Bank of America and VICE: they created an exclusive YouTube channel called The Business of Life. It tackles really hard topics that most brands wouldn't want to talk about, like what's happened to the middle class. It talks about race. It talks about politics. It talks about why startups might be failing.
Speaking of success stories, who else is killing it right now in terms of content marketing, and what are they doing well?
First Round is one of my favorite blogs. I've met their team before and think they're incredibly inspiring. They focus on creating very, very high-quality posts. Every single article is the best article it can possibly be. I love how they focus on quality over quantity. I love how they interview really interesting people. There's a lot of tactical and interesting insights. They focus on one core problem with every single article.
Another one is a company we recently profiled on our blog, called Deluxe. They're an interesting company, because they're not necessarily your Fortune 1000 brand. They create checks for small businesses. (The company recently pursued a content marketing program that generated 1.1 billion media impressions over the course of a year. More here.)
How do you think about different channels? Which platforms are essential to be on?
A lot marketers want to be everywhere because customers are consuming and sharing content across lots of different devices and platforms. The number one piece of advice we like to give is: you don't need to be everywhere. You don't necessarily need to reach more people; you want to reach the right people. And when you think about that as a core to your strategy, you're not going to be marketing on every single channel. At NewsCred, we like to go big on a few channels rather than diverting our attention and spreading it across lots of different places.
What platform do you think is underrated when it comes to getting messages out to engaged audiences?
Email. I would argue email is one of the best social channels we have and yet for some reason people don't talk about it as much.
What trends should we watch for in 2016?
With so many adblockers up, there's an opportunity for brands to really think out of the box and innovate. Another trend is a shift away from traditional media metrics like pageviews and unique visitors to more goal-based outcomes. Understanding engagement not just in shares but in engaged time, also in actual conversions—maybe conversions around subscriptions to newsletters or around things sold.
~MiaQ with Andy Meek
GET FLIPBOARD ON:
FOLLOW US ON:
FLIPBOARD / TWITTER / INSTAGRAM / FACEBOOK / GOOGLE+ /TUMBLR /YOUTUBE / SOUNDCLOUD / PINTEREST / MEDIUM