Gadget Flow Test Drives Flipboard's Performance Marketing
Christel van der Boom / January 5, 2021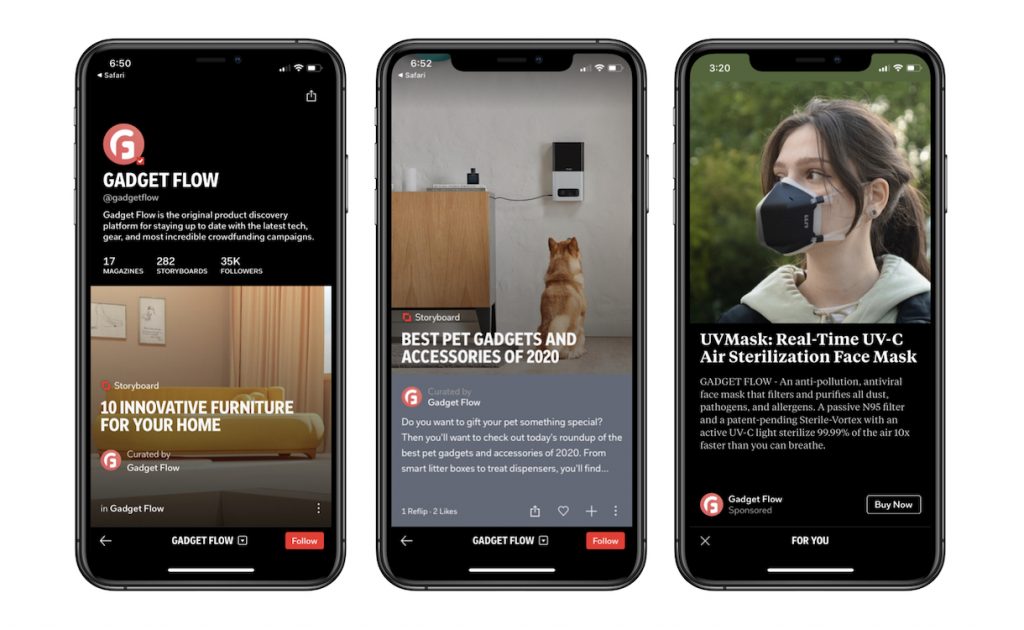 We recently started testing performance marketing, giving brands and publishers the chance to connect with Flipboard users. Though the program is new, the successes are already speaking volumes. Gadget Flow is one the companies trying out our performance marketing program: an early adopter in keeping with its company DNA. This New York City-based company helps tech enthusiasts find their new favorite gadget through their website. Though they share product updates from tech giants like Samsung, they pride themselves on helping creators who crowdfund their creations to reach customers. Founded in 2012, Gadget Flow has been an official partner of both Indiegogo and Kickstarter since 2015. In 2020, they began offering services to help independent product creators navigate the crowdfunding process.

Here's how the growing tech company partnered with Flipboard to help customers find the products they didn't know they needed.

It starts with the audience

Gadget Flow has long had a presence on Flipboard, sharing their own blog content in curated Magazines. CEO and founder Evan Varsamis explained that the bulk of Gadget Flow's blog traffic comes from their curation on Flipboard. That showed them that the audience they wanted to reach–tech enthusiasts and early adopters ranging in age from 20 to 45 and older–was engaging with them on our platform and willing to move to theirs. Partnering in the performance marketing pilot program was a no-brainer.

Creating the program
Gadget Flow began working with our head of paid content partnerships, Andrew Zalk, in June of last year to create a series of ads served to all of Flipboard's users. The ads focused on particular products that Gadget Flow has on its product discovery platforms. Each campaign was created with its own goals, such as driving brand awareness, traffic or sales. It should be noted that Gadget Flow does not itself sell products; instead, it directs users to the vendors' websites.

The editorial and growth marketing teams at Gadget Flow conducted extensive A/B tests to determine which photos and copy would perform best with Flipboard users, based on their understanding of our audience.

"We understand the frustration of sinking tens of thousands into advertising only to see the program flop, or not having insight into the program's efficacy at all. That's why we built our performance marketing program to put clients first," explains Zalk. "We don't require a huge spend to get started and our team will tell a brand when something isn't working so that they can stop their spend."

Based on their existing relationship with Flipboard, Gadget Flow agreed to begin running campaigns starting at $5,000 per month. "I was very skeptical because I know that Flipboard has an in-app browser, as you call it," Varsamis explained via Zoom. "So, that means that there isn't much that the people who click our content can do in the browser within Flipboard. We thought that we're going to have a huge bounce rate."

Better than expected
The ads performed well, and without the anticipated bounce rate. By and large, users tapped the ads and then opened Gadget Flow in their device's browser. Once on the site, they would continue clicking around, engaging with content.

Gadget Flow has started to curate Storyboards, which boosted their followers by 300 percent in the first week of doing so. This organic growth combined with paid campaigns led to significant growth in traffic from Flipboard on a daily, weekly and monthly basis.

User engagement also led to increased sales. Which of the varied product categories did the best? "Tech products, for sure," said Varsamis. In addition to products for our furry (or scaly) companions, the types of products that sold well due to the campaigns were the unusual, "why didn't anyone think of this before" finds from crowdfunded creators. "We're experts at discovering the kind of products that make you go, wow."

As for how Gadget Flow measures a campaign's success, it varies depending on the company or product they promote. The return on investment Varsamis sees from most of the campaigns the company has run to boost sales have an ROI of 4:1 or 5:1.

What's next
Overall, Varsamis is happy with the results from Flipboard's budding performance marketing program. Gadget Flow has increased their monthly ad spend significantly, saying the results and usability make this program much better than the ads they placed on social media platforms. The team is interested to see the results of ads geared to converting website visitors to members later on.

During the beta period, the Gadget Flow team had access to campaign results via a custom Slack integration while Flipboard developers are hard at work on a dashboard to allow brands and publishers more real-time insights and control. However, the personal attention that each campaign receives is something we won't get rid of even when the program is finished with beta testing; that, we believe, is a major part of what makes us and our partners successful. 
—Christel van der Boom, Flipboard's head of communications, is following education