Marketing Case Study: How Airbnb and Flipboard Teamed Up to Introduce Experiences
Claus Enevoldsen / March 30, 2017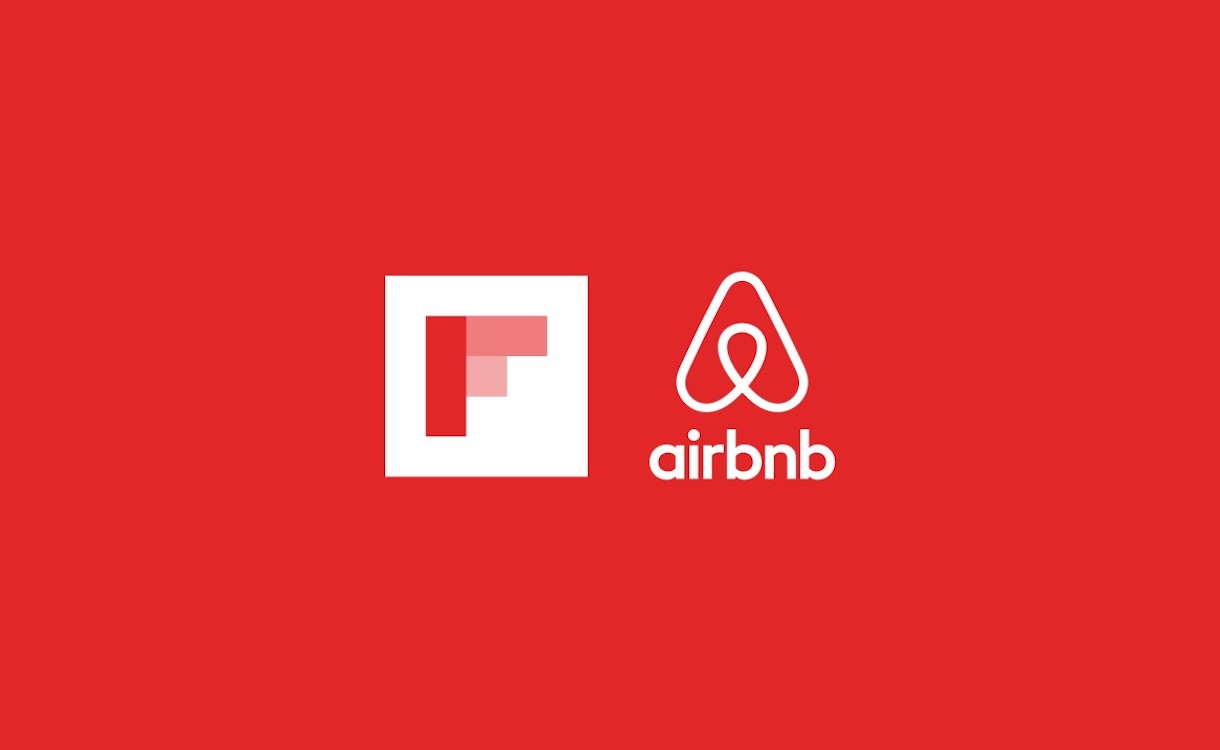 We recently concluded a successful month long co-promotion with Airbnb. The concept was simple: Open the all-new Flipboard, explore and "Heart" stories featuring Airbnb Experiences — and you'd be automatically entered to win a free Airbnb trip. We also gave away additional prizes to readers, each day. All they had to do was read and "Heart" any story on Flipboard for a chance to win.
In this post I'll go behind the scenes to reveal how the co-promotion came to be, the approach we took and the terrific results that followed.
In The Beginning There Was Brand Fit
Our partnership was rooted in a natural brand, audience and content fit. As a result, nothing about the co-promotion felt forced or gimmicky and it gave us a foundation to drive genuine engagement.
Both brands are centered around passions. With the all-new app we launched recently, now more than ever Flipboard allows readers a way to follow all their passions in one place. They can dive deep and be immersed in the best content curated by influencers, enthusiasts and the best publishers in the world. For example, if you're into mountain biking, like I am, you can read, connect and share with thousands of other passionate mountain bikers.
Similarly, Airbnb recently launched Trips, with local experiences led by passionate hosts. Now travelers can book activities curated by experts and together share their passion. For example, learn how to create the perfect cocktail with a mixologist in Los Angeles or create street art with an international artist in Tokyo.
Airbnb has developed amazing content around each host, with beautiful vertical videos and photo galleries. All of it's mobile optimized and perfect for the Flipboard audience, who are voracious consumers of engaging content.
You Scratch My Back
As with any good partnership, we set out to create a win-win program. Airbnb was looking to reach a qualified audience and create awareness around Experiences. At Flipboard, we were looking to create meaningful engagement for current readers, while giving people who had not used the app in a while an incentive to check out the service again.
The Campaign In A Nutshell
Together with Airbnb we came up with an integrated campaign for the U.S. to drive traffic to Flipboard: We utilized everything from targeted emails and push notifications to social, display and video ads both on and off Flipboard. We also targeted prospects with an immersive microsite, which we created using Ceros, an easy-to-use interactive content platform that allows marketers to create sophisticated landing pages on the fly without the need for engineering resources.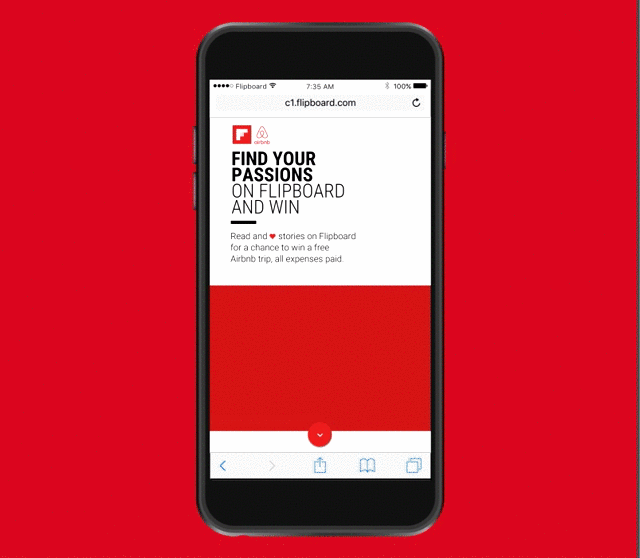 When readers came from the campaign to the Flipboard app or website they landed in beautiful Airbnb Experience Magazines made up entirely of immersive Storyboards, a content unit that elegantly stitches together image galleries, articles and video.
We created 36 Experience Storyboards grouped into four city magazines. Each Storyboard included a tappable image poster, a vertical video and a photo gallery. Readers were encouraged to explore and Heart their favorite Experiences, and we made it easy for them to go to Airbnb's website, in case they wanted to learn more or even book an Experience.

The Net-Net
In total the media campaign delivered more than 39M targeted campaign impressions, reaching existing and past readers as well as new prospects.
The ads on Flipboard driving to the Experience Magazines far exceeded our expectations. The month-long ad campaign earned a 3.3% CTR; the last week of the campaign actually garnered a CTR of over 4%, with ads encouraging readers to explore both daily prizes and the grand prize. (That's an impressive 8x the industry standard for mobile display ads.)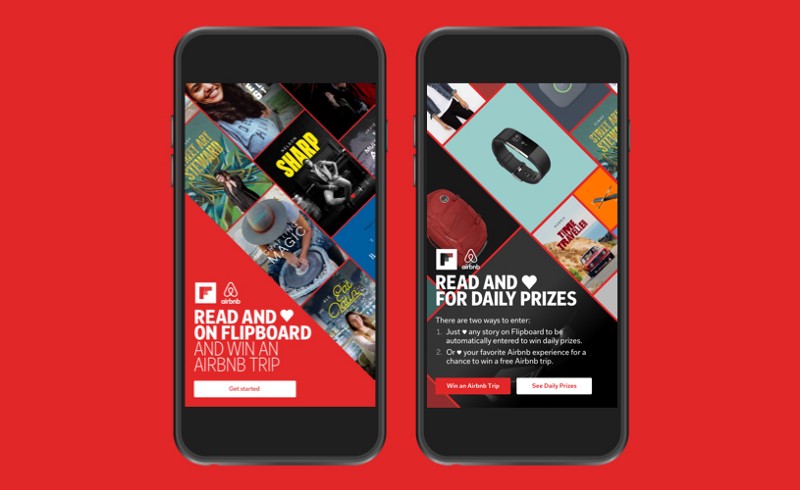 The magazines on Flipboard generated 4.2M Page Flips from 440K Viewers who "Hearted" Airbnb Experiences more than 69K times. Additionally, Followers of the Airbnb Profile on Flipboard went from 0 to 29K, creating a foundation for future content-marketing initiatives. The campaign also drove some 38K visits to Airbnb.com — a robust 9% CTR of the total Viewers.
Everyone's Happy?
Throughout the month, readers left comments on the Experiences, with an overwhelmingly positive sentiment. Here are just a few:
"Such wonderful memories of San Francisco from many years back. The redwoods are one of my relaxation visions! I would so love to Airbnb there!" ~Lin Murwin, San Francisco Experiences Magazine

"I have never been to Miami, but I could only imagine the beauty in the streets between the cultures and the variant of colors, I bet this would be amazing!" ~ Sarah Braden Booth, Miami Experiences Magazine
"I'd love to see this place. It's my dream to see Los Angeles it's so beautiful. Please take me there…" ~ Monica Torres, Los Angeles Experiences Magazine
"I would love to experience the soul of Detroit with my daughter." ~Catherine Wabsis, Detroit Experiences Magazine
At the end, after having drawn daily winners for a month, we surprised Caitrin Garrett of Vermont with the grand prize. Check out the video to see her reaction. Caitrin is still deciding where she wants to go, but one thing is for sure, it involves a visit to the beach.
Beyond the Co-Promotion
With the co-promotion as the focal point, we've already explored other areas where we can work together. Last November, we participated at Airbnb Open, where we educated Airbnb hosts about how they can engage and support/service their guests with Flipboard magazines. We also had a chance to interview some of them for our Inside Flipboard blog and we created buzz with our famous Red Couch photos.
Take Aways
For other marketers exploring co-marketing opportunities, the success of our campaign shows that it all starts with a great brand, audience and content fit. Because of this, we were able to realize deep engagement centered around passions and a meaningful grand prize. Additionally, we were able to scale the campaign rapidly through our shared media vehicles and keep the momentum going through daily prize giveaways.
A big thank you to Farzad Sharif from Airbnb for helping to bring the promotion to life and being a great partner.
~ClausE is curating All My Flippin Favorites
Claus Enevoldsen heads up performance marketing at Flipboard. This story first appeared on Medium.