The Value of Micro-Influencers on Growing Your Brand
Marci McCue / December 8, 2016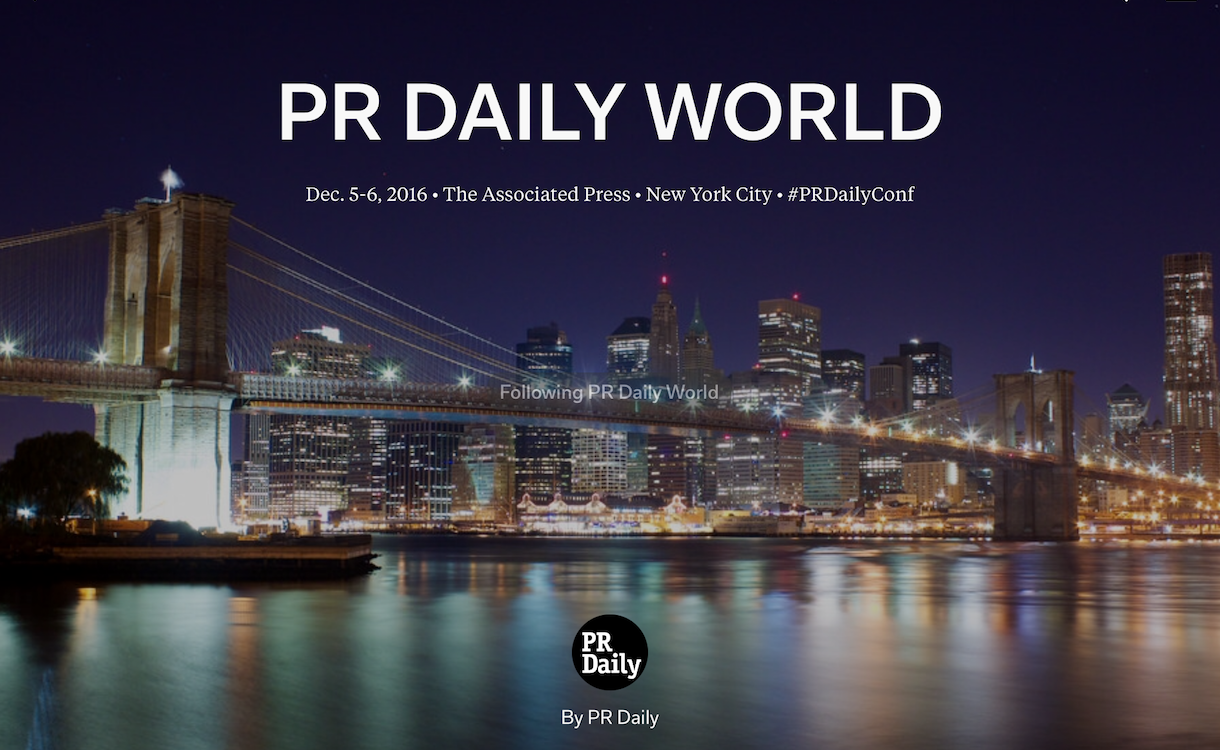 In New York this week PR Daily hosted its PR Daily World Conference with the Associated Press. The talks ranged from Mark Ragan's talk on storytelling and the pioneering work of Quartz to Louis Gray's insights on shaping stories using Google Analytics to AP grammar and the controversy of the Oxford comma. Through it all what became obvious was that the world of PR isn't only impacted by the shifting sands of media players, platforms and people, but also by the complexity of the job itself. Today's PR professionals are mining data and monitoring Twitter. They are writing original content and tracking traffic. They are looking for opportunities to —not just reporters over coffee at Starbucks, but also building a direct line of communications with their company's or client's audience.
I was there to speak about influencer marketing, how to find and work with individuals or organizations who have quality voices in a community you want to reach. My biggest learnings about working with influencers have come from a group of passionate users who created a hub for conversation and advice, called the Flipboard Club. What they've taught me is that an influencer program needs to be a genuine two-way relationship where you are engaging with and listening to people who represent an important audience for you. And, when you are listening, giving them a platform to share ideas with you or become experts on your product, they enjoy talking about that experience with others.
Some people refer to these groups as micro-influencers, as opposed to traditional influencers (with a large following or big platform). But don't be lured into only looking at reach through the lens of a social following. A good place to start can be with powerful voices in specific communities. For example, maybe you're working in clean energy and a well respected researcher who has a podcast or speaks at events is your micro-influencer. (Al Gore would be a more public influencer.) The latter is much harder to get deeply engaged in sharing your story or product, but the micro-influencers are looking for partnership, endorsement or access, and you can support them by sharing their content,  engaging socially, participating in joint speaking opportunities, etc. By enlisting experts in fields that reach your most loyal types of users you create an army of genuine supporters and friends.
There are lots and lots of benefits that come from these relationships. Once you start, you'll find there's no end to the ways you can work together. Paid "one-time" influencer marketing can be useful when asking an influencer take specific actions on your behalf or maybe in support of a program that has sponsors involved. But paid relationships can feel very transactional and if the person you're working with isn't a true believer, it's just a quick shot in the arm (like a paid social campaign) and it's not really an influencer long-term.
It was wonderful to join the group at PR Daily World to remind myself of the complexities of our jobs and the exciting new ways we can share our stories. A quick thank-you to Beki Winchel for the kind invitation!
~MarciM is reading PR Daily World