On the Red Couch with Will Someone Founder Chris Heuer
Shona Sanzgiri / February 10, 2016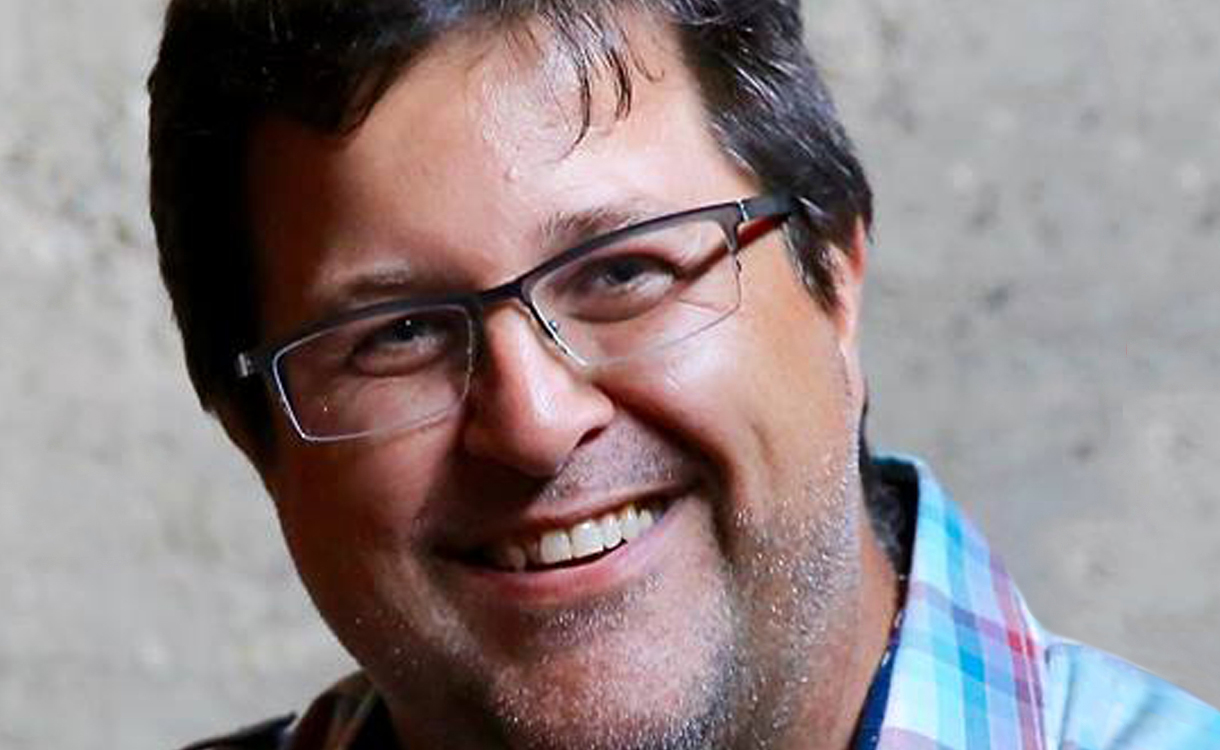 Chris Heuer has worn many hats: CEO, Founder, Engagement Catalyst, Chief Experience Officer, Chief Engagement Guy. What do any of these titles mean? That Heuer knows how to communicate, creatively, and has been helping companies from the startup world to B2B marketing do the same for 20 years.

After starting an ad agency in his native Miami, Heuer helped the United States Mint move into the e-commerce space. His love for unorthodox thinking drew him to the Bay Area, where he lead marketing and social media strategies at startups while advocating for what he refers to as a more "holistic" Internet.
Nowhere is Heuer's philosophy on collaboration, creativity and new media easier to understand than right on Flipboard. We still had plenty of questions—who needs a Conversation Index? Why should people join the Social Media Club? What did a Native American Chief have to say about hashtags?—so we invited Heuer to our offices for a Red Couch Interview:
I'm curious about the career paths of people like you. How did you get into all this stuff?
I got started because in 7th grade I was lucky enough to get accepted into a program at Miami-Dade Community College, where I learned programming.
I realized I wanted to know what programming could do outside of computers. My ADD and mind worked so fast I couldn't keep up, so there were syntax errors everywhere in my coding. I ended up getting really good at debugging, which I eventually hated, and moved toward application architecture/design/user experience.
I actually did one of the first ever opt-in email marketing campaigns for the government at the U.S. Mint. I don't know if it was *the* specific first, but it was the first to get recognized. They found it successful. It was a bit of a legal fight to get them to understand that opt-in was not spam.
How would you describe what you do today?
I've been fortunate to spend time asking the biggest questions and imagining a future instead of a present, which means I'm able to see how things can be instead of how they are.
I get really tied to those expectations that I set, like "this is how it should be." In my tension doing that, new ideas are born.
For the last 20 years, I've been ahead of every curve that comes in a significant way. More recently, after I stopped heading up social business efforts for Deloitte, I started working with Alynd to help them move away from performance reviews to real-time feedback systems. Now you see many companies doing that.
Tell me what the Conversation Index is.
Gotta give Stowe Boyd credit for that. It was a way to judge engagement in a specific community. The simplest way was to take the number of comments and measure them against the number of blog posts.
It was one way of trying to understand engagement in a quantifiable way so we could determine the health and maturity of our efforts. We could say we have five comments for every post, we're doing well. If we're doing 50:1, we're doing really well.
Seems straightforward enough, but people were, and are, resistant to new ideas or new ways of doing things.

Why do you think that is?
Sometimes it's a "not in my backyard" problem. It's about what people know. We get attached to things. We wear branded clothing that becomes a part of us—like my Robert Graham shirts or Chris Sacca's cowboy shirts—and they become an extension of us. So, naturally, we get even more attached to our concepts and inventions.

What are some of your new concepts or inventions?
Right now we're working on something called Will Someone. It's a better way to ask for help to accomplish your objectives.
While I was at Deloitte, I had a chance to see inside of large companies and understand why people avoided working at them. The senior leadership at Deloitte gave me access to many industries.
I was talking with the manufacturer about collaborations on the plant floor one week, with a major consumer electronics company about their call center operations and whether they can measure lifetime customer value. I've found it's all about people working together.
And what about the ways we communicate? What's missing?
When you look at the origins of the hashtag, a lot of that work came out of Tag Camp. I was thinking of tags as a glue that binds that community together, the fire that provides warmth to a tribe. The shared experience of that word—that specific hashtag—was so powerful.
I'd met a Native American chief in the Mojave Desert and he shared something that forever changed my life: the greatest power in the world comes from the true naming of things.
Words are used to divide us, to package our messaging in the equivalent of a DNA sequencing jacket designed to connect the neuroreceptors in your brain. We could bring out compassion, positive intent and collaboration. As we've learned with psychology, people are more drawn to pain than pleasure, the avoidance of a negative outcome.
What were your early impressions of Flipboard? How do you use magazines from a marketing perspective?
We have a problem where people are consuming media without context, and then amplifying it. As we go through the experience of life, we should be spitting out as much data and knowledge and wisdom as we go through the experience, rather than after.
It's partially driven by my own laziness and inability to go through my notes, but curation should be a natural part of consumption. The idea of being able to save something for later while simultaneously sharing it was exciting.
In the early days of Flipboard I wasn't using it because you were displacing the status quo using a consumption process I wasn't accustomed to.
You're talking about the days when Flipboard was largely a social aggregator, right?
Right. At that time I used to use Evernote. These days I'm at 16, 17 magazines, which is OK for an interdisciplinary guy like myself. I use my magazines for a wide variety of reasons.
I'm typically flipping on the train in the mornings and the afternoons, and it's reminding me of the original purpose of mobile: to kill time or make progress, and Flipboard's enabled me to do both.
Also, while it's very much about feeds, it's about the humanity, and Flipboard is giving insights to people.
Tell me about the Social Media Club.
I felt like we had a silent majority in the world who might find their voice in the world through social media to drown out the extremes, which we failed in. But we advanced our core mantra: if you get it, share it.
That came from an experience I had with my first agency when I was 24, in South Beach in Miami, and was pretty cocky. I didn't understand the visionary or humility thing. I was in a meeting with a Creative Director from another ad agency who wanted to buy us. The guy gave me a print ad and said, "Here's your website."
And I was like, "Uh, no. We need navigation, we need this, we need that." Finally I got exasperated and shook my finger in his face and said, "You don't fucking get it."
What I realize now that I needed to recognize then was: not everyone is like us. We have different experiences which don't make us any less deserving of respect, and I was very disrespectful. That other agency ended up acquiring a different smaller agency, and went onto become RGA.
So what happened? How did you stop being the cocky guy waving his finger in people's' faces?
Eventually you get a filter, you mature, you find a path and do some soul searching. I went on a vision quest in the middle of desert solo for three days, which was transformative, which I shared through my non-profit, Rysing Tyde.
If I don't start going out and helping others find hope, by sharing my talent, I won't be able to live with myself. We need to get more done together.
~ShonaS is curating Media Message
GET FLIPBOARD ON:
FOLLOW US ON:
FLIPBOARD / TWITTER / INSTAGRAM / FACEBOOK / GOOGLE+ /TUMBLR /YOUTUBE / SOUNDCLOUD / PINTEREST / MEDIUM
Chris Heuer: The Emergent Economy
Sharing, Collaboratve, P2P, On Demand or whatever you call it, its an emergent dynamic every day
view the magazine
Chris Heuer: The Rysing Tyde
Alone we are but droplets in the ocean of humanity, together we are a poweful wave, a rysing tyde that will lift all people, creating a #BetterWorld together.
view the magazine
Chris Heuer: #ReOrg
time to rethink, restructure and redesign organizations and our relationships with them
view the magazine