Luxuriate in Travel and Leisure with The Ritz-Carlton on Flipboard
insideflipboard / July 13, 2016
The Ritz-Carlton is one of the most recent companies to join the Flipboard community. The luxury hotel brand made its official debut onto our social magazine with 12 curated magazines that feature inspirational content on culture, world travel, weddings, culinary experiences and views of some of the world's most breathtaking, picturesque destinations. The company is reaching out internationally by offering articles in five languages, including English, Arabic, Mandarin, Japanese and German.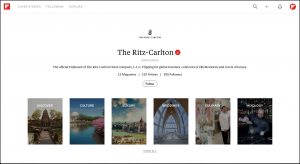 At the core of The Ritz-Carlton's marketing strategy is consumer engagement, memory-making and brand storytelling. The luxury hotel company has garnered a devoted following and continues to inspire its consumers by building digital environments where people are encouraged to share their unforgettable travel experiences. Now that The Ritz-Carlton has added Flipboard to its social media arsenal, the brand is able to elevate its own storytelling and provide a convenient space where readers and fans can discover and enliven their own journeys.  
Along with highlighting the brand's global portfolio of stunning locations and moving traveler stories, The Ritz-Carlton's Flipboard Magazines deliver company news and thought-leadership articles written by company executives. The magazine Through The Lens of Trey Ratcliff showcases the renowned photographer's awe-inspiring imagery and includes adventurous tales written by the globetrotter himself.
The Ritz-Carlton is committed to helping its supporters discover their passions. So whether it's the shores of Aruba, the cultural sites of Shanghai, or the exotic and adventurous terrain of Muscat, Oman, The Ritz-Carlton provides luxury lovers and aspirational travelers alike a glimpse of the globe—no reservations required.
~AngelaH is reading Fashion Fluent