<![CDATA[[caption id="attachment_39575" align="aligncenter" width="1024"]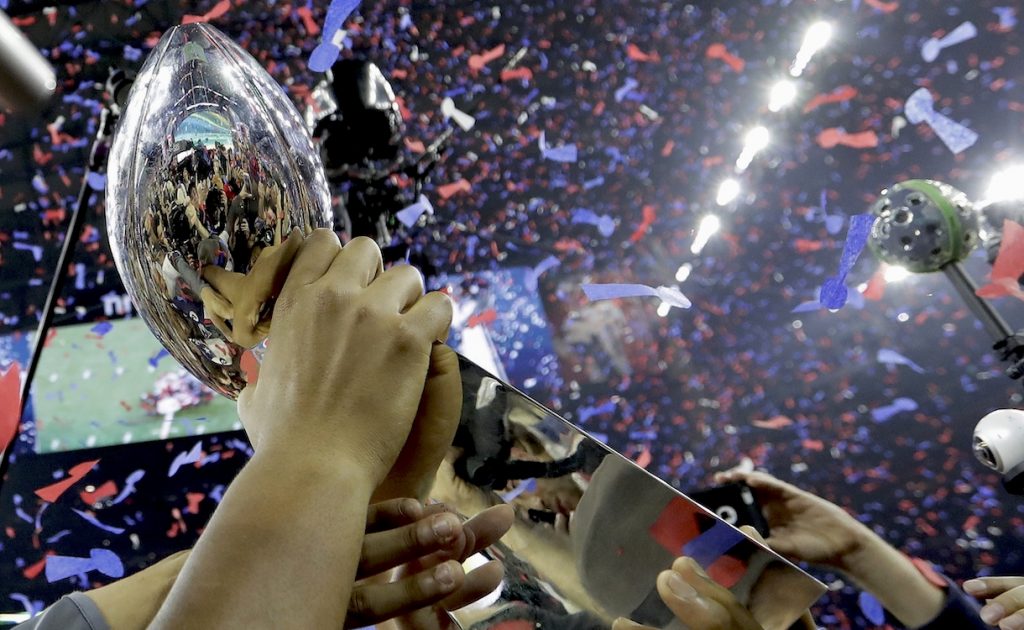 Photo credit: AP Photo/Eric Gay[/caption] This year, the cost of a 30-second spot during the Super Bowl will, again, set new records: $5 to $5.2 million, not including production costs and agency fees. If viewership reaches its 2015 record peak again, over 114 million people will view the commercials. That's a $43-45 cost per impression! Savvy media planners try to optimize the return on such an investment. Engaging enthusiasts online—before, during and after the game—is one way to do so. Certainly, Super Bowl viewers are a coveted audience—at least when they are not distracted by the Buffalo wings, beer or bathroom. But a case can be made to reach people online, too. We see highly engaged football fans who consume content in the days before and after the Big Game. In fact, users were so enthralled with the Super Bowl last year that we saw a 13% click rate on NFL content during this period—double the rate we usually track. Reaching this enthusiastic audience can deliver greater media efficiencies and impact across a broader Super Bowl campaign. So if you're airing a 30-second spot, optimize for maximum consumer attention by running it online—and on mobile. Interestingly, patterns of online engagement complement TV viewership. While Flipboard's football enthusiasts engage in pre-game content, readership really spikes during the two days after the game when readers turn to Flipboard for analysis and wrap-up.
Engagement in content about Super Bowl LII (2018)
[caption id="attachment_39577" align="aligncenter" width="1024"]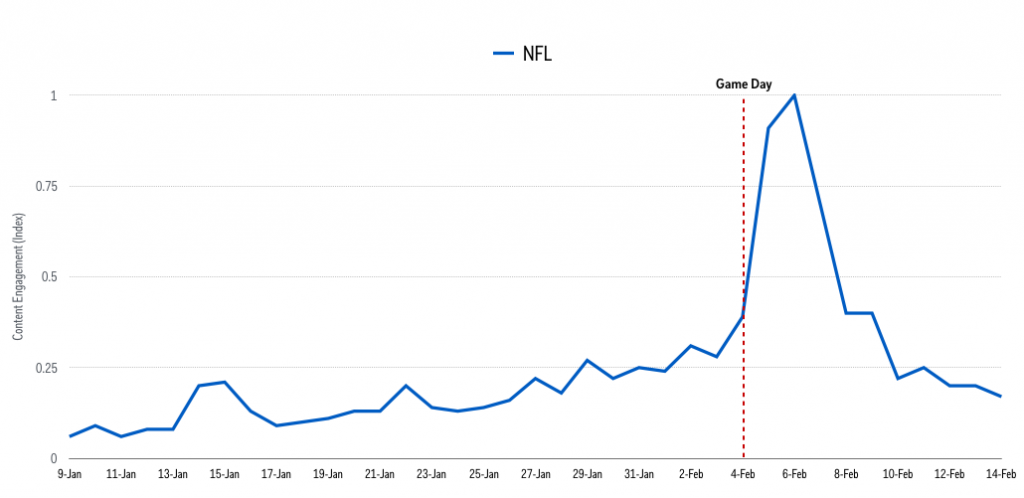 Source: Flipboard, Jan – Feb 2018[/caption]
This isn't just a Super Bowl phenomenon.
During the fall, readership of football content spiked on the days after a game. This was true of professional football—readership peaked on Mondays and Tuesdays—as well as college football, which showed spikes on Sundays.
Average daily engagement during the fall football season—college and pro
[caption id="attachment_39578" align="aligncenter" width="1024"]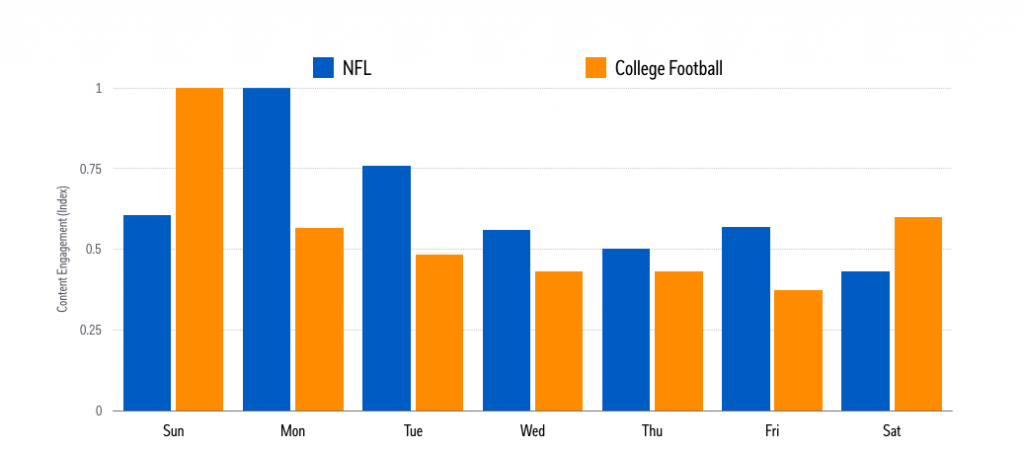 Source: Flipboard, Sep – Dec 2018[/caption]
What's more, audience engagement in football doesn't just happen around game day on Flipboard. We see consistent engagement in the offseason, too, especially around the college draft, free agency, and trade deadlines. This makes football a year-round opportunity for advertisers.
Super Bowl LIII is only a couple of weeks away and engagement around the game is already starting to grow on Flipboard. While traditionally we see post-game wrap-ups dominate what users read about, this week the focus quickly turned to this weekend's matchups in the conference finals, with all four teams trending on Flipboard. Quarterbacks like Tom Brady are trending too, along with players like Kansas City Chiefs Wide Receiver
Tyreek Hill
who has given the Patriots a run for their money in two previous matchups
. And, now that the season is coming to an end, readers are also interested in a preview of how their favorite teams will fare in the upcoming NFL Draft (up 115% since December).
While interest in Super Bowl content is growing, it's still too early to tell what people will be serving to guests during the game.
While some start to plan their parties as early as three weeks before the game, most people engage with recipes only days ahead.
Last year, onion dip and slow cooker recipes were crowd favorites; this year we are already seeing chicken wings *take off* (up over 200% since last week).
Engagement in content about Super Bowl LII party planning (2018)
[caption id="attachment_39579" align="aligncenter" width="1024"]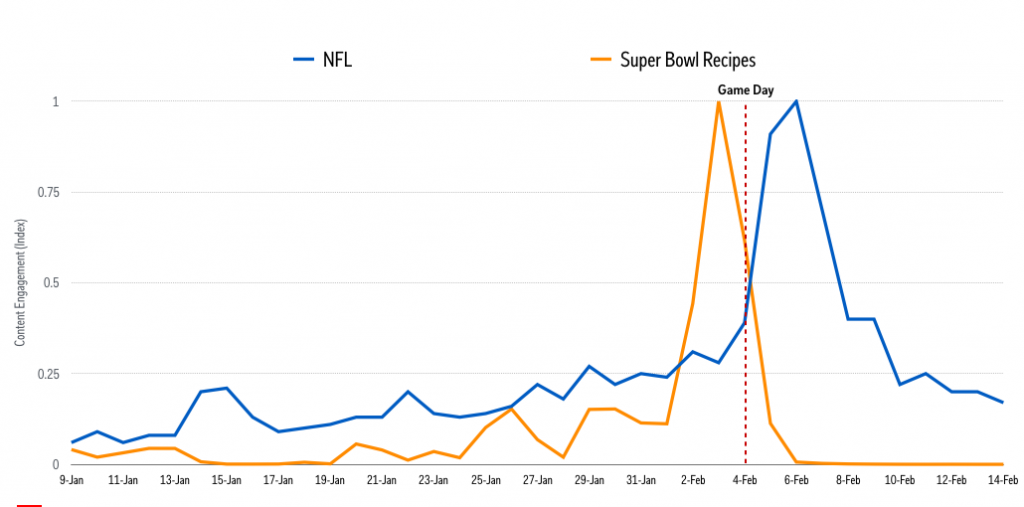 Source: Flipboard, Jan – Feb 2018[/caption]
If you are going to buy a 30-second spot on Super Bowl Sunday, improve your ROI by running online media on platforms like Flipboard where consumers are engaged beyond game day—and beyond the game itself.
~Ruth Zheng and David Wigder