Eat, Flip, Love: Valentine's Day Trends on Flipboard
Ruth Zheng / February 13, 2019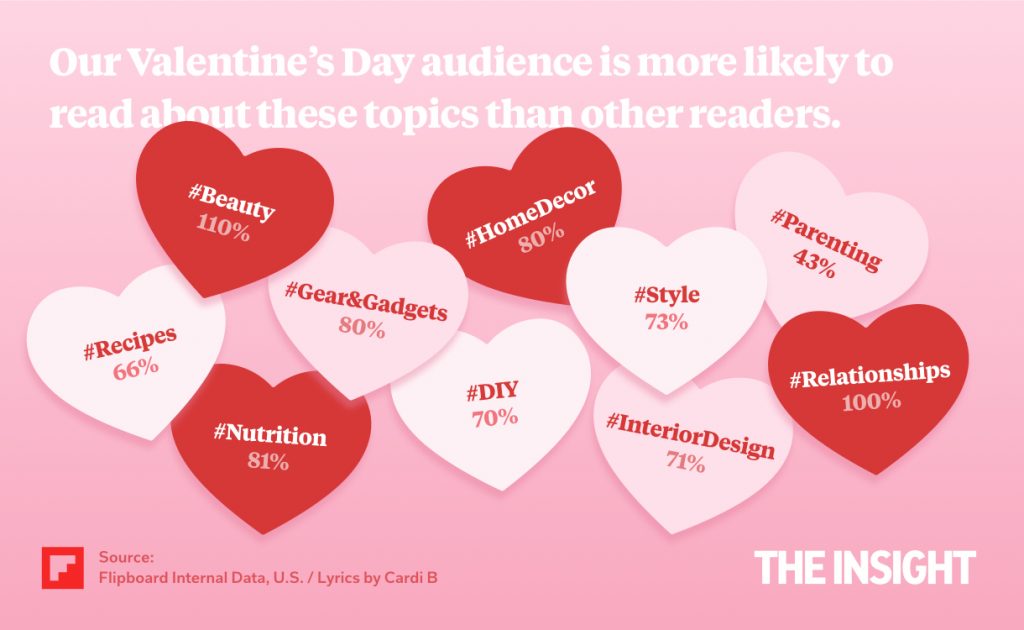 Depending on your point of view, Valentine's Day is a time to either celebrate or protest all things romance-related. And like love itself, there are so many ways to approach the subject on Flipboard. We dove into our first-party data and uncovered which stories and topics people are paying attention to during this holiday. (Source Flipboard Internal Data: January – February, 2019.)
Engagement On Women's Gift Guides Trumps Men's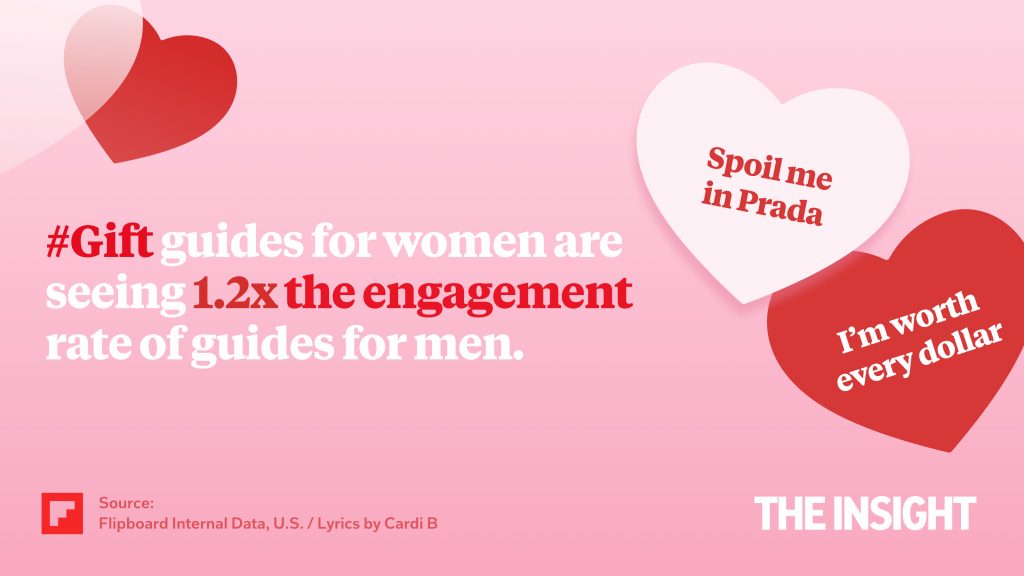 This year, shoppers are expected to spend an average of $162 on gifts, a 13% increase from 2018. On Flipboard, readership of Valentine's Day gift guides starts to pick up as early as January 1, and the engagement rate with gift-related content is 20% higher than with other Valentine's Day stories. And call us old-fashioned but gift recommendations for women are seeing 1.2x the engagement rate of guides for men. Seems like humorous presents and cards are especially appreciated: there's 10% higher click-through-rate on those pieces compared to other gifting articles. Here's a funny gift guide that was popular with our users.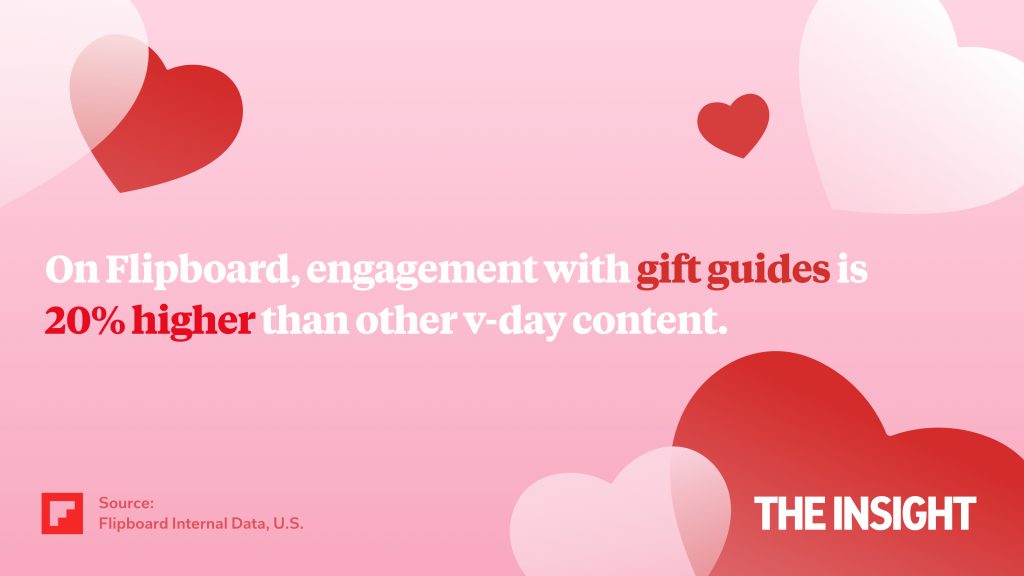 Say It Ain't So: The End Of Sweethearts Captures Readers
Sweets are synonymous with Valentine's Day, so not surprisingly we see the highest engagement with articles about chocolates and candy in the food category. (In fact, CTR is 2x higher than recipes or cupcake articles.) Brands get it and are unveiling creative foods that capture our hearts and imaginations. For example, this article from The Kitchn about Costco's $30 chocolate tower is a hit with readers, as is Heinz's unveiling of its ketchup caviar for folks who prefer fancy condiments. And yet, the food story that got the most attention was about the end of Sweethearts candy—you know, those heart-shaped sweets with messages on them. However, don't fret! They will be back on shelves in 2020. (In the meantime, Krispy Kreme came through with an interim solution.)
Stories About Dating And Zodiac Signs spike about now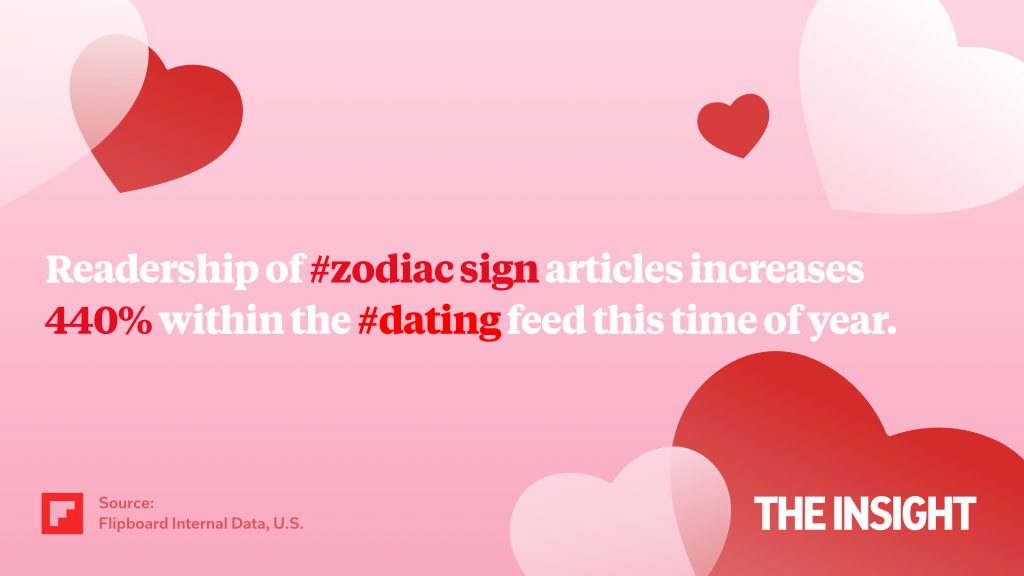 This time of year also allows us to reflect on our relationship status. Across Flipboard, we see a 30% month-over-month increase in engagement with dating-related content as people seek out advice and anecdotes about modern-day courtship. Drilling deeper into the topic of dating, body language, text messaging, and ghosting are popular themes. What's more, readership of content about Zodiac signs increases 440% within the dating topic, and the average engagement rate of Zodiac stories is 2.6x that of all Valentine's Day-related articles. When modern love can feel random and chaotic, why not ask the stars for some help?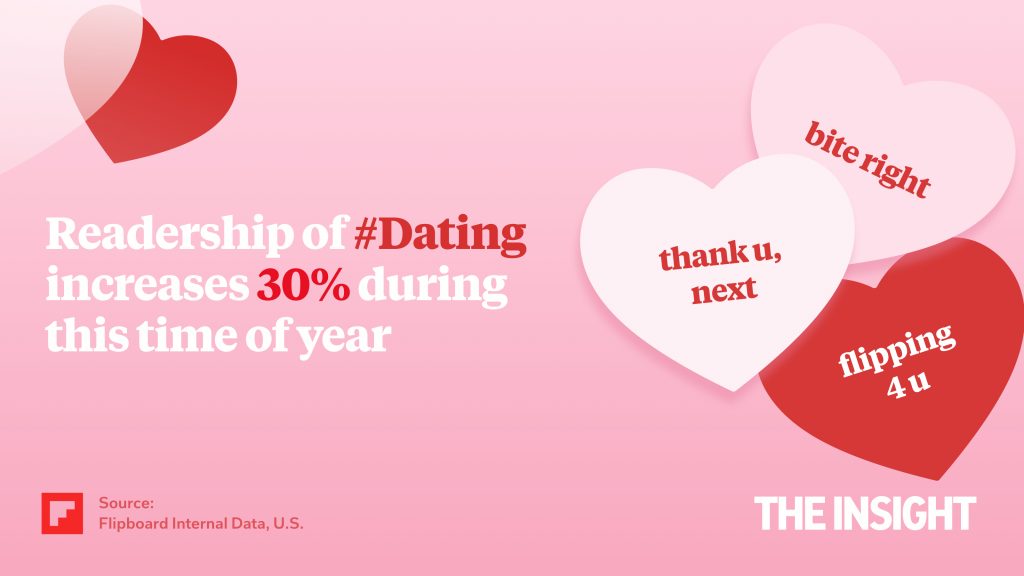 Valentine's Day Readers = Lifestyle Interest Graph
Who's diving into all this love-related content? Generally, they're people who enjoy lifestyle interests. Here's where you can find them browsing compared to the average Flipboard user:
– Food-related topics: Recipes (1.66X), Nutrition (1.81X)
– Home: Home Decor (1.80X), DIY (1.7X), Interior Design (1.71X)
– Tech: Gear & Gadgets (2.2X),
– Beauty and Fashion: Beauty (2.11X), Style (1.73X)
– Relationships: Relationships (2.00X), Parenting (1.43X)
Be sure to check out more fascinating insights on Flipboard for Brands.
~Ruth is reading The Insight
Further reading
As a Valentine's Gift to you, here are some love-ly Flipboard Magazines curated just for the occasion. We hope they fill your hearts, your minds, and your bellies.