Flipboard EDU Podcast Episode 6: School Culture and Innovation in COVID-19 with George Couros
Stacie Boudrie, Dr. Micheal Milstead, and William Jeffery / May 29, 2020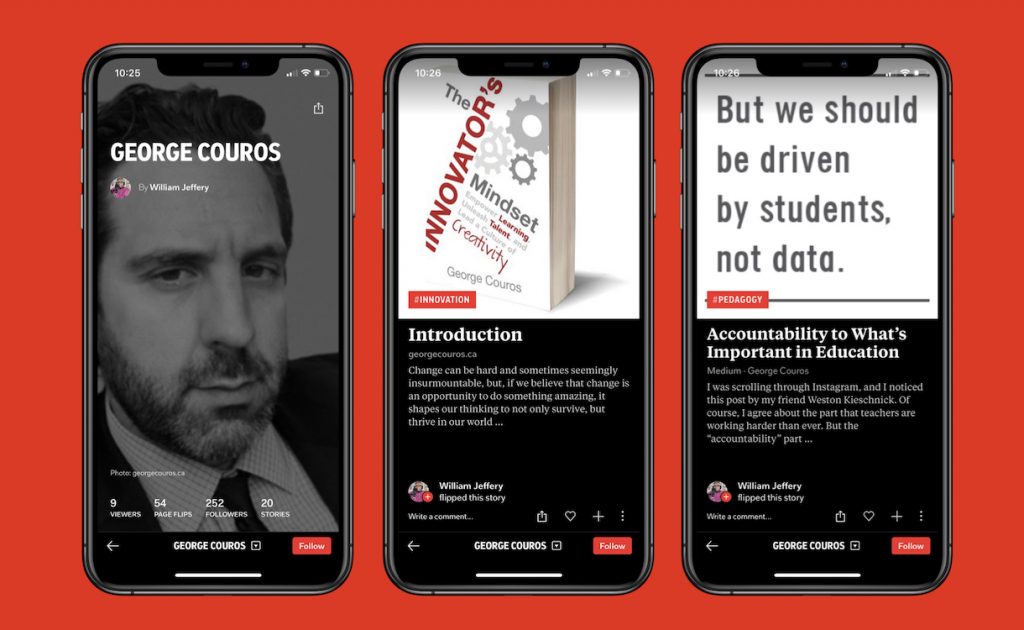 In this episode, we conclude our conversation with author George Couros about valuable professional learning connections for educators. George clarifies the "networker" characteristic, which is one of the eight characteristics of an "innovative mindset" that he wrote about in his book. He details the importance of interacting online now to establish connections with fellow educators for the start of school in the fall. We also ask George about ways to embrace meaningful change as states and schools are opening up with various restrictions, requiring educators to adjust to yet another new reality.

George explains how educators who are new to social media may gravitate to larger social networks and recommends exploring smaller social platforms as well. Followers don't always equate to the impact sharing of educational topics when they reach the right people. George explains that following a hashtag is probably the best way to curate specific information. Flipboard is great for this purpose: you can curate and follow hashtags specific to your professional and personal life to see articles from quality sources about those interests. This episode also goes deeper into the nuts and bolts of student mastery, school culture, student achievement, and basketball edu trash talk.

— Stacie Boudrie, Dr. Michael Milstead, and William Jeffery are curating "Flipboard EDU Podcast"

Stacie Boudrie has been in education for 20 years and is currently the coordinator of instructional technology at Wharton ISD, Texas. She develops instructional technology programs to effectively support students and staff with their 1:1 initiative. She began her career as an elementary teacher teaching all subjects and supporting a variety of learners, including ESL and gifted students.
Dr. Michael Milstead is an award-winning educator with three decades of experience as a public school administrator. He has served as a building principal at both elementary and secondary level schools. In 2019, Dr. Milstead was inducted into the Texas Southern University College of Education Hall of Fame.
"Coach Jeffery" is an award-winning digital learning educator and assistant principal at Columbia High School in Texas. His tech pedagogy continues to drive him to curate educational content on Flipboard that highlights teaching strategies, edtech, and ways to improve student success. He started co-hosting the "Flipboard EDU Podcast" as yet another way to share resources with his peers.