How to Create and Share Presentations on Flipboard
Jenn de la Vega / June 29, 2015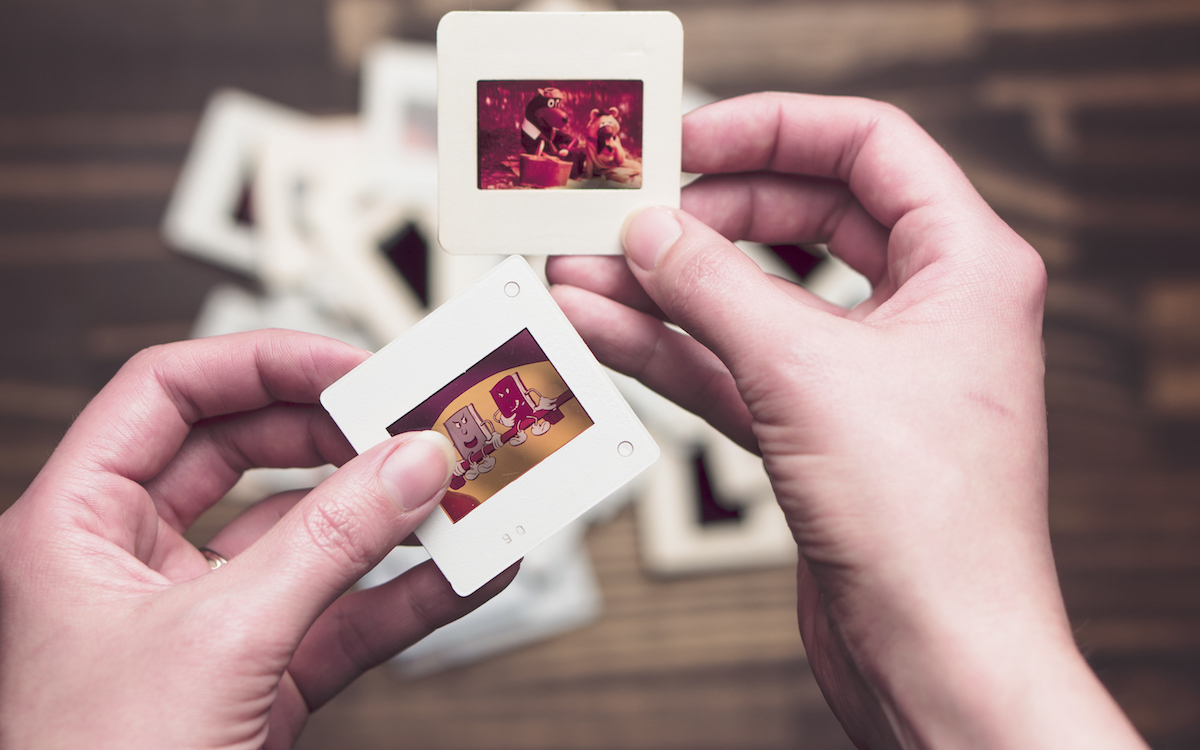 Flipboard Magazines are great for gathering talking points for a presentation, class project or panel discussion. Not only is it free to create an account, it's a quick way to put together flippable slides. Ask your organizer or A/V tech if they have the appropriate equipment to project from your mobile device or computer. Get started with Flipboard here.
You can flip, save and share whole beautifully paginated presentations from Slideshare as research or inspiration. You can also follow Slideshare for their top presentations as well as advice for making great decks.
Once your account is created, make your first magazine private so you can stage it while you get organized. If you're working with a team, you can invite colleagues via email to collaborate, divide up the work or send for approval. They must be registered with Flipboard; if they aren't, they will be prompted.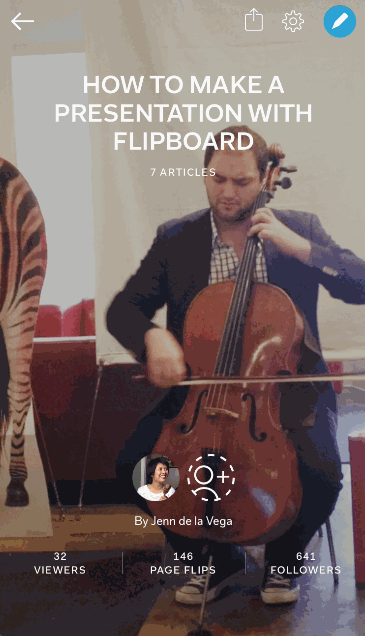 The beauty of Flipboard is that you don't need to worry about laying out your content. You can gather materials together and rearrange them into the order you want on the Web.
Here are the types of media that you can flip into a magazine presentation:

Text – By tapping on the compose button on the cover of any of your magazines, you can create title cards, interstitials and a contact page.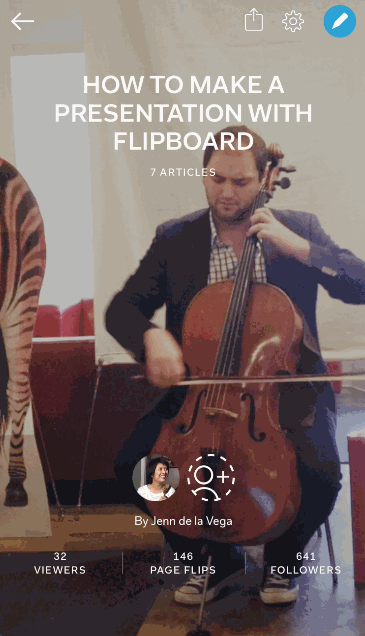 Images –  If you can host it on your mobile device, you can flip JPGs, PNGs and GIFs to elicit a reaction, show examples and introduce an idea. Simply press the share button from your device's photo gallery or camera roll.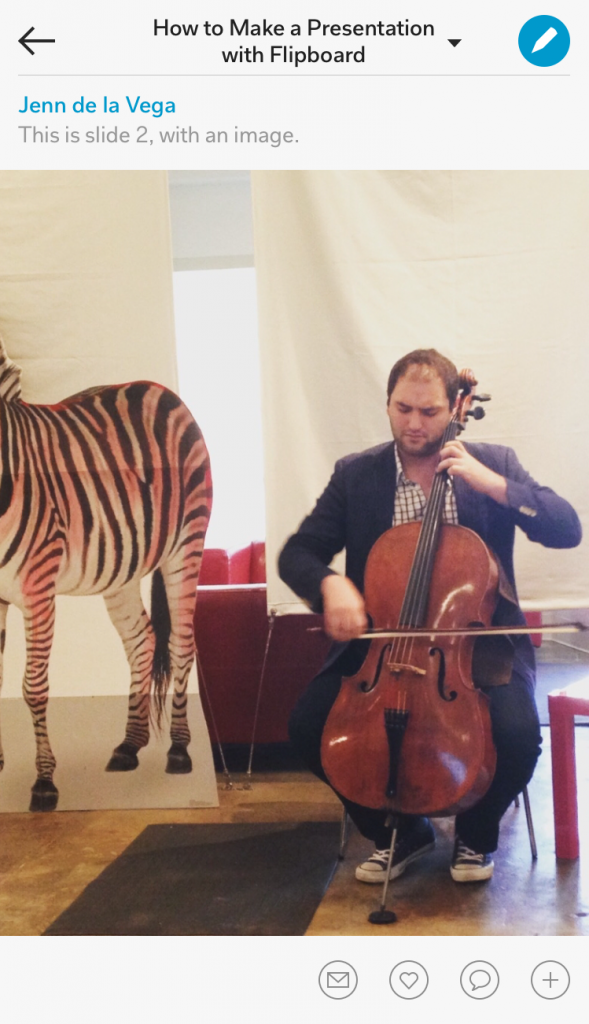 Alternatively, you can use our Chrome extension or bookmarklet to grab images from your website, social media accounts, Flickr or 500px account.
Articles – Published stories or blogs can be prompts for discussion. Flip articles with comments so you don't have to use note cards.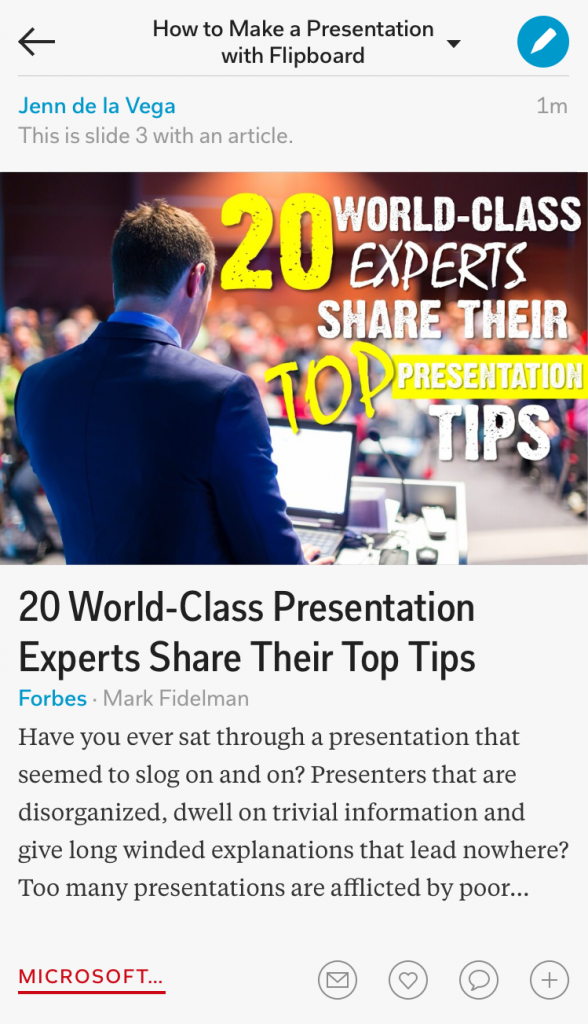 Sound –  Our partnership with SoundCloud allows any of their links to be played from within a magazine. Use audio to demonstrate another language, music examples and play quotes from an interview or speech.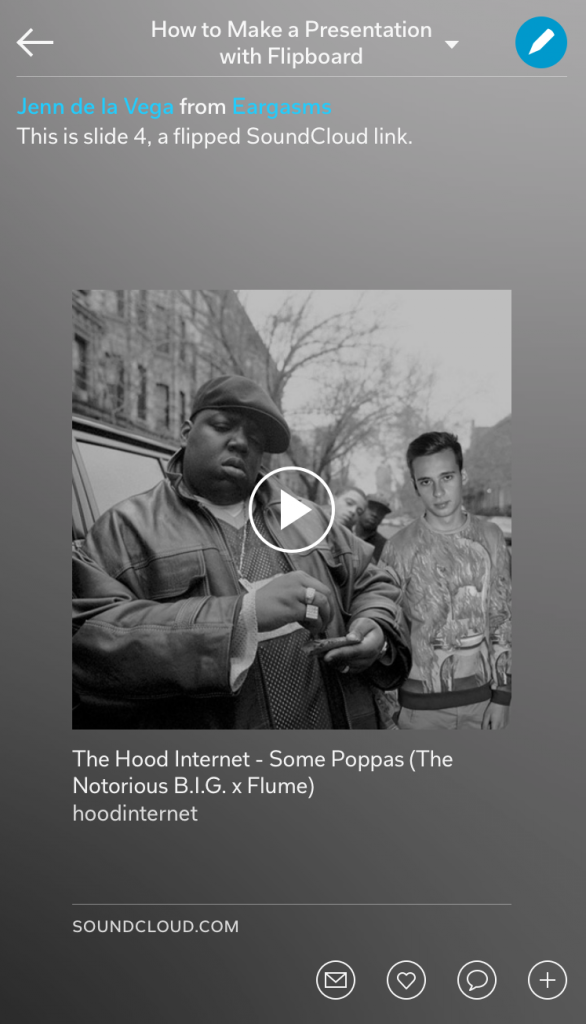 Video – Flip a YouTube or Vimeo link to show video during your presentation.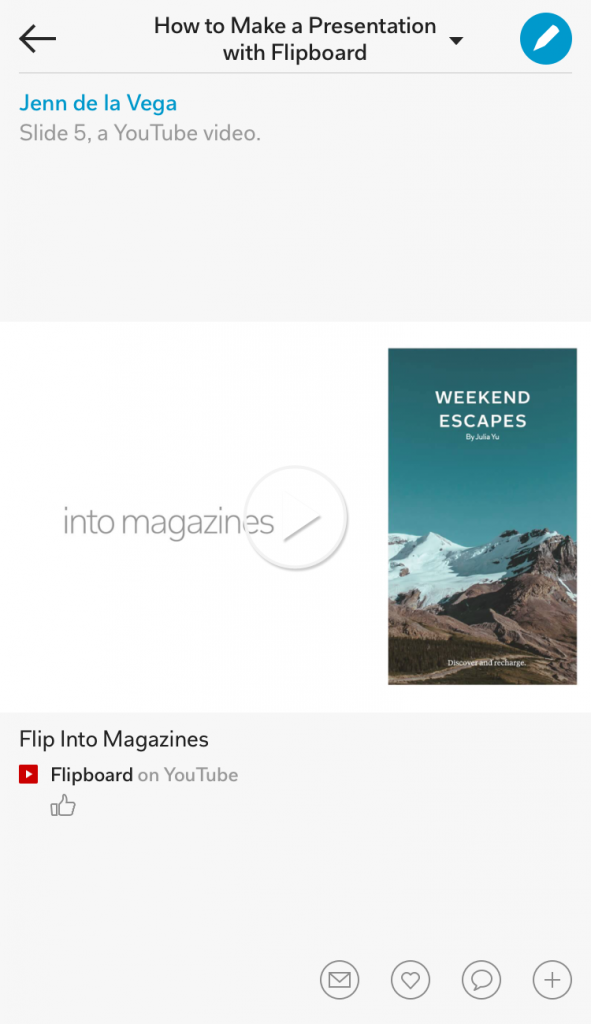 If you want to make your presentation public after you've given it, go to your settings and change the privacy. You can also share the whole thing via social media or collect all of your finished presentations in a meta-zine.
We're curious to see your class project and presentations. Share the link with us by tweeting to @FlipboardMag or email the team at FlipEDU@flipboard.com.
~jdlv just created "How to Make a Presentation with Flipboard"