"It Never Feels Like Work": Inside the Classroom with Teen MagMaker Bailee
Educators / January 23, 2017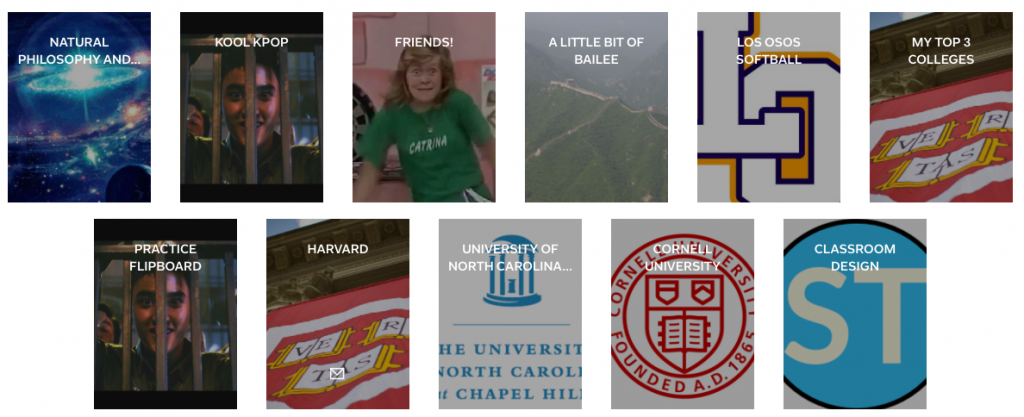 We've seen educators from Sydney, Australia, to Atlantic City, New Jersey, use Flipboard in their classrooms for enrichment reading, classroom conversation, professional development and more. Now students are sharing how Flipboard helps them: Introducing "Inside the Classroom," a new series of blog posts that showcases how students use Flipboard inside and outside of school to expand their learning and horizons.
Our first post is by Bailee, a sophomore  from Los Osos High School in Rancho Cucamonga, California. Bailee made a Flipboard Magazine, A Little Bit of Bailee, to tell her classmates about herself at the beginning of the school year. She also uses Flipboard to expand her knowledge of healthy eating and to explore her other passions. Hear more from the student herself:
Social, easy, revolutionary—Flipboard doesn't fall short of any of these terms. Whether flipping in YouTube videos, personal pictures, or your own Twitter feed, Flipboard is an easy way for students to share their lives with one another. Students can collaborate on Flipboard to instantly share fun articles and other links with each other. Students can create Flipboards about specific topics and learn more about them, or just read for pleasure during free time.
One of my favorite aspects of Flipboard is its flexibility. Not only can I create a magazine for my different friend groups, I can also create a magazine with other magazines in it! I have collaborated on Flipboard magazines with peers for a school project, to send interesting articles easily, or just to stay in touch. I also have a few personal magazines that my peers can view in their own time. Friends! is a magazine that has funny videos and articles. My friends and I use this to keep all of our interests organized and to easily share with others. For example, I flipped my Instagram page directly into our Flipboard so my friends can access my page this way. Another group of friends and I have created a magazine called Kool Kpop that's composed of music videos and SoundCloud files that act as a playlist that we can easily add to and listen to together.
One thing I can confidently say is that being assigned a Flipboard project for a class never feels like work. My Flipboard Magazine, A Little Bit of Bailee, was a project I did for my high school English class to introduce myself at the start of the year. I flipped in music videos, SoundCloud music files, pictures and articles to show my class who I am.
Flipboard is a perfect place to share anything and everything about yourself. I love the mobility of this platform over everything. Not only can I view articles on my computer in between homework sessions, but also on my cell phone, using the Flipboard app. This is how I use it most. As I'm scrolling through YouTube, if I see a funny video, I automatically think: "I should flip this to my friends!" which then allows my peers to share the joy with me.
Apart from the social aspects, I am also in love with the way I can further my learning with the dynamic format of Flipboard. I have a private magazine that I use just to read articles in fields that I have interest in. One article, for example, is about the health benefits of watermelon. I've been trying to eat healthier to benefit my softball career, and Flipboard has helped me expand my knowledge of balanced diets through access to various articles and blogs.
Flipboard is an app that is revolutionary and easy to learn. Students can use Flipboard to connect instantly with friends and get to know each other better. I use Flipboard to share fun and interesting articles with friends, and plan to use Flipboard to connect with my peers in even more ways.
~Bailee is curating Natural Philosophy and Metaphysics