On the Red Couch with Mary Jo Madda of EdSurge
Educators / May 24, 2017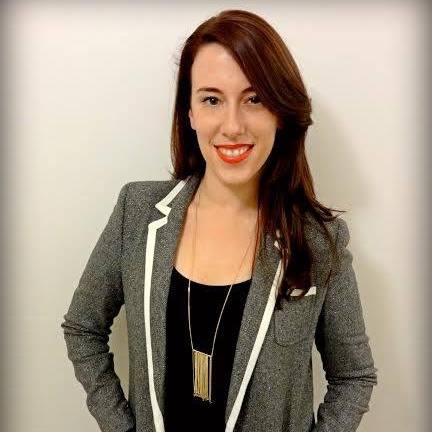 Mary Jo Madda is currently the Manager of Audience Development at EdSurge, an organization that helps educators decide the best tools for learners, inspires developers to build what teachers and students need, and helps investors understand the edtech market. Since starting at EdSurge, Madda has created the annual Digital Innovation in Learning Awards, the EdSurge podcast, and the Fifty States Project. We recently visited the EdSurge office, in Burlingame, CA, and chatted with Madda about the intersection of technology and education in today's school system.
What does EdSurge represent?
To me, EdSurge represents a unique convergence between people creating education technology (or edtech) products and practices, and people consuming edtech products and practices. Too often, those two parties don't talk to and learn from each other, but I think of EdSurge at the source of news and community building that anyone—from teachers to administrators to edtech companies—can come to in order to learn about technology and understand how it supports education.
How did you end up at EdSurge?
I started out as a middle school teacher in Houston, TX, and then later became an administrator in Los Angeles where I witnessed the ups and downs of implementing technology in a 1:1 rollout. My experiences with tech in schools ultimately led me to pursue a degree from Harvard in Technology, Innovation, and Education, and while there, I started reading the weekly EdSurge newsletter. I met our (current) Managing Editor Tony Wan at a local event in Boston and began learning about the needs the team had. I eventually hopped on the phone with CEO Betsy Corcoran, and the rest, as they say, is history.
Betsy Corcoran founded EdSurge in 2011. How has the company evolved since you have been there?
EdSurge started out as an organization focused on bringing news and information about edtech to the public, including a product index that currently lists more than 1,500 edtech products. But since then, we've added a number of other elements to our repertoire, including events (we're launching a new conference called Fusion in November), an edtech jobs board, a podcast, and an R&D team. We also launched a higher education arm about 1.5 years ago.
How do you see technology and education integrating in the future?
Truthfully, I'm not even thinking about the future, because it's already here. At this point, we're trying to preparing students for jobs that don't even exist, and yet classrooms and instruction still look like they're stuck in the year 1980. Technology needs to be a fundamental part of a student's day, whether they're coding, creating projects online, or learning about how to be a responsible consumer of the internet.
What do you think is one of the biggest misconceptions about technology in the classroom?
"Technology will replace teachers." That will never happen. The relationship between a teacher and a student is sacred. It cannot be replaced.
You created the Fifty States Project, can you tell me a little bit about it the program?
Sure! The Fifty States Project (which has been around since 2013) is something that is very near and dear to my heart.
About four years ago, when I first started at EdSurge, I came in as an Assistant Editor looking to develop more content around the K-12 audience. However, one huge gap I recognized was a lack in storytelling from the educator/administrator perspective—the individuals actually using the tools and engaging in these new mindset shifts, from going fully paperless to bringing in 1:1 iPad and Chromebook technology. I also noticed that, for the most part, those few educators that were writing about their experiences hailed from either California or New York. Where were all of the Southerners? The Midwesterners? Do the teachers in Wyoming and Washington consume apps differently from those in New Mexico and Vermont?
Fast forward to now, and this is the third year that we are running this project, where for each "class," we invite an educator from each of the 50 states, the District of Columbia, and Puerto Rico to write about how they use—or sometimes, resist—technology.
Why do you think it is important to hear stories from educators?  
Teachers are on the frontlines. They see everything, they understand how students learn, and, most of all, they ultimately decide what does and doesn't happen in learning environments, where human beings spend the first 15 to 25 years of their lives. Who wouldn't want to read a story by someone with that power and responsibility?
What is EdSurge thinking about next?
Our job is to provide our readers with the information they need. We're growing our various initiatives and taking on this brand new three-day Fusion conference is new territory for us. But at the end of the day, what we consistently think about is how to get a better idea of what our readers need and want to know. Got an idea? Let me know on Twitter. I'm dead serious.
What is one issue that needs more attention?
Equity and access. Is technology helping to close opportunity gaps, or is it, in fact, widening them when access to that technology is inequitable? There are groups that are looking to answer these questions with research, but what we need is more organizations working to facilitate and act on conversations around how we prevent those negative side effects from spreading.
What are some of your passions? And what do you like to read to keep up on your passions?
I'm half-Italian, so I would be remiss if I didn't say consuming cheese, bread and olives. But more seriously, I'm extremely passionate about project-based learning, the arts, and what I like to call "the resurgence of Renaissance men and women." I love the idea that with every passing day, people bring the arts and sciences closer and closer together. In my own secret world, I would love to blend my love for arts and sciences into a revved-up YouTube serious, à la Bill Nye the Science guy. We shall see!
As far as reading goes, I'd have to put former Stanford professor Larry Cuban's blog on my list. Paulo Freire's Pedagogy of the Oppressed is a book that will never get old. And going back to the equity and access point I listed above, the book I read last year that made the biggest impression on me was by Ta-Nehisi Coates' Between the World and Me. If you read one book all year, that's the one I recommend.
~Emily Hanna is reading 2016 50 States Project