2021 Year in Review: From Insurrection to Inflation and Beyond
Carl Sullivan / December 16, 2021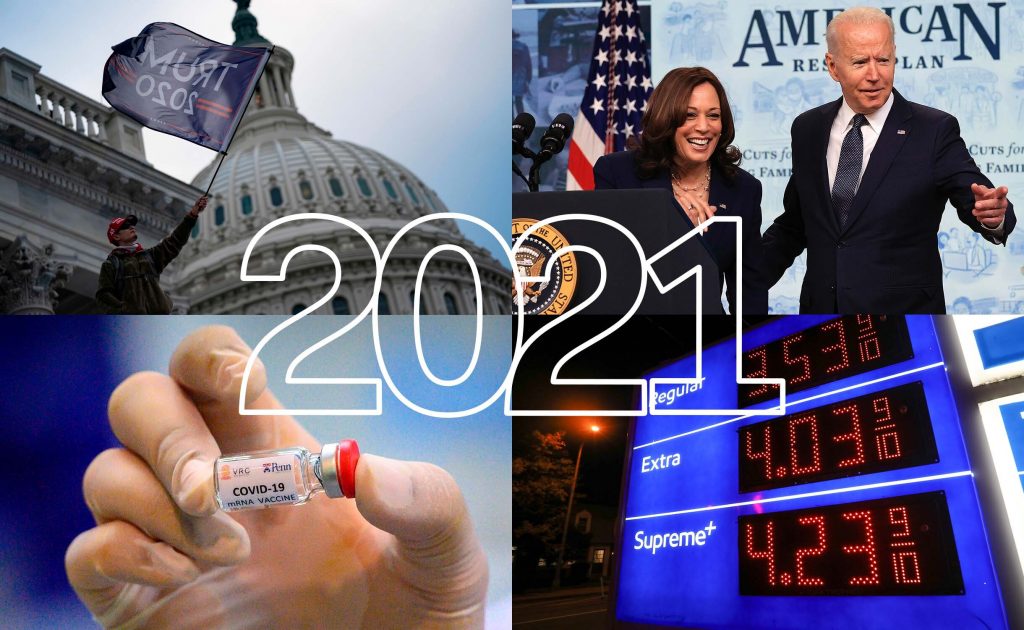 In some ways, 2021 felt like a terrible repeat of 2020 as the COVID-19 pandemic still dominates our lives. There was great hope as vaccines rolled out in January and many optimistic souls looked forward to a "hot vax summer." The delta variant delivered a cold reality check, and as the year draws to a close, we nervously watch the case numbers and deaths rise again, even as omicron's impact is unknown at this time.

The 2020 presidential election was another unwanted guest in 2021. The year started with a literal bang on Jan. 6 that echoes through our political discourse to this day. And the disastrous effects of extreme weather events caused by climate change, and gun violence still take up too many headlines.

New this year was the end of America's longest war, which many see as a good thing. But the chaotic U.S. withdrawal from Afghanistan left the Taliban in charge of a starving and downtrodden population. At home, Derek Chauvin was convicted for the murder of George Floyd, while Kyle Rittenhouse was found not guilty after fatally shooting two people in Kenosha, Wis. There was a significant rise in anti-Asian hate incidents, including the Atlanta spa shootings that took eight lives.

The stock market has broken records all year but that doesn't mean everything is fine with the economy. Our pocketbooks are feeling the pinch as inflation hits levels not seen since 1982. The supply chain is still a mess, and while unemployment is low, companies can't find workers to fill many jobs.

2021 wasn't all bad. The COVID-19 vaccines saved millions of lives around the world. A massive bipartisan infrastructure bill was passed and signed into law. Humanity made some incremental progress on climate change at COP26 and expanded its exploration of space. Britney was freed, and artists provided much-needed escapes from reality, including the viral Korean series "Squid Game" and Adele's "30."

You might be eager to put this year behind you just like the last one, but we encourage one last look at our 2021 Year in Review to fully assess what happened and take some learnings into the world's next chapter.

—Carl Sullivan, North America managing editor, is getting ready for Christmas and New Year's by reading Flipboard's Holiday Central Magazines, including Holiday Home & Entertaining and Holiday Food.