3 Ways Bloggers Can Use Flipboard Magazines To Give Life to Older Posts
Jessica Rosenberg / July 21, 2016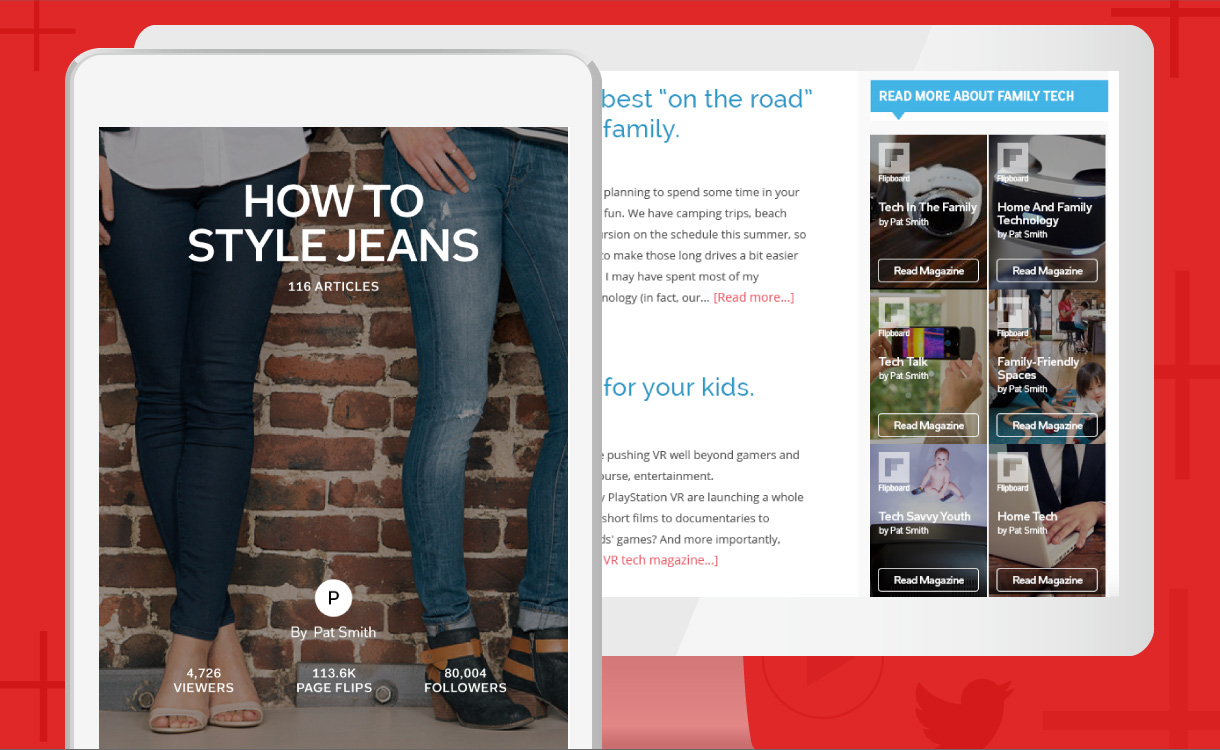 Every blogger knows that no matter how much time and effort is spent crafting a post, there are only so many times you can promote it and showcase it before you have to move on to the next one—both because you have more than one post to highlight and also because eventually everyone in your audience will have been given ample options to read it (or not).
With Flipboard, though, your past content no longer has to stay hidden.
Because of how easy it is to embed a Flipboard Magazine into your sidebar, blog post or email signature, a magazine is the ideal tool for giving your posts longer shelf-life than they would usually enjoy. How you choose to use magazines to collect and showcase your archived posts is entirely up to you, but here are three suggestions to get you started.
1) Thematic Magazines
No matter what your blog covers, odds are high that you touch on a number of different topics. While that's a fantastic way to give your readers a range of material, it can be frustrating for someone coming to your blog looking for something specific. Flipboard Magazines give you a way to group thematically relevant posts in a way that makes it easy for readers to find exactly what they need. Tagging posts gives your readers the full list of what you've written, but organizing them into a magazine allows you to organize your work in the way you most want your readers to experience your content.
For example, if you're a food blogger who covers everything from light breakfasts to midnight snacks, make it easy for readers to find all of your chocolate recipes by collecting them in a magazine and then embedding it in your sidebar.
There's no limit to how many magazines you can embed into your sidebar, so take a moment and rethink how you present your archives. Your readers will thank you and so will your old posts, what with all the new traffic they'll be getting!
2) Story Arc Magazines
Nothing is more frustrating for a blog reader than reading a great post and having to do some heavy digging to figure out the back story. We often expect that our readers have been along for the whole journey and therefore don't need to be pointed to previous posts to catch up on what's happening, but sometimes a post gains more traction than its predecessors, bringing new eyes to your blog—eyes that need a little more to go on than what you're offering that day.
Since Flipboard Magazines are both easy to create and edit, curating everything relevant to one particular story arc into one spot is a simple thing to do (much easier than finding a way to put key posts into an ebook that you'd have to format and update every time you wrote a new post). You can organize the posts in story order and even create content directly in Flipboard to tie the posts together. Embed the magazine into your sidebar or simply embed it or link to it whenever you have something to add to the story.
3) Seasonal Magazines
While certain topics like chocolate recipes, favorite reads and tips for traveling with toddlers are utterly timeless, others—like perfect Christmas cookies or back-to-school advice—are obviously more closely tied to the calendar. Even if you have a particularly great recommended content plugin, there's little guarantee that your readers are going to see all of your holiday-related posts or anything else that you write about only when the season comes around.
Ensure that no one misses one of your past posts by grouping them into seasonally appropriate magazines. If you're a finance blogger, maybe you want to create a tax season magazine. A travel blogger could collect all spring break posts in one spot. A pet blogger might put all summer advice posts together.
When the season rolls around, you can obviously showcase the relevant magazine on the sidebar of your blog, but you can also share the link to the magazine across all of your social networks, ensuring that your posts get maximum visibility with minimum effort from you.
~JessicaR is reading Photos of the Day