<![CDATA[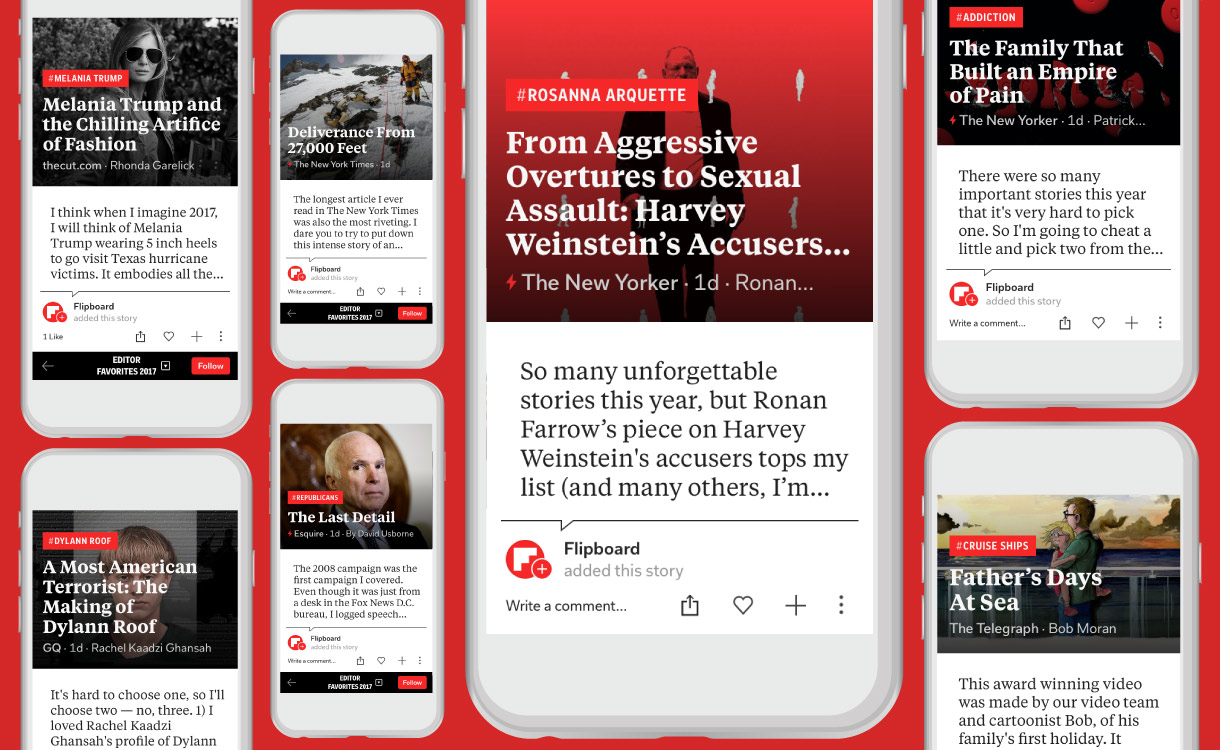 2017 was an extraordinary year for journalism. From the Harvey Weinstein exposés that kicked off an avalanche of sexual harassment pieces, to coverage of President Trump's first year, to searing storytelling about the opioid epidemic and more, Flipboard was teeming with stories worth your time. For a 'cheatsheet' to some of the best, we asked a handful of editors at our publisher partners and at Flipboard to name their favorite article, photo, video or podcast created in the last year. We then flipped everything into one Flipboard Magazine. It's got 40+ pieces of must-see content as chosen by:
Julie Bogen, Social Media Manager, Vox.com
Sari Botton, Essays Editor, Longreads
Stella Bugbee, Editor in Chief, The Cut
Janaki Challa, Director of Audience, The Daily Beast
Suzanne D'Amato, Editor in Chief, Food52
Candace Braun Davison, Senior Editor, Delish.com
Juliet Eysenck, Digital Publishing Editor, Telegraph Media Group
Steve Fine, Sports and Picture Editor, Flipboard
Connie Guglielmo, Editor in Chief, CNET News
Jeremy Kaplan, Editor in Chief, Digital Trends
Yael Kohen, Executive Editor, Features, Refinery29
James Ledbetter, Editor, Inc. magazine and Inc.com
Mia Quagliarello, Head of Curation, Flipboard
Adam Sachs, Editor in Chief, SAVEUR
Gabriella Schwarz, Managing Editor and Head of News, Flipboard
Ben Williams, Editor, Digital, New York Magazine
What'd they miss? If you're an editor and would like your picks included in our annual compendium, just fill out
this form
with your links and rationale, and we'll keep adding to the magazine.
If you see something you want to read but don't have time now, simply tap the + button to flip the story into a
private
Flipboard Magazine to read later. You can also save content from Flipboard to services like Pocket and Instapaper.
~MiaQ is curating
Sunday Reads