5 Magazines Worth Your Time: International Women's Day Edition
Sonali Kamboj / March 8, 2018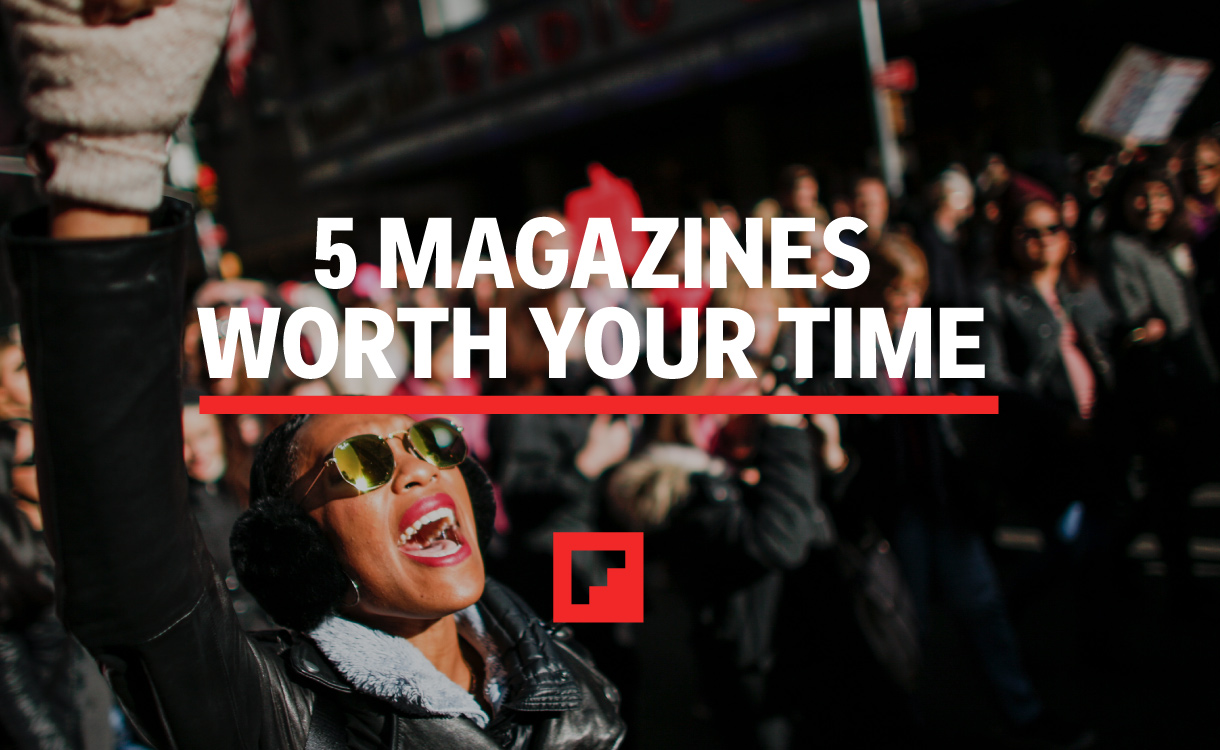 Millions of people across the world marched for women's rights. Women spoke up against sexual harassment and assault with #MeToo movement. Iceland introduced equal pay legislation. The driving ban on women in Saudi Arabia was lifted. Thousands of Kurdish female fighters fought against ISIS. Lebanon, Jordan and Tunisia repealed a law that allowed a rapist to escape punishment if he married the victim.
2017 will be remembered as the year of unprecedented change in women's struggles worldwide. It was marked by acts of defiance, marches, historic changes to laws affecting women, and shattering silence and stigma around sexual abuse and rape.
Bringing that momentum into 2018, women have already made remarkable strides in the field of sports, military and politics. The U.S. increased women's involvement in peace processes by enacting the Women, Peace, and Security Act. A record number of female athletes participated at the Winter Olympics in Pyeongchang, South Korea. Saudi Arabia opened its military to women. Iranian women protested against the country's mandatory hijab law. Romania appointed its first female prime minister.
On the occasion of International Women's Day, we bring you five incredible magazines that not only celebrate women and their achievements but also give much needed prominence to issues that still impede progress in their global fight for rights, equity and agency.
1. Women Around The World by Council on Foreign Relations: This magazine looks at women's issues through the prism of law and policy and the way they inform each other. A weekly series highlighting developments of note, Women Around The World examines "the relationship between the advancement of women and U.S. foreign policy interests, including prosperity and stability."
2. International Women's Day 2018 by The Washington Post: The Lily was the first U.S. newspaper edited and published for and by women in the 1800s. During that time, the publication "advocated to end slavery, and for a woman's right to vote, own property and wear pants." When the Post announced The Lily's revival last year, the core principles remained the same even two centuries later – to challenge the status quo by underlining issues that affect the women of our generation and to acknowledge the efforts of people who sparked that change.
"This year has been one of incredible change and conversation, marked by high-profile debate and a difficult societal reconciling. In this magazine, we explore different angles of our time's biggest stories, as well as delve into the issues that are critical to the lives of women throughout the world today," said Neema Roshania Patel, Deputy Editor, The Lily at The Washington Post.
3. Gender by The World Bank: "Women can and do play a vital role in driving the robust, shared growth needed to end extreme poverty and build resilient societies, but in many parts of the world, their potential, participation, and productive capacity are undervalued and untapped," writes The World Bank in the magazine's introduction. This magazine makes the case for investing in girls and their education, empowering local communities through skill development, encouraging female-owned enterprises, and enabling half of the world's population to join the global labor force.
4. Inspiring Women by Nazneen Rahman: People seeking inspiring role models can end their search with this magazine. It provides a center stage to initiatives undertaken by women, and the bold and courageous ways in which they are rephrasing prevailing gender narratives.
5. Books For Bluestockings by ninakat67: This magazine celebrates women in all their literary glory. A perfect place for "bluestockings" of our age to browse through and find feminist reads, literature by diverse authors, and books and comics with women protagonists.
~SonaliK is reading Women's Daily.