50 Favorites from 2016
Inside Flipboard / January 5, 2017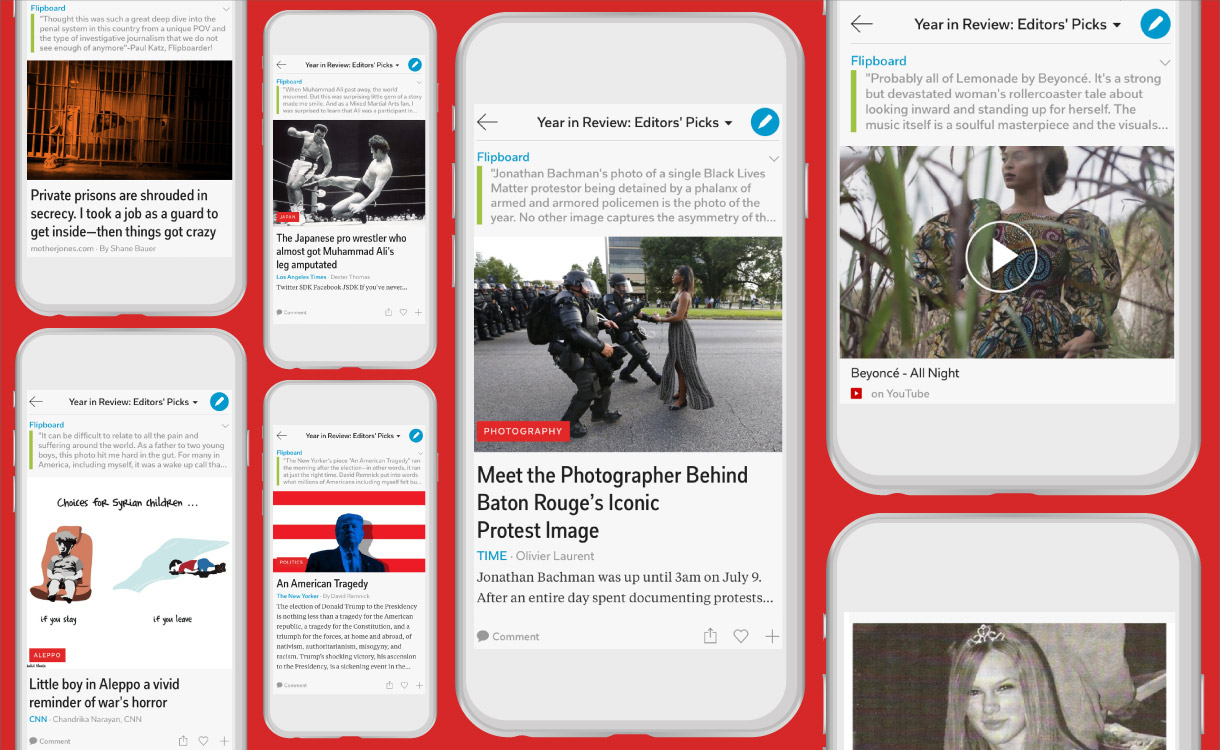 With 2016 behind us, we asked a handful of editors, photographers and employees to name their favorite article, photo, video or podcast created in the last year. We then flipped everything into one Flipboard Magazine.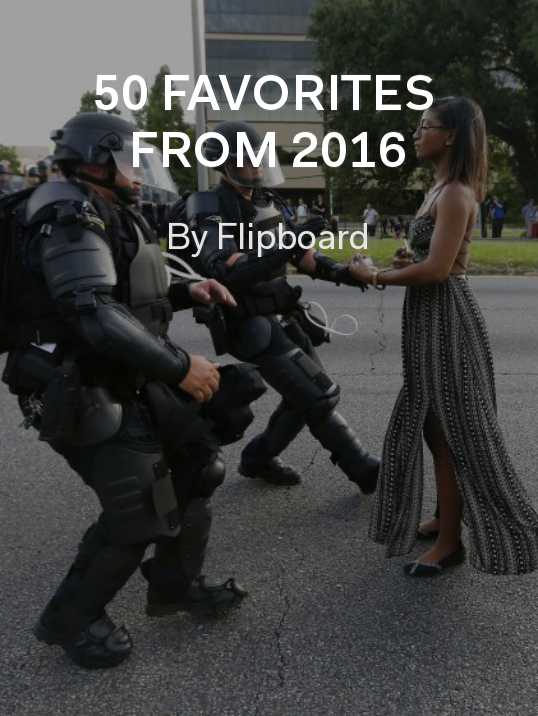 Here's a sampling of what's inside the magazine:
"Baton Rouge killing: Black Lives Matter protest photo hailed as legendary" by Jonathan Bachman
"For symbolic reasons, [I picked] Jonathan Bachman's image of the protester about to be arrested by police officers in full riot gear. There are so many good things going on in this image. The contrast between the softness of the young African-American woman in the flowing dress and the hardness of the armored police officers. The warmth of the right side of the image, with green grass and color, and the coldness of the left side of the image with gray skies. In many ways, this is as symbolic as the man standing in front of the tank in Tiananmen Square."—James Ken Colton, Editor-at-Large, ZUMA Press
"Baton Rouge protester facing off police. I spent a lot of time thinking about the clothes and what they communicate. Here, we have a phalanx of people wearing literal, actual armor forcefully engaging with one woman in a sundress, arms outstretched. The juxtaposition is profound."—Connie Wang, Fashion Features Director, Refinery29
"Jonathan Bachman's photo of a single Black Lives Matter protestor being detained by a phalanx of armed and armored policemen is the photo of the year. No other image captures the asymmetry of this year's many protests and the law enforcement response to them quite as well as this one."—Dylan Tweney, Founder, Tweney Media
+++
"My Four Months as a Private Prison Guard" by Shane Bauer for Mother Jones
"This article is dark. It's raw and real and illuminating—and it provides a window into a world the public doesn't see very often, if at all. These kinds of in-depth investigations have grown increasingly rare, so when they do happen we should celebrate them and support the organizations behind them."—Madison Kahn, Anxy Magazine
+++
The Boy in Aleppo Photo by Mahmud Rslan/Anadolu Agency/Getty Image
"This is a still from a video of the little boy stunned and bleeding in the back of an ambulance after an airstrike in Aleppo. Shot by the Aleppo Media Centre, this video and image horrified people everywhere, putting a face to the devastating Syrian war."—Sharon Yi, Editorial Director, MyDomaine
+++
"Here Is The Powerful Letter the Stanford Victim Read Aloud To Her Attacker" by Katie J.M. Baker for BuzzFeed
"The letter from the Stanford rape victim was incredibly powerful in both its prose and its effectiveness in setting off real changes in the way we talk about rape and how we prosecute rape cases."—Connie Wang, Fashion Features Director, Refinery29
+++
"An American Tragedy" by David Remnick for The New Yorker
"This piece ran the morning after the election—in other words, it ran at just the right time. David Remnick put into words what millions of Americans, including myself, felt but couldn't quite express coherently that dismal morning, and it was subsequently shared hundreds (thousands?) of times. Proof that there is comfort in words, in solidarity, and in shared emotion."—Faith Xue, Editorial Director, Byrdie
+++
"Snap Judgement with Glynn Washington"
"Snap Judgement Host Glynn Washington understands the power of storytelling and brings the most amazing storytellers to his stage for live performances and studio recordings. It's an NPR radio show as well as a podcast. I listen to it in podcast format mostly, and I recommend it whenever anyone is looking for examples of great storytelling. Also, my 10-year-old son loves this show—in fact our family can't get enough of it!"—Dylan Tweney, Founder, Tweney Media
+++
"Jonathan and Aaron and…" by Michael Rosenberg for Sports Illustrated
"If anyone can understand how Aaron Hernandez went from NFL stardom to life in prison for murder, it's his older brother, Jonathan. Michael Rosenberg's SI longform story on Jonathan Hernandez dives into the brothers' relationship and how Aaron's conviction has a profound effect, personally and professionally, on Jonathan."—Ryan Hunt, Managing Editor, SI.com
+++
"Donald Trump: Spiritual Teacher in Disguise" by Patricia Pearce for Huffington Post
"A very eye-opening and enlightening way to look at all that is going on in our country and world…Well written and just really stuck with me."—Erica Simone, Photographer & Writer, Huffington Post
+++
"The Japanese Pro Wrestler Who Almost Got Muhammad Ali's Leg Amputated" by Dexter Thomas for L.A. Times
"When Muhammad Ali passed away, the world mourned. But this surprising little gem of a story made me smile. As a mixed martial arts fan, I was surprised to learn that Ali was a participant in one of the first-ever MMA battles. Author Dexter Thomas takes us through how the fight came to be and how the fight itself unfolded, round by round. It's a story about the kind of man Ali was and a tale of how a friendship was formed."—Claus Enevoldsen, Head of Performance Marketing, Flipboard
+++
"Field Guide: Dahlias" by Amanda Gutterman for Gardenista
"Photographer Matthew Williams captured the exuberance of dahlias rioting in a garden when he visited southern England to shoot photos for our new book, Gardenista: The Definitive Guide to Stylish Outdoor Spaces, published online in our Dahlias Field Guide."—Michelle Slatalla, Editor in Chief, Gardenista
+++
John Podesta addresses supporters at election night rally by Patrick Semansky for AP Photo
"As John Podesta announced to the crowd that Hillary would not be appearing, he is alone on a map of the U.S. and the camera angle is looking straight down from the ceiling onto him. It speaks volumes about the surprise of that night and how the media missed the story."—Steve Fine, Picture Editor, Flipboard
+++
"How Homeless Women Cope with Their Periods" by Bustle
"Bustle's video about the crises homeless women endure each month when they get their periods was fantastic and sparked some real, meaningful changes in the ways some of my coworkers and friends have donated to charities this year. Also, Kailah—the main woman profiled—is an incredible star. More of her, please!"—Connie Wang, Fashion Features Director, Refinery29
+++
"Kenya Set Ablaze 105 Tons of Ivory" by Rachel Nuwer for National Geographic
"It's a photo of huge stacks of ivory on fire—the remains of 6,500 elephants and 450 rhinos (both of which are racing towards extinction) killed for their tusks and horns. It was set by the Kenyan government to send the powerful message to hunters and poachers that ivory has no value and its trade should be banned. When I read President Kenyatta's statement—'For us, ivory is worthless unless it is on our elephants'—I nearly cried. Anytime I see humans taking a stand and showing courage and love in the face of insidious and heartless actions that decimate our natural world, a tiny spark of hope is ignited in my heart."—Laura Mason, Managing Editor, Fest300
+++
"Lemonade" by Beyoncé
"Lemonade by Beyoncé is a strong but devastated woman's rollercoaster tale about looking inward and standing up for herself. The music itself is a soulful masterpiece, and the visuals are simply and utterly captivating."—Laura Mason, Managing Editor, Fest300
+++
"The Nightly Show – Neil DeGrasse Tyson Slams Flat-Earth Theorist" for Comedy Central
"The famous astrophysicist came to the rescue when The Nightly Show declared a science emergency: rapper B.o.B. had claimed the Earth was flat and that he had 'photographic evidence.' Tyson effortlessly debunks B.o.B. and bemoans the anti-intellectual tendencies in our culture today—then drops the mic. 'And by the way, this is gravity.' It's several genius minutes showing the triumph of intelligence over ignorance."—Carol Mangis, Managing Editor, PC Magazine Digital Edition

+++
"Oh Boy by Man Repeller"
"Oh Boy by Man Repeller, Leandra Medine's wildly popular website, is at the top of my bookmark list for its playful and humorous approach to high fashion. So it's no surprise that MP's podcast Oh Boy—with its candid and open chats with influencers and inspiring women like Emily Weiss and Garance Doré—is a must-listen as well."—Bobby Schuessler, Fashion Director, Who What Wear
+++
"Girl on a Bus" by Ashley Killough for CNN
"This piece follows my friend Ashley Killough, who covered the 2016 election and Trump specifically for CNN. Producer Jeremy Moorhead so perfectly captured Ashley's dedication and integrity that were on display daily for CNN's readers and watchers, and the personal toll of the cycle on this elegant powerhouse."—Gabriella Schwarz, News Editor, Flipboard
+++
"Conan Hits the Gym with Kevin Hart" on CONAN on TBS
"This was one of those rare times I was cry-laughing so hard my stomach hurt. Conan O'Brien and Kevin Hart have such great chemistry, even when they're yelling at each other."—Jenn de la Vega, Community Manager, Flipboard
+++
"Startup" by Gimlet Media
"This is a podcast chronicling the journey of Alex Blumberg starting his podcast company—very meta. It reveals the ups and downs that you often don't see of entrepreneur stories where the only ones in the limelight are the shiny successes of Snapchat or Uber. This podcast series helps show what happens behind-the-scenes and lays out the steps for budding entrepreneurs."—Sharon Yi, Editorial Director, MyDomaine
+++
"Just a Little Nicer" on NPR
"Just a Little Nicer will get you thinking about compassion."—Jay Patel, Photographer, Jay Patel Photography
+++
"UnStyled" by Christene Barberich for Refinery29
"I'm biased, but I really, really love Refinery29's EIC and co-founder Christene Barberich podcast about the stories we tell ourselves through the clothes that we wear. The women profiled are all incredibly inspiring, and have such thoughtful things to say about life, love, careers, and what style has to do with any (and all) of it."—Connie Wang, Fashion Features Director, Refinery29
+++
"The South's Most Storied Cakes" by Hector Sanchez for Southern Living
"In the South, there are very few celebrations that don't require a cake. Southerners are proud of the family recipes that they have passed down for generations, and they'll use any excuse to whip up one of these classic recipes. Our readers connected to these recipes on an emotional level. We loved seeing how many of our readers made these cakes and shared them on social media."—Brennan Long, Associate Editor, Social Media at Southern Living
+++
"Keepin' It 1600" by The Ringer
"'Keepin' It 1600′ is a great take on national politics in a year that was utterly off the rails from speechwriter Jon Favreau and Strategy and Communications Advisor Dan Pfeiffer."—Paul Katz, Head of Brand Partnerships at Flipboard
Flipboard: 50 Favorites from 2016
Flipboard asked its publisher and media friends to comment on the best article, photo, video, podcast and Flipboard Magazine of 2016. Here are some of their picks.
view the magazine