<![CDATA[
Our latest update has arrived! It was created to quickly connect you to the things you're most passionate about in the world and in your own work, life and play. Here are eight ways it can benefit you as a reader, curator and all-around inquisitive person. Ready to get started?
It's one place to keep up on all of your passions. At the core of the new Flipboard are Smart Magazines, which blend expert voices, curated sources, and recommended stories to create a beautiful, easy way to keep up on all the news around your passions.
Swipe right past "For You" to reveal the Passion Picker. Scroll down to browse options or start typing in the search bar. Once you select a passion, it will populate and you can start flipping right away.
Want to hone it even more? Tap the black footer and then "Personalize" by adding specific subtopics. For example, instead of just general #Food stories, try selecting or searching for specific kinds of food, like #Vegetarian Food, #Organic Products and #Healthy Eating; then tap Done. The resulting Smart Magazine will be automatically updated with stories about these specific kinds of food, along with general stories about food. (If you ever want to remove the general stories, simply de-select the baseline feed—in this case #Food.)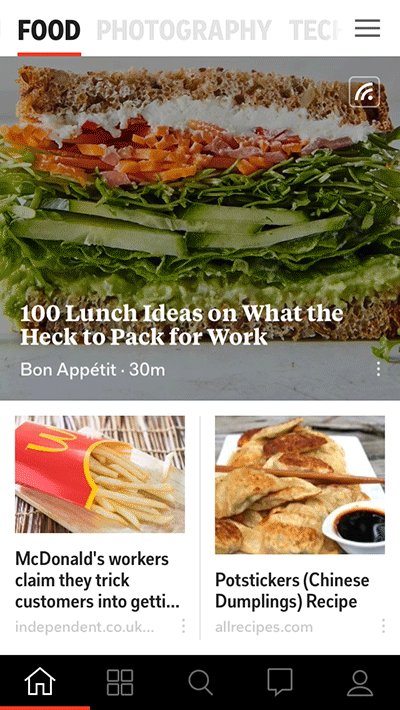 ProTip:
Use the search bar under Personalize to find more hashtags to add.
Make a magazine with exactly what you want in it. Sure, you've been able to make magazines on Flipboard for a while, but Flipboard 4.0 introduces one of our most requested features: an automatically updating magazine for personal reading. You can build your own Smart Magazine with specific sources like your favorite publishers and RSS feeds, Flipboard Magazines, Twitter feeds and hashtags, YouTube and SoundCloud, and more. Visit your Profile, choose Make a Magazine, and then 'For reading specific sources' to start.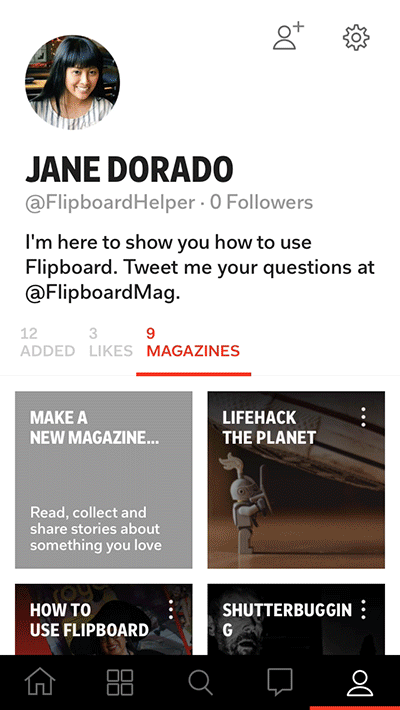 Quick access to what you most care about. Your Home carousel offers front-and-center access to your Cover Stories and up to nine items, including publisher sections and Smart Magazines. Anything else you follow will be under your Following tab.
ProTip:
Within each Smart Magazine, tap on the black bar and see what you're already following under 'Related Magazines You Follow
.
' That way, you don't have to search for magazines you check regularly.
Organize the way you want to. Seasons change and so do your tastes! Rearrange your Home carousel by tapping on the three black lines in the top corner. Hold down on the gray three lines and drag Smart Magazines to where you want them.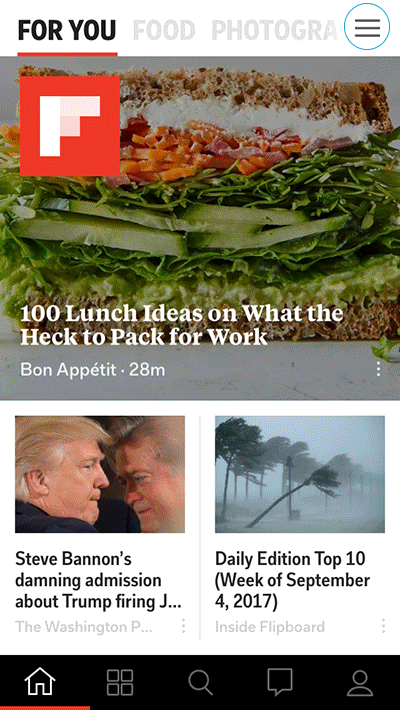 Sync your Smart Magazines no matter where you're reading. As long as you are logged in, you can read and personalize your Smart Magazines on Flipboard.com, too.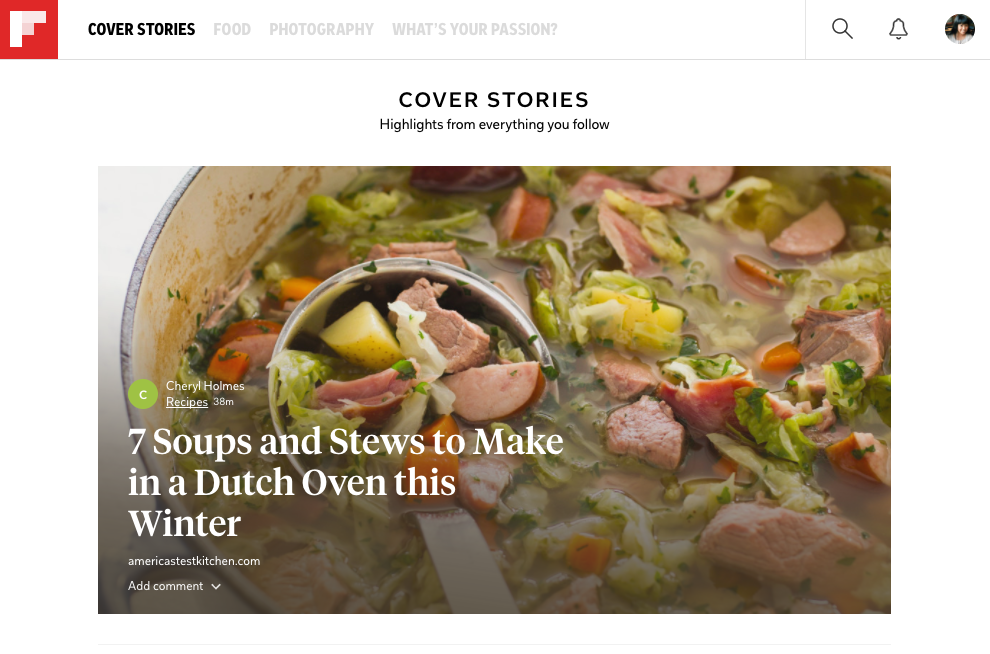 Search for anything to make Flipboard your own. Tap the magnifying glass to search Flipboard. Results are organized neatly by topic, magazines, profiles and social media.
Get inspired by the Content Guide. Hosted under the search tab, you can browse quality sources, editorial features, photo galleries, noteworthy magazines, and stories organized by category.
Show some love and improve your Smart Magazines. Our algorithm learns from what you follow, heart and add. It also tells us that this is a good story for others interested in that topic so the more you interact with Flipboard, the better the experience for everyone will be.
Help Smart Magazines stay on topic! If you see a story that doesn't belong there, tap and hold on the story, then select 'Less like this' and finally 'This is off topic.' If you need help or find a bug, please report it in-app to our Support team or reach out to
@FlipboardCS
on Twitter.
We'd love to hear what you think of the new Flipboard! Tag us in a tweet to
@Flipboard
and tell us. You can also find more tips and tricks by following the
#FlipTip hashtag
.
~
jdlv
is co-curating
Flip NYC