Al Jazeera Launches on Flipboard
Inside Flipboard / September 16, 2011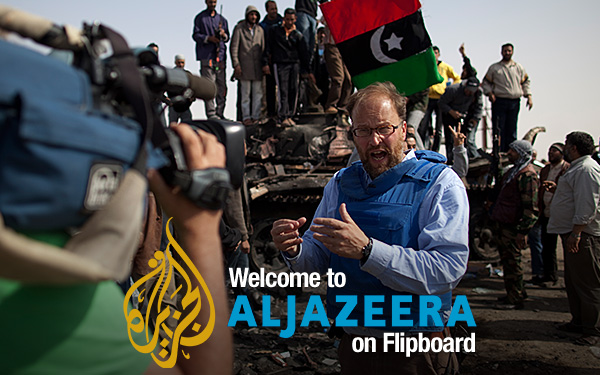 Al Jazeera first gained fame for its live coverage of the war in Afghanistan. Since then, it's become known for giving a voice to under-reported regions and perspectives. With 70 bureaus around the world and a staff representing more than 60 countries, Al Jazeera's newsroom is one of the most diverse on the planet. The same is true for its English-language network, Al Jazeera English, which launches on Flipboard today.
Indeed, the world spins quickly with every flip of this section, as articles take on global (world financial crisis) as well as a local (dengue fever in Pakistan's Punjab region) issues. Coverage from the Middle East and Africa is especially rich and varied — there's the latest on the Libyan revolution, an article about falling child mortality rates in sub-Saharan Africa, and an exploration of Saudi women's fight for basic rights. Many stories contain video from Al Jazeera's much-watched YouTube channel.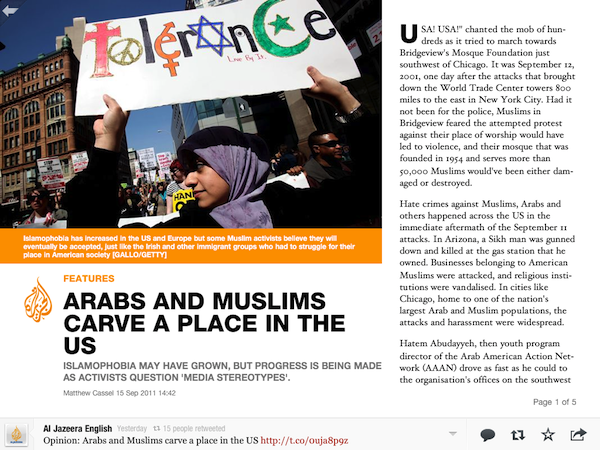 Add Al Jazeera English to your Flipboard to experience coverage that's received nods from the International Emmys, The Royal Television Society, The Foreign Press Association, Amnesty International, and more.
Have a great weekend,
~MiaQ
featured@flipboard.com
facebook.com/flipboard
@flipboard