Ashton Edits DETAILS, Now on Flipboard
Inside Flipboard / August 17, 2011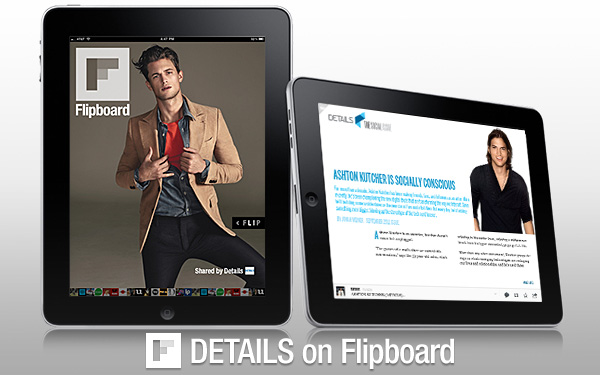 DETAILS launches on Flipboard today, along with an exclusive, online-only issue of the magazine edited by actor/social media maven/Flipboard investor Ashton Kutcher.
The go-to magazine for sophisticated young men, DETAILS embraces high and low culture with equal verve. Our Kutcher-edited bonus issue includes Ashton's "10 Commandments of Style," along with exclusive photos from his iPhone. There's also an inside look at The New Titans of Tech, a Q&A with entrepreneur Josh Kushner, and a social media makeover for a staffer from Katalyst, Kutcher's production company. There's even more from Ashton in this interview, in which he dishes on technology, television, and the unsolicited advice he'd give Facebook's Mark Zuckerberg. To find articles and galleries edited by Kutcher on Flipboard, look for the ones labeled "The Social Issue."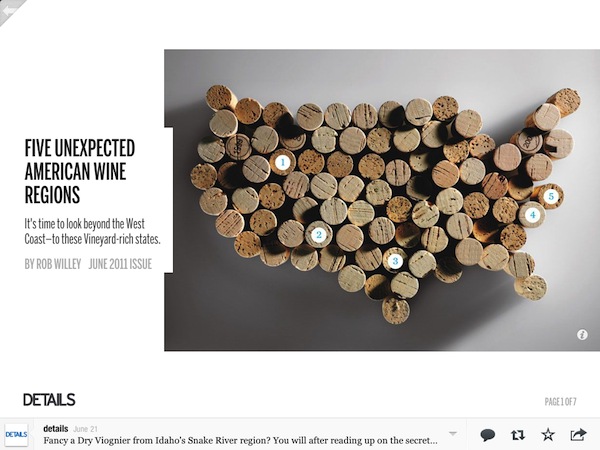 Elsewhere in DETAILS, you'll also find a piece about investor Peter Thiel's latest venture, a 20-page photo gallery devoted to "ladies who punch" (in the movies, that is), a convincing argument that Nicolas Cage should be your life coach, and a step-by-step guide to looking like a True Blood hunk.
Tap here to add DETAILS, including "The Social Issue," to your Flipboard.
Enjoy,
~MiaQ
featured@flipboard.com
facebook.com/flipboard
@flipboard_mia