ASPIREist Episode #2: The Ghosts of Fort Detrick
Shona Sanzgiri / April 10, 2016
Living by an army base should make people feel protected, not terminally ill. But after residents of Frederick, Maryland, began contracting cancer at unusually high rates, they started to wonder about nearby Fort Detrick, a United States Army Medical Command center known for conducting biological weapons testing from 1943 to 1969. Was the military poisoning the town?
That's what Philippe Cousteau Jr, environmentalist, CNN correspondent and grandson of famed marine conservationist Jacques Cousteau, wanted to find out. On the second episode of ASPIREist, airing this Sunday, April 10 at 8 AM ET, follow Cousteau to Frederick, where he interviews residents and government officials to see if the air, earth and water surrounding the town has been killing its inhabitants for decades.
Additional segments from the episode include:
Just for a Minute: Girls Who Code — Host Reshma Saujani talks about a pretty unique girls' school, based in NYC and now in 25 states, devoted to the art, science and magic of coding.
Look to the Stars: Parks and Records — Find out how one of Nashville's most musical married couples, country singer Holly Williams and Kings of Leon guitarist Chris Coleman, used their tunes to make something tangible and truly wonderful: a public park for the city's children.
Found On…Last Days of Ivory —The director of Oscar-winning films like Hurt Locker and Zero Dark Thirty, filmmaker Kathryn Bigelow has made an animated film about the perilous connection between the ivory trade and terrorism.
Just For a Minute: Sirum — Is there such a thing as too much medicine? See how one startup is giving surplus medication away to those in need.
For more about the episode, including an exclusive, behind-the-scenes Q&A with Cousteau, photos and articles related to the issues, check out ASPIREist's magazine on Flipboard.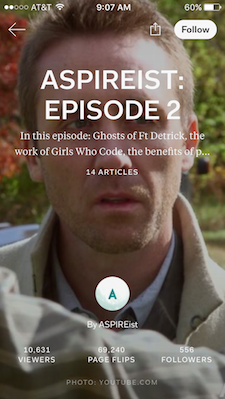 And here's sneak peek of next week's episode: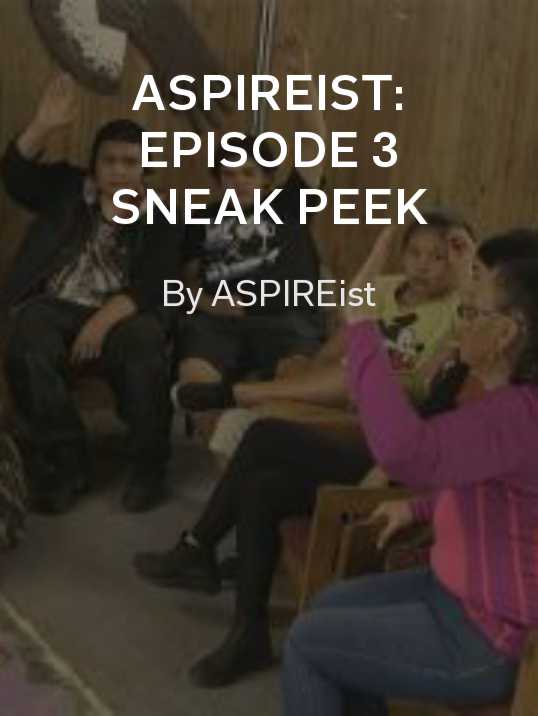 ~ShonaS is reading Ghosts of Fort Detrick