BBC Behind the Story: Rise of the Baby Box
Gabriella Schwarz / April 11, 2016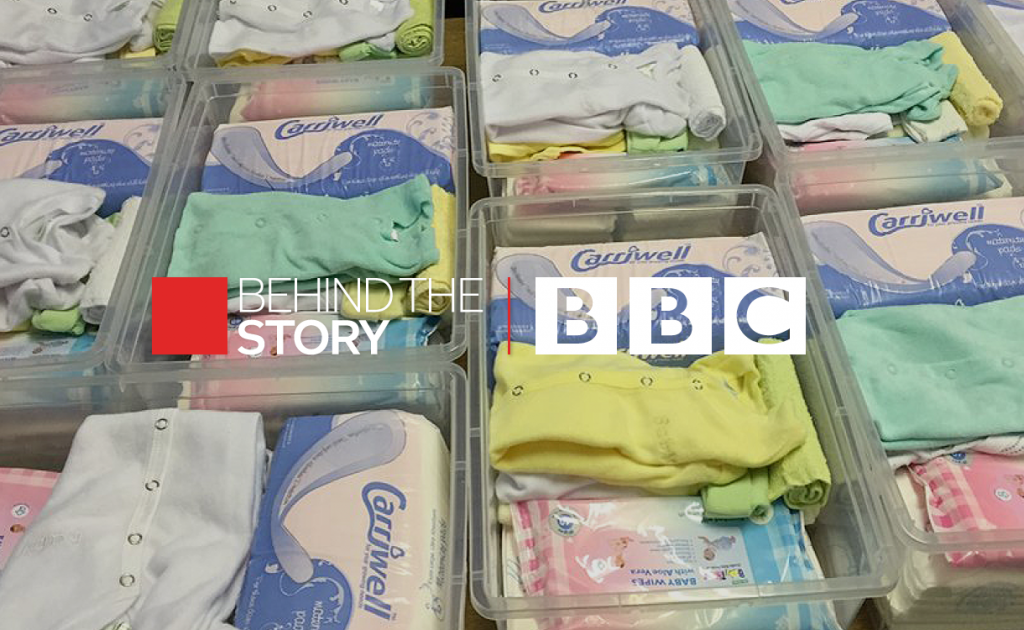 Story: Why babies all over the world are now sleeping in boxes
Publication: BBC
Reporter/Editor: Vanessa Barford/Stephen Mulvey
It's a simple idea that dates back to the 1930s: new mothers are given a 'baby starter kit.' The box contains supplies and becomes a newborn's first bed. When the BBC Magazine reported on this Finnish practice in 2013—in a story read by 10 million—it was just a tradition there. Since then, it has spread to other parts of the world (including the United States) with the goal of positively impacting infant mortality.
Thirty-six thousand boxes are expected to be handed out over the next two years, typically filled with bibs, bodysuits, diapers, a sleeping bag, outdoor gear, bathing products and a small mattress. But ultimately the boxes are only one aspect of what's needed to save the lives of the youngest among us.
"Driving down infant mortality is fundamentally a question of making big social changes such as alleviating poverty, improving education, providing good antenatal care, and stopping parents from smoking," said BBC's Stephen Mulvey, editor of international features for the BBC Magazine.
We spoke to Mulvey about the most recent story he edited, new inventions for mothers and the BBC's Flipboard Magazine that encompasses the publication's reporting on motherhood, childbirth and parenting.
Why do you think the original story about the baby starter kit resonated so much with readers?
I think there are a number of reasons, one being that the idea of putting your baby to sleep in a cardboard box is pretty strange, at first sight, to anyone who's not Finnish. And yet readers quickly realize that the baby box is a great idea—babies are perfectly comfortable sleeping in the box, and the decision to give one to all mothers apparently helped bring about something wonderful, a reduction of infant mortality. And then the link is made between the box and powerful ideas of equality and the importance of children—I think a lot of readers respond to that. Much of the world suffers from Nordic-envy, it seems, and this is another case where a Nordic society appears to be doing something right.
What most surprised you about how mothers from different areas of the world prepare for motherhood?
I was interested to discover that experts in Stellenbosch [University in South Africa] thought there was no point giving South African mothers a box for the baby to sleep in. The mothers in these communities really insist on having the baby close to them, in their bed, so it makes more sense to give them a plastic box that can be used as a bath. While researching the most recent story, we also discovered some interesting variants of the baby box among New Zealand's Maori communities, including one that is woven out of leaves like a Moses basket and another that is made of plastic and designed to lie in the parent's bed—it's big enough to prevent a sleeping adult from accidentally rolling over and suffocating the baby inside. We didn't mention these in the story because they predate the publication of our original 2013 article and could not have been influenced by it, but the boxes have some other interesting contents, including a container for the placenta (an ipu whenua), which has to be buried in the parents' ancestral land (turangawaewae).
Other things came to light that were not surprising, exactly, but which I just had never considered before. Do pregnant women in rural India take folic acid supplements? No, but almost certainly they should. Luckily the people running the Barakat Bundle project [the box project in South Asia] have thought about this and are doing something about it, as well as providing mosquito nets to protect babies from malaria and sterile blades for cutting the umbilical cord, and so on.
Has the success of this series of stories impacted the BBC's coverage of family, parenting and childbirth? If so, how?
Nearly all journalists want to write about subjects that are important, but they also want to write stories that will reach a wide audience, and the two things don't always go hand in hand. What the original baby box story showed beyond doubt was that a story about parenting and public health policy can, in certain circumstances, go viral. I had not seen that coming. In the department I work for, the online Magazine, we have definitely taken note and feel excited by the opportunity to do worthwhile stories in this subject area that are also good box office. I think you can see the results of that in some of the other stories in this Flipboard series.
What is the potential outcome of the box projects now sprouting up around the world?
When Helena Lee, who wrote the original Finnish baby box story, first heard about the South African pilot project in the spring of 2014 I was on a cycling holiday in France, but had to stop and reply to her email. The idea that we had helped to export the idea from Finland to South Africa—and might possibly have a real-world impact—felt very good. The follow-up story we recently published, by Vanessa Barford, shows that the impact potentially stretches far beyond South Africa. It's not just about infant mortality, it's also about maternal mortality, and about catching problem pregnancies at an early stage. We would like to think that some mothers' and babies' lives will be saved thanks to the role these stories have played in drawing attention to the baby box.
Have you already seen a change in infant mortality rates or a general trend in the data, positive or negative?
No, I think it's too early to expect that. We are currently at the stage where people are running pilot projects. The Stellenbosch project and the Calgary project, and maybe others, are going to be written up for medical journals, but I doubt they will draw any conclusions about infant mortality. The conclusion of the Stellenbosch project is that the box helped get pregnant women into clinics for antenatal checks. The Calgary project, by the sound of it, is looking to see whether the mentoring program introduced alongside the box helps to alleviate the isolation of new mothers.
The bigger picture is that nearly every country in the world is making progress on bringing infant mortality down (Brazil is an important exception) so it would probably be sensible to expect this trend to continue whether or not the baby box becomes more widely adopted. Also, as one expert comments in our most recent story, driving down infant mortality is fundamentally a question of making big social changes such as alleviating poverty, improving education, providing good antenatal care, and stopping parents from smoking. The baby box may have a role to play, but this expert thinks it's a marginal one.
What are the biggest contributing factors to infant mortality?
I am a journalist not a medic, but reading about the original Finnish program, and the newer baby box projects in the developing world, one can see health professionals struggling with the question of how to deliver antenatal care. They want to make contact with pregnant women early in their pregnancies and at frequent intervals during their pregnancies. In some communities, these pregnant women prove to be quite elusive, and here the baby box may be some help. It's clear though that there are other parts of the world where the problem is much more fundamental—there are no antenatal clinics for pregnant women to attend and far too few trained midwives.
Another theme that came up in Finland, and again in connection with the new projects in London and Fort Worth, is the importance of getting the baby out of the parents' bed. The consensus seems to be that it's better for the baby to sleep alone, to avoid the risk of accidental suffocation and that too often babies and adults are sleeping alongside one another.
What do you hope is the lasting impact of these stories?
I do hope that the journey of the baby box around the world will help improve the health of mothers and babies. Beyond that, I hope that the stories in the BBC Flipboard series may have persuaded some readers that these subjects are interesting! Maybe some will want to become midwives, doctors, nurses. Maybe others will want to get involved in projects that promote maternal health and good parenting. If not, there is always the option to support these projects financially.
Read more BBC stories about motherhood and family in this Flipboard Magazine.
~GabyS is reading Women in the World