BBC News Now Available on Flipboard
Inside Flipboard / August 18, 2011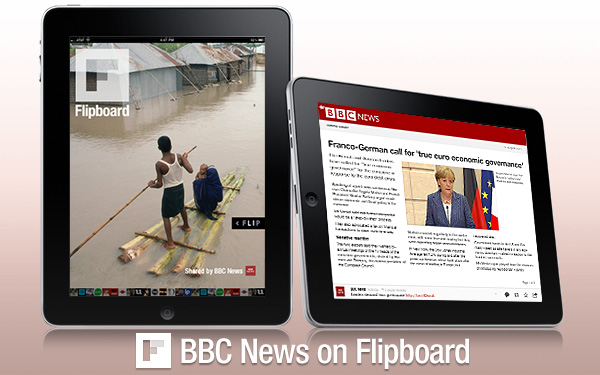 The BBC is synonymous worldwide with world-class journalism, making it one of the biggest global news providers out there. With the proliferation of celebrity news and opinion, the appetite for authoritative, quality reporting is greater than ever — and today we're pleased to feed that appetite with BBC News on Flipboard. Flip on to learn more about BBC News, as well as other highlights from this week's Content Guide, which is always accessible via the red ribbon in the top right corner of your Flipboard.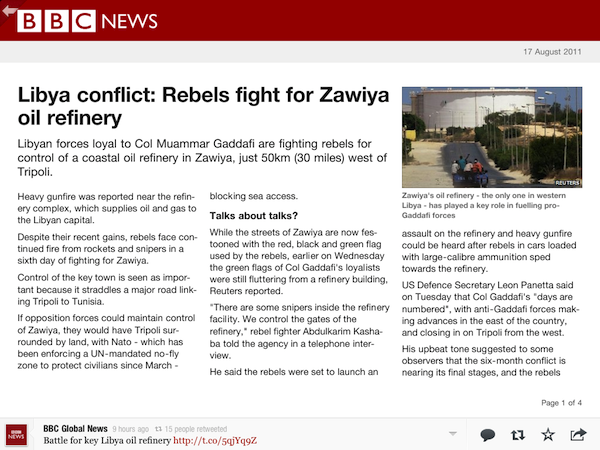 BBC News – Tap to Add Section
Drawing on a global network of more than 2,000 journalists, the BBC seems to be everywhere at once. BBC.com, its website for international audiences, covers up-to-the-minute news, business, travel, sports, weather, lifestyle, and technology. Add smart analysis and gorgeous photography to the mix, and you've got a major new addition to Flipboard.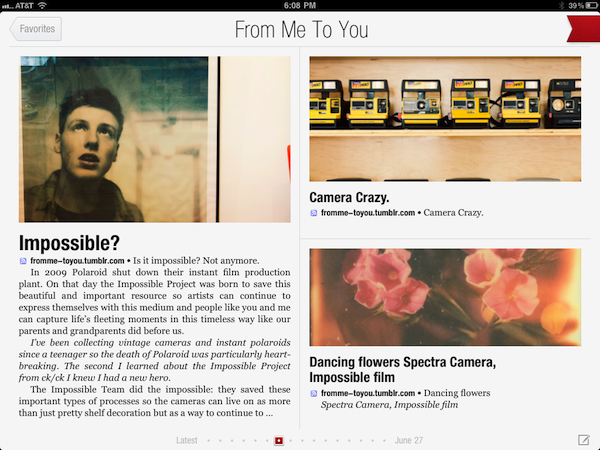 From Me to You – Tap to Add Section
From Me to You showcases the bold photography of Jamie Beck, a Fashion Institute of Technology graduate who was also one of the 24 bloggers hired by Tumblr to cover New York Fashion Week earlier this year. Her posts contain scores of commanding photos, but look closely and you might catch a glimmer of From Me to You's signature "cinemagraphs," which Beck developed with visual designer Kevin Burg. Somewhere between a photo and a video, a cinemagraph is an HTML5 video or .gif with frames that are animated to create a sweetly old-fashioned feel. See if you can spot one while reading From Me to You on Flipboard.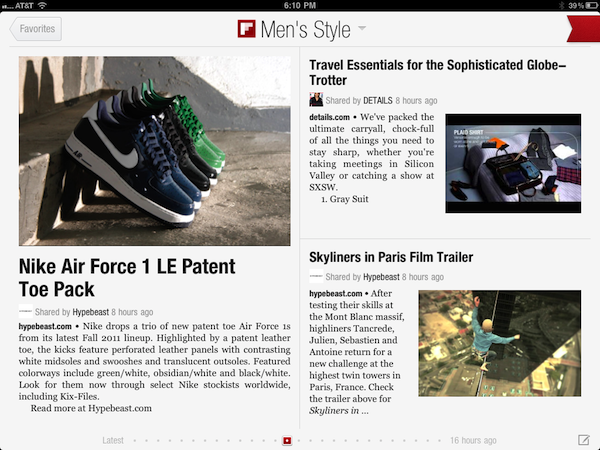 Men's Style – Tap to Add Section
In honor of our recent launch of DETAILS magazine, we curated a new section devoted to men's fashion, grooming, and trends. (It's also inspired by this Flipboard user.) Melding tweets from @details, @slamxhype, @hypebeast, @selecticism, @uncrate, @parkandbond and other experts, this custom magazine will help men look their best.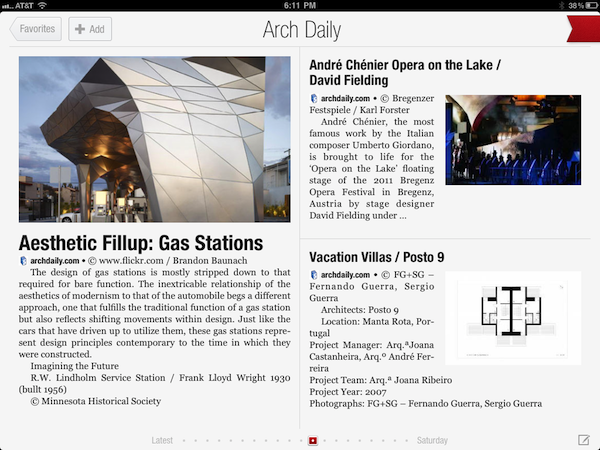 Arch Daily – Tap to Add Section
Showcasing impressive architectural projects and interesting architects, Arch Daily is a fast-growing community. Founder David Basulto says it's actually the world's most visited architecture website, with 3.5 million visits per month. Yet many of those enthusiasts are going mobile. "Our readers are adopting the iPad very fast," says Basulto. "And we've got many comments from them [about] reading us on Flipboard."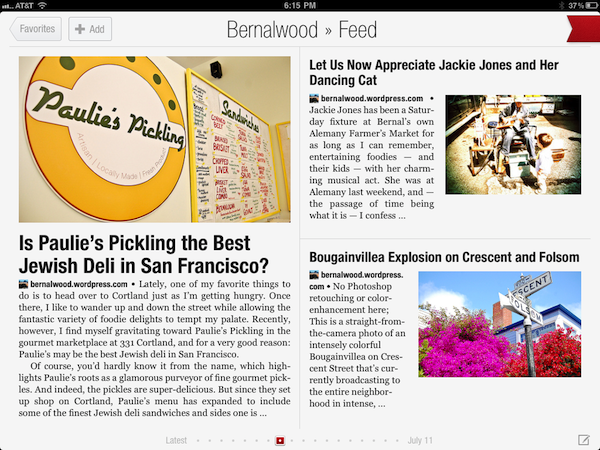 Bernalwood – Tap to Add Section
Bernalwood is devoted to the San Francisco neighborhood of Bernal Heights, elevation 433 feet. We don't just love this blog because it's the brainchild of our new Product Manager, Todd Lappin. We love it for its beautiful photography and its genuine passion for this particular patch of land and the people who live on it. Bernalwood is a terrific example of what a hyperlocal blog could and should be.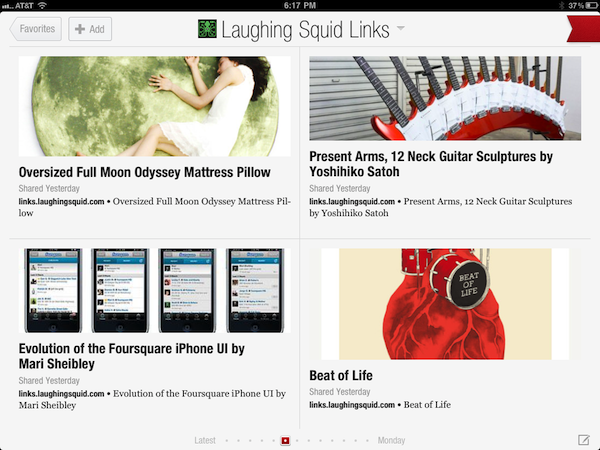 Laughing Squid – Tap to Add Section
As amorphous and whimsical as its moniker, Laughing Squid defies explanation, and that's the point. Chief curator Scott Beale shares an interesting mix of items from the worlds of art, culture, and technology. Laughing Squid instantly makes you feel 'in the know' for all the cool discoveries you've just made. But Beale is thinking beyond that: he's said Laughing Squid's secondary goal is to narrow the gap between artists and technologists, freeing each to be more like the other.