Behind the Story: Food & Wine's Top 10 Restaurants of the Year
Jenn de la Vega / May 4, 2017
Article: "Food & Wine Restaurants of the Year 2017"
Publication: Food & Wine
Reporter & Editor: Jordana Rothman, Food & Wine Restaurant Editor.
Every year, Food & Wine Magazine tours the country to uncover America's most brilliant up-and-coming chefs. This year's list took restaurant editor Jordana Rothman and a hungry team of editors to over 100 restaurants in 20 cities. The effort took six months to compile, compare and pare down the list to just 10 honorees.
We spoke with Rothman about this culinary undertaking and how to survive on one of the most indulgent eating tours of her life.
Can you describe your transition from Time Out: New York, where you were restaurant editor to Food & Wine?
I was at Time Out for about six years. I did feel that was time to expand my national footprint and to understand what it means to cook in America. Some of the most exciting stuff in food was not just localized in New York City; I wanted to know more of the chefs.
The transition gave me a sense of purpose in my food writing. It wasn't just about "Go here, eat this, do this," but, "Let me tell you about why this is important and what you are participating in when you visit these restaurants and support these people."
How do restaurants get on your radar?
So many different ways. The secret sauce! I make it my business to know openings and important chefs. You kind of follow these threads of people who become part of the larger understanding of the food world. There are chefs that come out of left field that surprise you through word of mouth, phone calls or email tips. I think it's our responsibility to respond to these tips and suss out if these are interesting people.
Can you break down how you planned the six months of visiting over 100 restaurants in 20 cities?
We have an amazing team at Food & Wine, at every level. There are so many people who make it possible. We had a lot of ground to cover and a handful of editors who went to all the different cities.
We have an advisory board of local experts, journalists and chefs that we trusted to point us toward people who could be up-and-coming talent. From there, we made a big list of names. When someone is on our radar and everyone is also saying "Check them out," then it's a good sign that we should go hunt them down. We then created an agenda of cities to visit and a list of priority restaurants. We got ourselves to those cities and ate our way through. It's the most magnificent dining death march you could possibly imagine.
I take a ton of notes. I save tons of menus. It's not enough for me to go to the restaurant website; I want to remember exactly what I had. That way we can stand behind who we are going to say is a rising star.
Do you have any survival tips for large eating endeavors like this?
You have to have restraint. You have to be willing to put down your fork. It's a tremendous amount of eating. You have to be strategic. Stay as democratic as possible and if you go into a restaurant stuffed to the gills, that's not really fair.
I'm a big proponent of tasting everything. One of my rules is that I try not to do more than one tasting menu in one night. I also don't drink a ton, that can get in the way of keeping track.
Why only 10 restaurants?
Interestingly, we have 10 restaurants but 12 chefs this year. There's so much new talent out there. Ten is traditional, but you also want to put some limitations on it so it feels special. As a reader, I always respected "Best New Chefs" so much and it meant something. It made careers. Some of the greatest chefs who would go on to shape the future of food, their careers grew in the pages of Food & Wine. Daniel Boulud, Thomas Keller, David Chang, and Danny Bowien—these huge names who became fundamental parts of the cooking zeitgeist were all best new chefs at one time.
To maintain that sense of gravitas, you don't want 100. We did the work, we traveled this country, we compared city to city, chef to chef. This is who we came up with and this is who we believe in this year.
Each restaurant writeup has a cool and fun design treatment in print. How to the designs enhance the reader experience?
We wanted to tell narrative stories with the photos. We wanted them to speak to a thing that really struck us about these people. We worked with a wonderful photographer. We really wanted to get into the spirit of that person, visually.
I want to be friends with every person you featured! Do you think their personalities are why their establishments made the list?
I have to say on the backend, no. We take it pretty seriously when trying to maintain a low profile and eat in these restaurants. Focus on the plate; it's really about their cooking. That's why we celebrate them. What we ate told us a story that was so dynamic and so impossible to ignore that we absolutely had to carve their names into our chests. The fun part is getting to know them as people.
When I interviewed them, I asked them to carve out time. It wasn't going to be, "Tell me about this dish." It was more, "I want to know about you. Tell me who you are." I want our readers to fall in love with them. I fell in love with all of them.
These are such special people and we're capturing them at this moment where anything can happen to them. Now, they can really do anything. It's an incredibly emotional thing to witness, people stepping into a space where their lives are nothing but possibility.
With summer approaching, what are you looking forward to eating this season?
I'm a beach girl; I eat pretty lightly. I want everything to be raw and cold and not super heavy. I refuse to eat tomatoes during any time of year other than July, August, September. I eat heirloom tomatoes like apples. Summer is the most magnificent produce season on the East Coast: peaches, corn, frosé, and lambrusco. I love clam bakes and lobsters.
Follow Food & Wine on Flipboard for more coverage of their best new restaurants and chefs of 2017.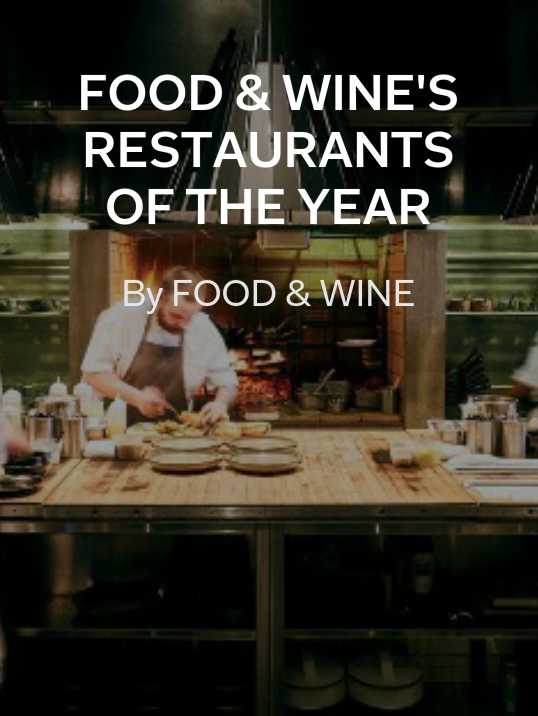 ~jdlv is curating Randwiches Dossier