Behind the Story: StyleWatch Cracks the Denim Code
Gabriella Schwarz / September 13, 2016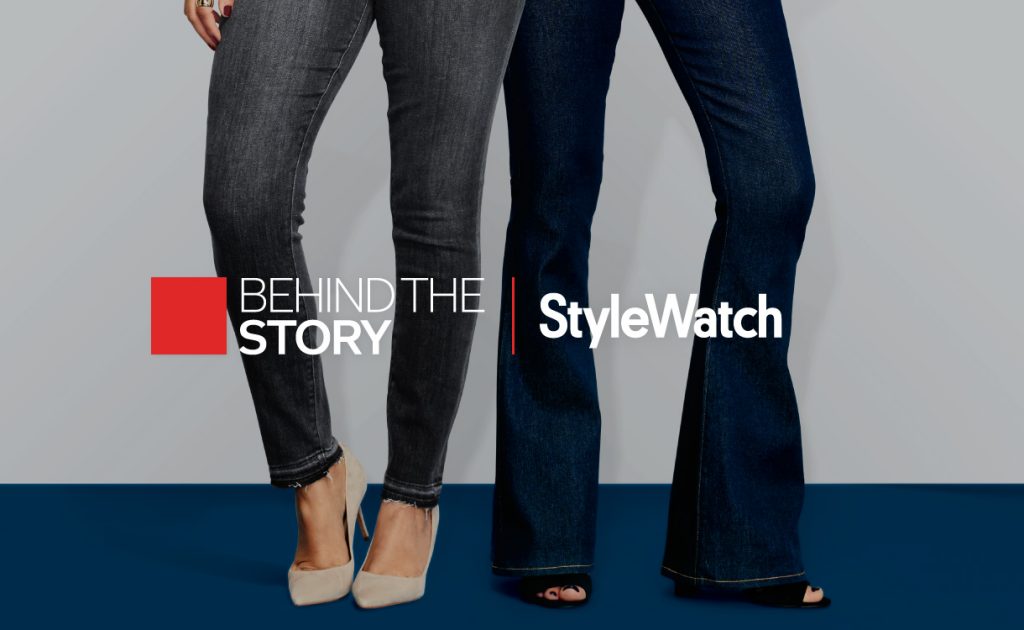 Story: "The Great Jeans Try-On!"
Outlet: StyleWatch Magazine
Editor: Brittany Burke, StyleWatch Deputy Articles Editor
Jeans: A staple in most wardrobes and one of the most difficult clothing items to find. Skinny, flare, boyfriend, bootcut, cropped…styles, washes and brands abound.
Enter StyleWatch, the everyday fashionista's style guide, that dedicated their latest issue (online Sept. 16) to help denim lovers everywhere find the fit and form that works for them. StyleWatch delivered fabulous pairings for real-life bloggers in different shapes and sizes. Deputy Articles Editor Brittany Burke told us about the 1,000 pairs of jeans that were called in for the 10 writers. The women then teamed with StyleWatch's experts to make the pursuit of the perfect fit enjoyable.
"We want to give you the tools to find the right jeans that are going to make you feel amazing because they're out there," Burke told us. She also revealed the lessons from the piece, why jeans are such a flash point with many female shoppers, the biggest denim trends of the moment and her favorite pairs.
What inspired the jeans cover and what makes them so popular to cover?
At StyleWatch we're super invested in different body types and how anyone can appreciate fashion, whether they're a petite size, a plus size, if they love clothes or don't love clothes, if they love shopping or don't love shopping. We are very inclusive in that way.
When we think about the things that everybody wears and the things that everybody struggles with, one of the first things that came to mind was denim. Nobody likes shopping for jeans, everybody is very critical of themselves—they go to a store, try on five pairs, look in the mirror, get depressed and walk out. What we wanted to do was make a moment where we could truly prove that no matter what your size, no matter what your shape, no matter whether or not you've ever found jeans that you loved before, they're out there for you. There are things you need to know in order to find them; we can give you that information, and you can have a better time shopping for them and feel amazing in them. That's ultimately the goal.
Why are jeans such a touchy subject with female shoppers?
I think that you really want to feel amazing in your jeans, and there are a lot of different elements of a jean, if you think about it. There's the rise, whether it's low rise or high rise or mid rise. There's the length, if there's the break at the knee and whether it flares at all or is straight or skinny. There are the pockets, if they're on the back and whether or not they flatter your butt, if there's whiskering on the front and the sides, or distressing that might be a place that is sort of unflattering. So you put all of these things together and then you make a jean line that women of thousands of different body types, with thousands of different measurements, are all trying to wear. A size 4, a size 6, a size 10, a size 12, a size 16—well, it ends up feeling like it's not one size fits all. It ends up feeling like, "My waist is shorter than this person's, my butt is bigger than that person's," and then those jeans make you feel like you can't wear them or it's your body's fault when really it's just that you're not looking at the right jeans. You end up blaming yourself, and you say, "OK, it might be me." But it's really not, and we want to give you the tools to find the right jeans that are going to make you feel amazing because they're out there.
Is knowledge the biggest barrier to finding the right fit or is it something else?
I really think so. We shop online a lot, so we don't try stuff on as much, we see jeans on a certain person and we say, "OK, they look like my size" or they look like they have a similar "issue" that I have when I shop for jeans so maybe those will look good on me. Sometimes that's not true. If you go to one store in a mall, they have three options for you. If those don't work for you, you automatically feel like the jeans won't work. If you go to a department store you could try however many, but I do think it's the knowledge. It's understanding, "OK, this wash might look great, but if I'm shorter wearing a flare or a boot cut with a heel might make my legs look longer." That's an ah-ha moment. A lot of people don't necessarily think about that. I have a really long torso personally, so a low-rise jean just doesn't work for me. The proportions aren't right. These little things you can understand to make it a much better experience.
Which fits were the most challenging this year?
We have 10 amazing real bloggers. Each of them told us the things that are their biggest roadblocks when finding jeans. Each woman has different things. We had multiple petite girls who are trying to make their legs look longer or look a little bit taller. We have curvy girls who feel like their waist is smaller than their butt, and there's always that back gap when they try on jeans. We had a girl who had more athletic legs and wanted them to be balanced so she didn't feel like she was focused on one part of the leg. A few people who felt like their tummies were something they wanted to look smoother. So we focused on jeans that had controlling panels or that had a higher rise…There was one girl who had more athletic calves so skinny jeans never really worked on her because she had trouble getting them up her leg…Everybody has something.
What was the process like for this piece?
It's a collaborative process. Our fashion editors are brilliant at this. We had our denim editor call in like 1,000 pairs of jeans total. Each girl had multiple racks. The girls come in and they sort of shop them. We have all of these jeans that we think might work for them, we have jeans in a range of sizes from all sorts of different brands. The girls tell us their sizes, and we sort of let the girls pick and get drawn to ones that they might like. From there we'll also sort of suggest. We'll say, "This is a really great brand because they're doing this really great stretch technology so we should try this." Or, "I know you might not think this is going to be amazing, but this brand has a great tummy panel in there to make you look really smooth through the middle."
A lot of girls now just wear skinny jeans all of the time because that's sort of what they're used to and they've become the standard. So we'd say, "Let's try flare—you'll be surprised about how well it will work to balance your legs or make you look taller." So our denim editor sort of suggested things and then they would try them on. They were all trying them on for a few hours, trying to pick ones that they liked and ones that they felt comfortable in.
We do this funny thing where we don't put the mirror in the fitting room because we don't want people to look in the mirror and say "no no no, I'm not going to show you these." So they sort of have to come out. It's a really interesting process.
Having looked at all of these, what are the biggest denim trends in the coming months, especially as we enter the Fashion Week season?
We have Serena Goh, who's The Spicy Stiletto blogger. She's kind of straight up and down. She said she didn't wear anything tight. So we put her in these Gap cropped flares, which is a huge silhouette for the fall. And they were frayed on the bottom. They looked amazing on her. They weren't tight, they weren't too loose, they were just sort of a really chic silhouette, and they were from the Gap. We were like these are amazing and anybody can walk into the mall and get these. So that's really big.
We're still seeing the fun frayed hems and the mullet hem—the shorter in the shorter in the front and longer in the back. We're seeing embroidery, lots of different detail. Our editor picked out a lot of different trends, too—the crop, some boyfriend jeans. I would say: embroidery, that vintage look, cropped and flares.
It sounds like some trends are coming back. How have the trends changed over the last 20, 30 etc years?
It's sort of cyclical. We're seeing now more flares and wide-leg jeans that became bigger in the '70s but then came in and out. I remember I had a really great pair of wide leg jeans; I've always been a huge flare fan. They're classic but they kind of come around in a major moment. I feel like they're having a major moment now, and people sort of rediscover them: "Oh ya, I wore flares once years and years ago, I'll try them again now." Then the skinny jeans and those things continue to be classic, but people do them in different ways. They'll cut off the hem, they'll do a little different distressing, and it'll still be a go-to silhouette but done in a little bit of a more modern way.
We're seeing that acid wash higher rise, what we think of as the '90s mom jean looking so chic on the fashion girls. You see Gigi Hadid, Kendall Jenner wearing those with their black leather YSL belts. They look so chic and that's something that if you said two years ago you're going to wear those jeans again, people would be like "oh my gosh, they look so retro Levi's." But they work.
Denim is such a classic fabric, too. I always think that you should hold onto your jeans because you're never going to look back and say, "I will never wear these again." If you liked the way they fit, they're definitely going to make their way back. And even if you say I'm going to distress these or I'm going to crop these into something that is more current now, at least you're not investing in new things. You can update old jeans in that way if you feel like the style isn't something that you want anymore.
On a personal note, what's your favorite jeans memory? Or is there a pair that you loved the most?
I had a pair of J.Crew wide leg jeans that I wore to school that I loved so so much. They were the softest denim. I think I actually got a hole in them, so I had to actually get rid of them. But I've never gotten over how badly I want them back. I'm constantly just looking for how I can replicate that, and I still haven't done that yet.
My favorite jeans probably in the world are a pair of flares from J Brand that I don't even think they're making anymore. They're called the "Love Story." They're so flattering, and I sort of stockpiled them. I remember at the time when I bought them they were worn by Jennifer Aniston or somebody, and I was like "I'm so cool, these look amazing and they're such a classic celebrity favorite." And then I'm still wearing them, and I don't think Jennifer Aniston is anymore or that they're making them anymore. But I just think that they're the perfect flare and they're super flattering. I have them in a really dark wash and no distressing, so I feel like I can wear it anywhere. I can wear it out at night; I wore them on Friday. I think they're great.
Follow StyleWatch on Flipboard for daily fashion inspiration and check out their New York Fashion Week Flipboard Magazine for tips to translate the runway looks to your closet.