Behind the Story: The New York Times Follows Syrian Migrants
Shona Sanzgiri / November 6, 2015
Story/series: "A Family Swept Up in the Migrant Tide"
Outlet: The New York Times
Reporter: Anemona Hartocollis (@anemonanyc)
Flipboard Magazine: Four Years of War in Syria
When the Syrian Civil War broke out four years ago, fighting was confined between the regime of President Bashar al-Assad and rebel forces. Since then, multiple groups, including ISIS, Russia and the United States, have entered the fray. Yet only one group has shouldered the bulk of the torment: the Syrian people.
As of 2015, over four million Syrian migrants have fled the country, most decamping to Europe. The ensuing dilemma of where to house them has created something of a "refugee crisis," highlighting economic tensions in potential host countries—not to mention resentment, apathy and sometimes even violence.
From the beginning of the Civil War, The New York Times has kept a close watch on how the severe fighting has altered the lives of the Syrian people. Reporter Anemona Hartocollis focused on one particular family, following them as they made their way from the Middle East to Scandinavia, facing all sorts of difficulty along the way.
"I chose the Majids because it was apparent from the first moment that they were a big but tight-knit family, with an interesting mix of adults, children, a baby, and a pregnant woman. The logistical challenges of leading so many people across many borders through unknown terrain seemed intriguing.
"I was surprised by the sheer magnitude of the refugee phenomenon, and by how people found their way to places they had never been, sometimes just by asking the person next to them.
"I was very impressed by the sense of community. Thefts, even armed robberies, occur along the migrant trail, but rarely between the migrants themselves. I watched people count large amounts of cash while surrounded by other refugees, without worrying. In my story, I describe the Majids borrowing identity papers from other refugees so they could stay in a hotel. They are constantly asking one another which road to take, which bus or train to take, what to expect. They travel in groups, even the young single men band together, for security and support. It is very much a shared experience.
"[In the countries the migrants pass through], there are complicated feelings, I think—sympathy and resentment. Resentment, because they disrupt ordinary life in so many ways. But sympathy, because many people in those countries can identify with them. Those countries have all suffered through their share of war and civil strife, and their own people have been migrants and refugees. The Greeks in particular would often tell me that they had family who had been expelled from Egypt or Turkey, and it is a Greek tradition, practically, to go abroad and then return.
"I think that refugees are vulnerable and easily exploited. So how much money it costs to get from, say, Syria to Europe depends very much on conditions along the way. When the Turkish border was closed, the Majids had to bribe guards to let them across. When the Hungarian trains were barred to refugees, many of them considered hiring smugglers. When it was hard to move, prices were higher. But others whom I met squeaked by on very little money, sometimes by getting help, in cash or food, from their fellow refugees. It just took longer.
"Humanitarian agencies like UNHCR, the Red Cross, Doctors Without Borders and homegrown groups, especially in Macedonia, Serbia and Hungary, like Refugee Aid Serbia and Sacuvajmo Bebe (in Belgrade), Balazs Szalai (in Szeged, Hungary) and Migration Aid (in Budapest), were also invaluable in providing food, clothing, medical attention and some local transportation and logistical support."
"The hawala network is like Western Union, a money transfer system. But it is based on trust, not bureaucracy. Basically, a hawala broker in Hungary, in the Majid case, had to know that if he gave €6,000 to the Majids, he would be made whole. It's not a direct exchange of money but a more complicated system of floating accounts where the balances have to work out.
"A journalist's presence always affects the narrative in some way. How can it not? It's like dropping a stone into a pond. Some ripples go out. But in the end, it's hard to tell how things would have been different otherwise.
"We all have much the same aspirations and desires in life, to be safe, to have a home, to make a living and to be able to provide those things for our children, and that we will go to great lengths to get them."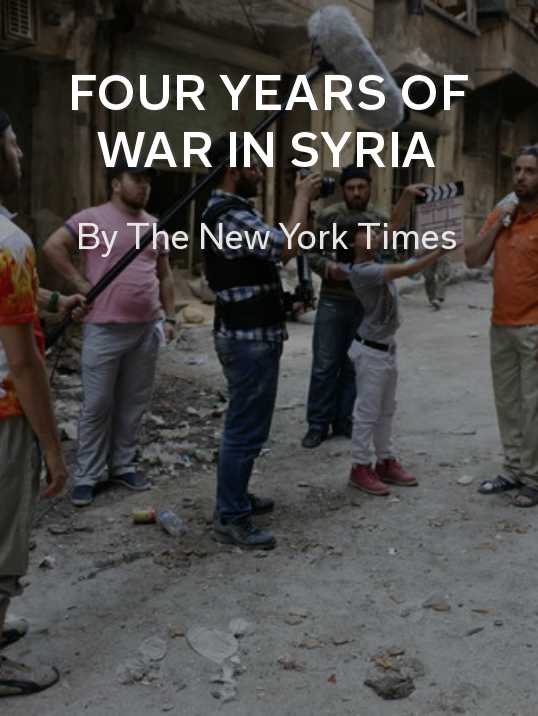 Four Years of War in Syria: A collection of the most ambitious, deeply reported coverage of Syria by The New York Times during four grinding years of war and humanitarian disaster.
~ShonaS is curating Proof of Experience
GET FLIPBOARD ON:
iOS / ANDROID / WINDOWS / WEB
FOLLOW US ON:
FLIPBOARD / TWITTER / INSTAGRAM / FACEBOOK / GOOGLE+ / TUMBLR / YOUTUBE / SOUNDCLOUD / PINTEREST / MEDIUM