CES 2021: What Stood Out (And What Didn't)
Ken Yeung / January 27, 2021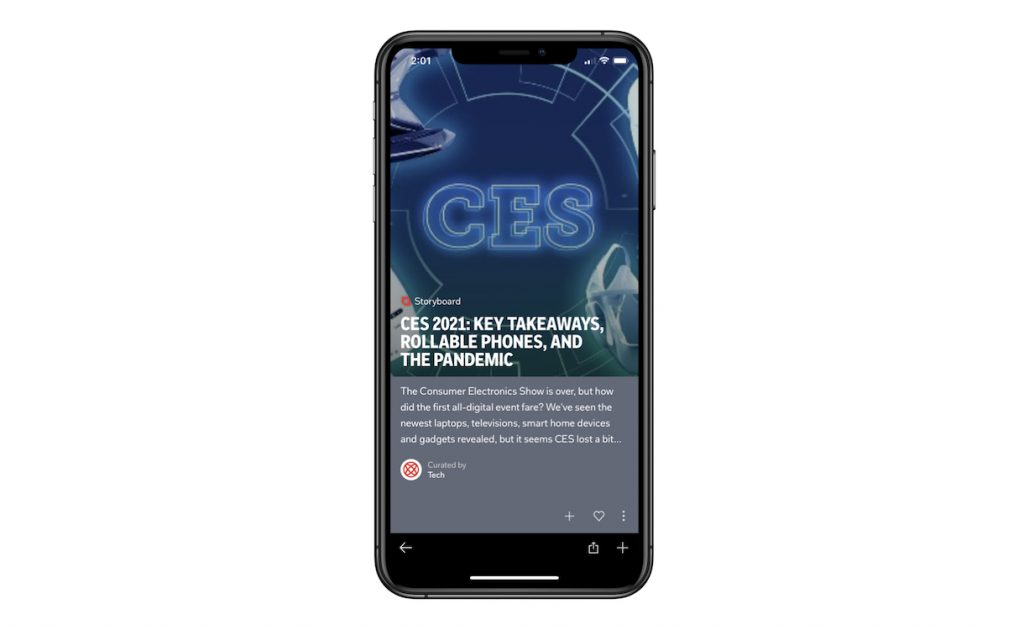 Transforming an event that has been in-person for more than 50 years into an all-digital affair is a herculean task. However, that's exactly what the Consumer Technology Association (CTA) did in the middle of a pandemic with its annual Consumer Electronics Show (CES). But with an event that prides itself on bringing next-generation gadgets and devices directly to industry professionals, how successful a show could be produced when the "in real life" element has been removed? Let's take a look at this year's expo and see the highlights and misses.
What Stood Out
COVID-19 technology: Companies often stick with a product roadmap that is planned for a year out, so while it wouldn't be out of the realm of possibility to see more futuristic products, this year's CES was more subdued in terms of the glamorous tech. Don't get me wrong, there were devices that were luxury items with all the bells and whistles. However, we saw more tech adapted for the pandemic. From face masks with integrated mics and earbuds to contactless technology devices, helpful robots and products to support our work-from-home needs, this signaled that the industry recognizes that the new reality we're living in could last much longer.

Microsoft: The tech company opened CES with its first keynote in nearly a decade. In a taped video message, company president Brad Smith didn't make any grandiose product announcements. Instead, he issued a call for improved cybersecurity especially in the aftermath of the massive SolarWinds attack by Russia-backed hackers. The proliferation of "smart" technology in our daily lives, it's imperative for companies and governments to bolster their defenses against those seeking to illegally harvest user data or worse. Brad Smith also decried hackers targeting hospitals, those in the public health sector, the World Health Organization, and first responders — especially in the midst of a pandemic.

Chips: Intel, AMD and Nvidia pulled back the curtain on their newest processor chips at CES, not only demonstrating how the companies plan to compete against ARM and its Apple M1 chips, but also provide them an opportunity to address the chip shortages that irritated customers in 2020. Since new chips have a longer development timeline than most consumer devices, the CES reveals gave us a good look into the future: these thinner, faster and more powerful chips will impact the computers and mobile devices that we'll be using over the next few years.

Wi-Fi 6: The new wireless standard officially debuted at CES last year, promising faster data delivery speeds. At this year's show, we not only saw more affordable routers that can bring Wi-Fi 6 into the home but also the introduction of a new designation called Wi-Fi 6E. With it, you'll be able to connect devices to the internet across three bandwidths: 2.4, 5 and 5GHz. Here's why it matters: As your home accumulates more connected devices, either because you're buying connected devices or due to the pandemic (e.g., working from home, virtual learning, etc.), you'll need a modem and Wi-Fi that can withstand the burden of the extra traffic. We've started to see Wi-Fi 6 built into some devices such as Apple's iPhone, but it's not fully supported by most devices…yet. But as with 5G, you can expect more consumer tech to be powered by Wi-Fi 6 within the next year or so.

Rollable Phones: We have smartphones, flip phones, phablets, tablets, foldable phones, and soon, rollable devices. LG and TCL teased their versions of this new form factor at CES, but they'll likely not make it onto store shelves anytime soon. However, when they do come to market, your device could be similar to a scroll where you roll out the display.
What Missed Out
Startups: Normally, inside the Sands Expo and Convention Center in Las Vegas exists Eureka Park, a showcase of hundreds — if not thousands — of startups and smaller businesses that are unable to afford a booth in the Las Vegas Convention Center. If you're a fan of consumer tech, journeying through Eureka Park can result in finding a diamond in the rough. However, because of the pandemic, the discoverability of these fledgling companies was taken away. And though CES's digital platform attempted to mitigate this disadvantage, big consumer tech companies were the only ones to really make headlines. While there were curated events on the side, such as PepCom and Showstoppers, CES 2021 came across disproportionately favoring larger companies with the means to garner attention from the media and others.

Google and Amazon: In the past two years, you couldn't read an article about CES without it mentioning how a new consumer tech device now integrates with an A.I. assistant from Google or Amazon. At this month's show, things were a lot quieter, largely because these tech giants skipped 2021. But that doesn't mean they weren't there — they were just more subtle with their news. And the tech giants weren't alone in skipping CES: Sonos, Facebook and HTC were some of the big names absent.

Serendipity: It's one of the things that makes attending CES great — wandering the show floor and coming across unheard of companies. This all changed in 2021. Though the event was more convenient with live-streamed presentations and on-demand content, what was lost was the in-person connection you get from being there. Aside from attending a session or keynote, you could wander through the convention center and run into a business acquaintance or a new friend that could help you down the line. Or, you could pass by a different booth and see something miraculous.

Though the CES digital platform did bring people together, the feeling that the show traditionally creates was lacking. Hopefully, it will come back once the pandemic is over and we're all able to attend these types of events in-person once again.

Be sure to check out our CES Magazine for complete coverage, including special coverage from our friends at CNET, Digital Trends and Trusted Reviews.
— Ken Yeung, Flipboard's Technology and Science editor, is currently curating "Section 230: Reform or Repeal?"