CNN GOP Debate Recap: Strong Night for the Governors
Gabriella Schwarz / February 7, 2016
The dynamics on stage Saturday night in the final Republican debate before the New Hampshire primary reflected the status of the race in the Granite State. Marco Rubio's momentum from Iowa and rising popularity ensured he took criticism from many of the candidates on stage, including Chris Christie, Jeb Bush and Donald Trump. The importance of the race for the Republican governors, Christie, Bush and Kasich, was clear by the adamant cases they made for their candidacies. And Trump, who skipped the last debate in Iowa and remains in the lead in New Hampshire, worked to show his dominance in the field. We spoke to CNN Politics Managing Editor Z. Byron Wolf to decipher what impact the debate will have on Tuesday's voting.
Who was most helped by last night's debate?
I'm not sure anyone in particular was helped. Donald Trump is far ahead in New Hampshire polls. He didn't suffer many attacks, except one by Jeb Bush about eminent domain. There was a huge spike on that issue in social media. But I don't necessarily think it will change any minds. Trump unhurt leaves us to look at the race for second. There's a pack of Republicans, including Ted Cruz, Marco Rubio, Jeb Bush, John Kasich and Chris Christie. Senators (Cruz and Rubio) vs. governors (Bush, Christie and Kasich). Bush and Christie both had effective attacks against Rubio. Will voters reward attacks? They often don't. But Christie in particular had a lot of airtime being very worked up.
Kasich kept it clean. He stuck to his tactic of running a positive campaign and looked like a grownup on the stage. But he didn't get much airtime because he wasn't part of the arguments.
Who was most hurt by last night's debate?
Marco Rubio. Rubio came into the debate with a target on his back. If the interesting race is for second, Rubio had buzz and he had that #2 spot in recent polling. He was on the wrong end of a few exchanges with Chris Christie, in particular. Christie pointed out that Rubio had repeated the same phrase about President Obama three times. And then Rubio repeated it a fourth time. It was a tough moment. Rubio was also on the receiving end of barbs from Jeb Bush. It's hard to do very well when everyone is gunning for you. And Rubio had some fumbles that didn't help matters. He did have a strong moment on abortion, where he explained his position and gave a fiery speech about how Democrats are wrong on abortion issues. But that strong speech came in the context of him having a hard-to-understand policy position on the issue of abortion exceptions for rape, incest and the life of the mother. He favors exceptions for the life of the mother, but not rape and incest.
Who of the Republican governors (Bush, Christie and Kasich) came out strongest last night and why?
This is a tough one. All three governors had strong moments. All three face a must-show moment in New Hampshire. Christie effectively went after Rubio. Bush had a particularly strong moment where he accused Trump of trying to steal an old lady's home with eminent domain. Kasich spoke convincingly about race and the need to unify the country. If you're grading, it felt like Christie was on-screen the most. For that, if nothing else, he gets the nod.
Rubio came into New Hampshire with a lot of momentum from Iowa. How will his performance last night impact that momentum?
If anyone is going to be hurt from last night, it's Rubio—more for the post-debate buzz than the debate itself. I'm not much of a gambler, so I'm not going to say what will happen. Who knows!?
Is Trump still the frontrunner heading into voting Tuesday? How would you assess the state of his race?
Trump is the prohibitive frontrunner heading into voting. He was at 29% support in the most recent CNN/WMUR tracking poll. The next closest candidate was Marco Rubio at 18%. Trump has been far ahead in New Hampshire for months. Because of the hard reality of the expectations game, anything less than a strong victory there will be a setback for his campaign.
How will this debate change the contest in New Hampshire?
Voters in the live free or die state who haven't made up their mind have some hard thinking to do. Anybody who doesn't finish in the top four or five (or maybe three) will have a hard time going forward. I think the fight for second place behind Trump has been going on for months with town hall events in the state. I'm not sure this debate is going to markedly change the direction of the race.
Follow CNN's Politics On Tap Flipboard Magazine for the latest on the debates and polling. Check out Election Central to get all the news ahead of Tuesday's New Hampshire primary.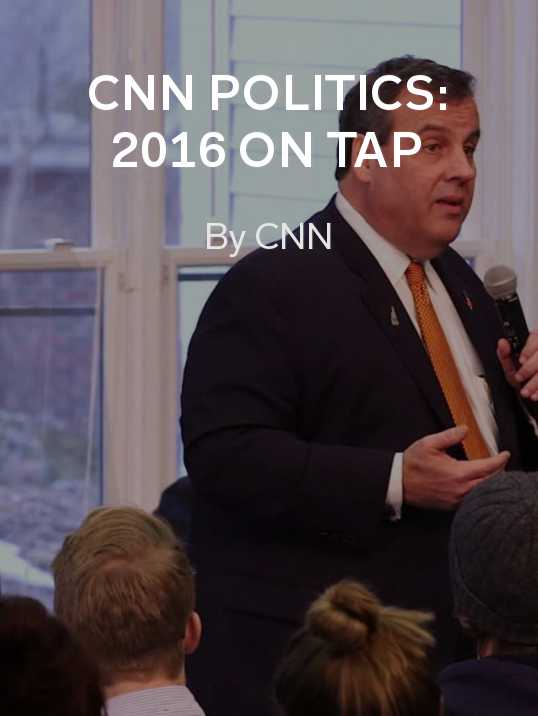 ~GabyS is reading Go "Inside Politics"
GET FLIPBOARD ON:
iOS / ANDROID / WINDOWS / WEB
FOLLOW US ON:
FLIPBOARD / TWITTER / INSTAGRAM / FACEBOOK / GOOGLE+ / TUMBLR / YOUTUBE / SOUNDCLOUD / PINTEREST / MEDIUM