Curating a Library from Scratch: Meet the Founders of Heavy Manners Library (Podcast)
Mia Quagliarello / January 18, 2022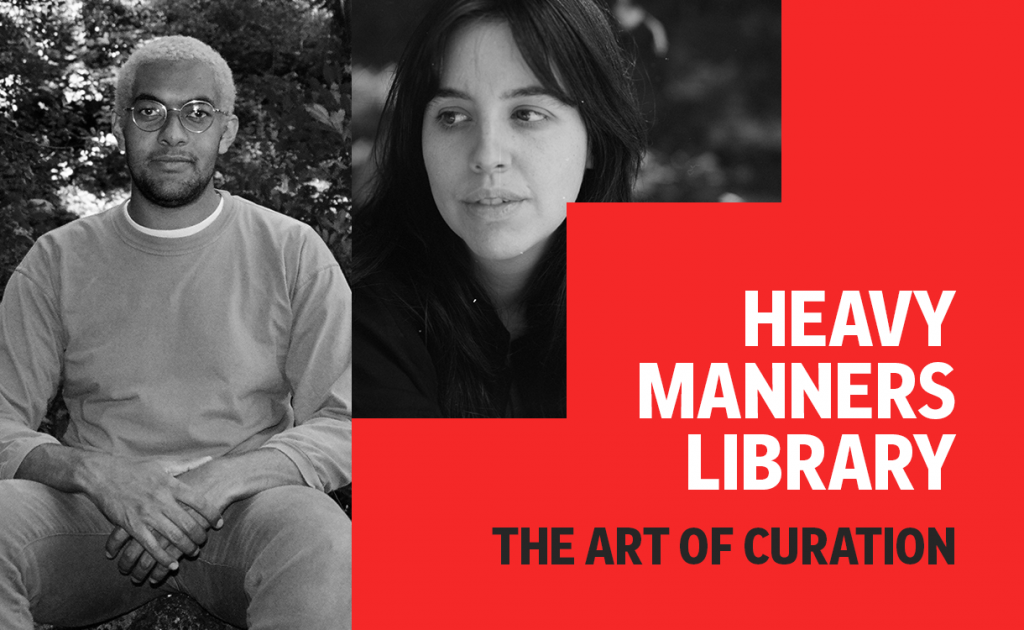 "The moment we opened our doors, the project belonged to everybody else who's interacting with it. It's [now] about serving those people and their engagement with things. A lot of curation is also about listening and continuing to change your perspective and accept things that you didn't know or understand before you started on the journey you're on." — Matthew James-Wilson, Heavy Manners Library

Imagine wanting to create a library and then building it from scratch. What books would you include? Why would you choose them? What would you leave out? How would you serve your community and respond to how they are reacting to what you're creating?

These are the questions facing Matthew James-Wilson and Molly Soda of Heavy Manners Library, a new space in Los Angeles with a to-be-launched online component. The library seeks to archive and distribute independently and self-published artists' books, zines, and more. It's hoped that this will create a place where people without a formal art education can access that media outside of an institutional setting such as a university or a traditional library or gallery. 
I was first attracted to this project because of its mysterious name. (As you'll hear in the episode, "heavy manners" has its roots in reggae and punk culture.) I quickly learned how plugged into art and culture these founders are and how building the library is almost an extension of themselves. This episode shows what it's like curating something from the ground up and how two creative people can collaborate to do what they do best while serving the project as a whole.

Highlights, inspiration and key learnings:
Origins of the name "Heavy Manners Library"
What makes the cut for the library
How they ensure the selection lives up to their mission
Filling in the gaps 
How the online membership will work
Collaborating with your co-curator
How to balance your tastes with what the community wants
What they hope people feel when they come into the space
Advice to artists on how to get noticed
How the NFT trend impacts what they're building
How they find inspiration and track ideas
Where to find up-and-coming artists
Generational approaches to collecting
Matthew and Molly's culture picks

Browse this Storyboard to get the episode itself, plus Matthew and Molly's favorite (maga)zines, movies, and books.

You can find "The Art of Curation" on Flipboard and wherever you listen to your podcasts: Apple Podcasts, Spotify, Google Podcasts, Amazon Podcasts and more. Subscribe today so you never miss an episode! There's a new one every Tuesday.

We'd also be grateful if you left a review if you enjoyed an episode. It'd mean so much to us!

— Mia Quagliarello, head of creator community and newsletters, is curating the curators in "The Art of Curation" podcast