Daily Edition Top 10 (Week of December 14, 2015)
Gabriella Schwarz / December 18, 2015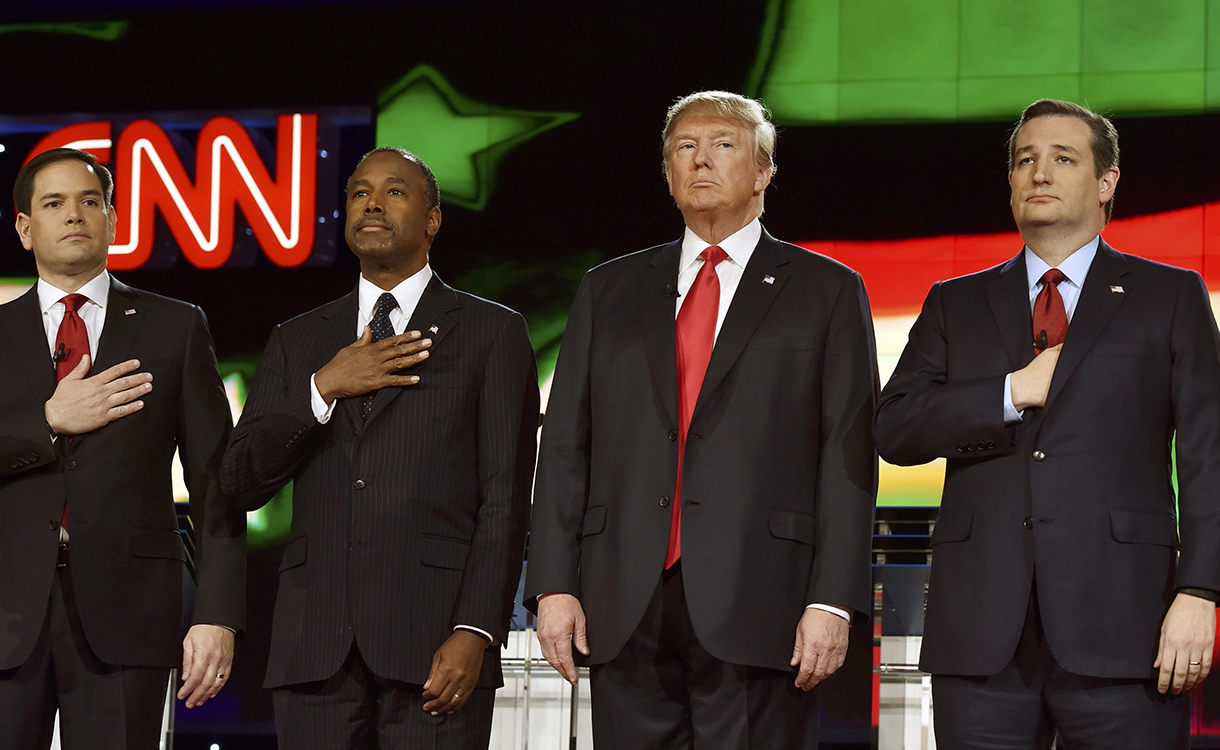 The year may be winding down, but the news this week showed no signs of falling suit. The Republican presidential candidates fiercely debated, the Federal Reserve announced an increase of interest rates, a mistrial was declared in the Freddie Gray case, the U.N. security council approved a resolution on Syria and of course, the latest Star Wars installment opened Friday. Read some of the top stories from this week's Daily Edition.
1. 5 takeaways from the CNN Republican debate – CNN, Stephen Collinson
Top line: "Ted Cruz and Marco Rubio finally came of age as rivals vying to take the conservative movement into a new generation. Jeb Bush took a stand. And Donald Trump said he won't jump ship."
Topic to follow: Presidential Debate
2. Fed Raises Rates After Seven Years Near Zero, Expects 'Gradual' Tightening Path – The Wall Street Journal, Jon Hilsenrath and Ben Leubsdorf
Top line: "The Federal Reserve said it would end a seven-year experiment with near-zero interest rates by raising its benchmark rate and emphasizing a plan to lift it gradually over the next three years. The move marks a test of the economy's capacity to stand on its own with less central-bank support to spur continued spending and investment by households and businesses."
Topic to follow: Federal Reserve
3. Congress OKs year-end budget deal, sends to Obama – Associated Press, Andrew Taylor
Top line: "A 65-33 Senate vote on the measure was the last act that shipped the measure, combining $1.14 trillion in new spending in 2016 and $680 billion in tax cuts over the coming decade, to Obama. It had earlier swept through the House on a pair of decisive votes on Thursday and Friday, marking a peaceful end to a yearlong struggle over the budget, taxes, and Republican efforts to derail his regulatory agenda."
Topic to follow: U.S. Congress
4. Army Sgt. Bowe Bergdahl to face charges in court-martial – Chicago Tribune
Top line: "The U.S. Army Forces Command charged Bergdahl on March 25 with "desertion with intent to shirk important or hazardous duty" and "misbehavior before the enemy by endangering the safety of a command, unit or place." If convicted, Bergdahl could get life in prison on the misbehavior charge and up to five years for desertion. He also could be dishonorably discharged, reduced in rank and made to forfeit all pay."
Topic to follow: Bowe Bergdahl
5. U.N. Security Council Approves Resolution on Syria Talks – The New York Times, Somini Sengupta and David E. Sanger
Top line: "The measure, adopted 15-0, is the first time that Russia and the United States, who have been at loggerheads over the future of Syria's president,Bashar al-Assad, agreed on a road map for a political process. The resolution makes no mention of whether or not Mr. Assad would be able to run for office in new elections, which it says must be held in the next 18 months."
Topic to follow: Syria
6. Unprecedented school closures leave L.A. inconvenienced, annoyed but undaunted – Los Angeles Times, Hailey Branson-Potts, Ruben Vives, Jason Song and Doug Smith
Top line: "As the unprecedented closure of every Los Angeles school unfolded Tuesday in response to a bomb threat that turned out to be false, fear and confusion inevitably followed."
Topic to follow: Los Angeles
7. Judge Declares Mistrial of Baltimore Cop in Freddie Gray Case – NBC News, Halimah Abdullah and Katie Wall
Top line: "In what is a perceived legal blow for prosecutors, the jury was hung and the judge declared a mistrial in the trial of Baltimore police Officer William Porter in connection with Freddie Gray's death after he sustained injuries while in custody."
Topic to follow: Baltimore
8. Shkreli resigns as Turing Pharma CEO – USA Today, Kevin McCoy and Nathan Bomey
Top line: "Martin Shkreli, the medical entrepreneur widely criticized for ordering large drug price hikes, resigned Friday as CEO of Turing Pharmaceuticals, one day after federal authorities charged him in an unrelated securities fraud scheme."
Topic to follow: Pharmacology
9. Pope Francis Will Make Mother Teresa A Saint – NPR
Top line: "Mother Teresa of Calcutta, who devoted herself to helping the poor, will be canonized as a saint, after Pope Francis issued a decree attributing a second miracle to the founder of the Missionaries of Charity. Mother Teresa won the Nobel Peace Prize in 1979. The canonization is expected to occur in 2016; many expect it to take place in September, around the date of her death (and her official feast day)."
Topic to follow: Mother Teresa
10. 'Star Wars: The Force Awakens' Crushes First Box Office Record With $57M Thursday – Forbes, Scott Mendelson
Top line: "Star Wars: The Force Awakens began its blockbuster run with $57 million in Thursday preview screenings. For perspective on how big this is, note that in 1993, Jurassic Park broke the opening weekend record by earning $50 million, and yes I'm including Thursday previews in that total. If you want to be annoying, Batman Forever broke the opening weekend record in 1995 with a $52 million Friday-Sunday gross, including midnight previews. In 2005, Star Wars Episode III: Revenge of the Sith became the first movie in history to earn $50 million in a single day, a Thursday opening day total that included $16 million worth of midnight previews. And now 10 years later, we have a movie that has earned over $57 million in just 'advance night previews.' Impressive, most impressive."
Topic to follow: Star Wars
Follow The Daily Edition for your news updates.
~GabyS is reading 2015: Year in Review
GET FLIPBOARD ON:
iOS / ANDROID / WINDOWS / WEB
FOLLOW US ON:
FLIPBOARD / TWITTER / INSTAGRAM / FACEBOOK / GOOGLE+ / TUMBLR / YOUTUBE / SOUNDCLOUD / PINTEREST / MEDIUM