<![CDATA[[caption id="attachment_36944" align="aligncenter" width="1200"]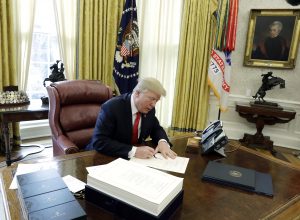 President Donald Trump signs into law a $1.5 trillion tax overhaul package, Friday, Dec. 22, 2017, in the Oval Office of the White House in Washington. Trump touted the size of the tax cut, declaring to reporters in the Oval Office before he signed it Friday that "the numbers will speak." (AP Photo/Evan Vucci)[/caption] The negotiations, public statements and votes around tax reform culminated this week when President Donald Trump signed the most sweeping tax legislation in almost thirty years Friday. In Washington, an Amtrak train derailed, claiming the lives of three people and injuring several others. The UN voted against the U.S. decision to move Israel's capital to Jerusalem and a car plowed through pedestrians on Flinders Street in Melbourne, wounding at least 19 people. Read more about these stories and the other biggest news of the week, as they appeared in The Daily Edition. [caption id="attachment_36946" align="aligncenter" width="1200"]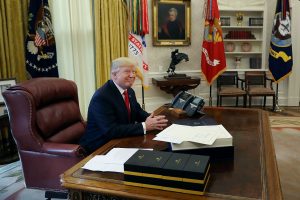 WASHINGTON, DC – DECEMBER 22: U.S. President Donald Trump talks with journalists before signing tax reform legislation into law in the Oval Office December 22, 2017 in Washington, DC. Trump praised Republican leaders in Congress for all their work on the biggest tax overhaul in decades. (Photo by Chip Somodevilla/Getty Images)[/caption] 1. Trump signs $1.5 trillion tax cut in first major legislative win – Bloomberg, Shannon Pettypiece Top line: "President Donald Trump signed the Republican tax-overhaul bill to little fanfare on Friday, delivering a major tax cut to U.S. corporations along with a package of temporary cuts for other businesses and most individuals. "I consider this very much a bill for the middle class and a bill for jobs," Trump told reporters in the Oval Office before signing the legislation. "Corporations are literally going wild over this. I think even beyond my expectations." Trump's signature caps a seven-week sprint that began when the House unveiled its tax bill last month, and it gives the GOP its first major legislative victory since January. The private setting was unusual given the significance of the legislation, but the process had been delayed until Congress passed a stopgap spending bill late Thursday." Topic to follow: Tax reform [caption id="attachment_36943" align="aligncenter" width="1200"]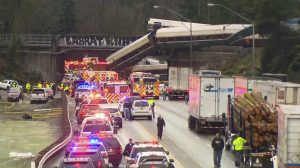 In this still frame from video provided by KOMO-TV, first responders at the site of an Amtrak train that derailed south of Seattle on Monday, Dec. 18, 2017. Authorities reported "injuries and casualties." The train derailed about 40 miles (64 kilometers) south of Seattle before 8 a.m., spilling at least one train car on to busy Interstate 5. (KOMO-TV via AP)[/caption] 2. Early NTSB review says crew not using electronic devices before Amtrak crash  – CNN, Rene Marsh, Joe Sterling Top line: "The crew on the passenger train that derailed this week in Washington state was not seen using any personal electronic devices, an initial review from the National Transportation Safety Board said Friday. The Amtrak Cascades train 501 derailed Monday near DuPont, Washington, and hurtled off an overpass onto Interstate 5, killing three people and injuring dozens more. The train was on its inaugural journey from Seattle to Portland, Oregon." Topic to follow: Amtrak
[caption id="attachment_36945" align="aligncenter" width="1200"]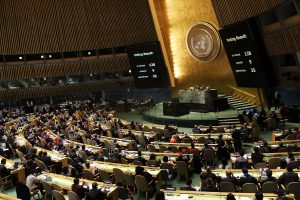 NEW YORK, NY – DECEMBER 21: The voting results are displayed on the floor of the United Nations General Assembly in which the United States declaration of Jerusalem as Israel's capital was declared "null and void" on December 21, 2017 in New York City. The vote, 128-9, at the United Nations concerned Washington's decision to recognize Jerusalem as Israel's capital and relocate its embassy there. The Trump administration has threatened to take action against any country that votes against the United States decision to move its embassy. (Photo by Spencer Platt/Getty Images)[/caption]
3.
​
U.N. resoundingly rejects U.S. decision on Jerusalem in pointed rebuke
– The Washington Post, Carol Morello, Ruth Eglash
Top line:
"The U.N. General Assembly on Thursday overwhelmingly passed a measure rejecting the Trump administration's recognition of Jerusalem as Israel's capital, a stunning rebuke of a U.S. decision that allies and adversaries alike warned would undermine prospects for peace. Despite U.S. threats to cut aid to countries that backed the resolution and even funding for the United Nations itself, 128 countries voted in favor of the measure. Only nine countries — including the United States and Israel — voted against it. Another 35 abstained, and 21 were absent."  
Topic to follow:
Jerusalem
[caption id="attachment_36942" align="aligncenter" width="1200"]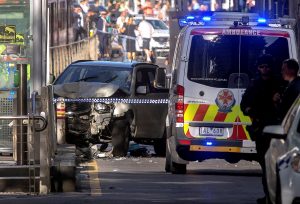 Australian police stand near a crashed vehicle after they arrested the driver of a vehicle that had ploughed into pedestrians at a crowded intersection near the Flinders Street train station in central Melbourne, Australia December 21, 2017. REUTERS/Luis Ascui[/caption]
4.
Driver charged with attempted murder over Australian vehicle attack
– Reuters
Top line:
"The man accused of deliberately plowing into Christmas shoppers on a busy street in the Australian city of Melbourne was charged on Saturday with 18 counts of attempted murder and one count of conduct endangering life. Police said they had charged the man, former Afghanistan refugee Saeed Noori, after formally interviewing him about the attack that police had earlier described as a "deliberate act". Police have said Noori, 32, is known to have mental health problems and to use drugs and they did not believe the attack was terrorism-related. Police suspect Noori was behind the wheel of a white SUV when he deliberately sped up and drove into dozens of pedestrians crossing the road at one of the busiest intersections in Melbourne's central business district."
Topic to follow:
Melbourne
5.
Life Expectancy Drops Again As Opioid Deaths Surge In U.S.
– NPR, Rob Stein
Top line:
"Life expectancy in the U.S. fell for the second year in a row in 2016, nudged down again by a surge in fatal opioid overdoses, federal officials report Thursday. "I'm not prone to dramatic statements," says Robert Anderson, chief of the mortality statistics branch at the National Center for Health Statistics. "But I think we should be really alarmed. The drug overdose problem is a public health problem, and it needs to be addressed. We need to get a handle on it." The trend is especially concerning because life expectancy is considered an important indicator of the general well-being of a nation. "It gives you sort of an overall sense of what's going on," Anderson says. Life expectancy, which is the average time someone is expected to live, generally has been rising steadily for decades in the United States, with only occasional downward ticks. The last time the U.S. life expectancy dropped was in 1993 because of the AIDS epidemic. Life expectancy hasn't fallen two years in a row in the U.S. since the early 1960s. "This is quite concerning," Anderson says."
Topic to follow:
Opioid Crisis
6.
Atlanta power outage highlights a larger problem with aging U.S. airports
– NBC News, Kalhan Rosenblatt
Top line:
"The fire that broke out beneath Hartsfield-Jackson Atlanta International Airport on Sunday burned its way through the facility's main power supply. Then it hit the redundant system, shutting down power at the nation's busiest airport for nearly 11 hours. All told, 735 flights were delayed and 1,593 canceled over the course of two days. The resulting chaos highlights the aging infrastructure of American airports and how design issues can inconvenience the more than 2.5 million daily fliers in the United States. "I don't think anyone knows yet what the root cause of the outage was," said Robert Chicas, the director of aviation and transportation for global design, architecture, engineering and planning firm HOK. "Whatever it is that led to failure of that redundant system, we need to learn from that and be more thoughtful when we're designing new airports."'
Topic to follow:
Atlanta
7.
The Latest: Trump signs bill to keep government running
– AP News
Top line:
"President Donald Trump has signed a temporary spending bill to keep the government running, for now. Trump signed the bill in the Oval Office as he prepared to leave Washington for a Christmas visit to his Florida estate. The president is tweeting that bill also provides a much-needed boost for missile defense. Before breaking for the holidays, the Republican-led House and Senate passed a temporary spending bill to avoid a government shutdown. The bill puts off until the new year some big disputed issues, including immigration, health care and the federal budget. Also left unfinished is a bipartisan effort to smash budget limits that are imposing a freeze on the Pentagon and government agencies."
Topic to follow:
Donald Trump
8.
Catalonia election: Spain PM Rajoy rejects Puigdemont talks call
– BBC
Top line:
"Spain's Prime Minister Mariano Rajoy has rebuffed calls by Catalonia's ousted leader, Carles Puigdemont, to meet for new talks outside the country. Mr Rajoy said he would negotiate with whoever became the new head of the Catalan government but they would have to take up their post in Catalonia. Mr Puigdemont earlier called for talks to take place in Brussels, where he is living in self-imposed exile. Separatist parties won a majority in a Thursday's snap regional election. Mr Rajoy avoided naming Mr Puigdemont during a press conference on Friday but said he was prepared to hold talks with whoever took control of the Catalan regional government "in a realistic way and inside the law". "I offer Catalonia this because I care about the people," he said."
Topic to follow:
Catalonia
9.
Cardinal Bernard Law, at the center of Boston church sex abuse scandals, dies
: Vox, Tara Isabella Burton
Top line:
"A high-ranking Vatican official disgraced by the Catholic Church's child sex abuse scandals has died, the Vatican has confirmed. Cardinal Bernard Law, former archbishop of Boston, died in Rome on Wednesday morning at the age of 86. The Vatican said only that Law had died after a long illness. While thousands of priests within the Catholic Church have been accused of participating in, or turning a blind eye to, child sex abuse by the clergy, Law was among the highest-profile figures to have been implicated in the scandal for covering up junior priests' abuses. His fall from grace was, to many, symbolic of the wider corruption within the Catholic Church."
Topic to follow:
Catholic Church
10. 
Hall of Fame broadcaster Dick Enberg dies at age 82
– ESPN
Top line:
"Dick Enberg, the Hall of Fame broadcaster whose "Oh my!" calls rang familiar with so many sports fans, has died, his wife and daughter confirmed Thursday night. He was 82. Enberg's daughter Nicole said the family became concerned when he didn't arrive on his flight to Boston on Thursday and that he was found dead at his home in La Jolla, a San Diego neighborhood, with his bags packed for a trip to see his third grandchild for the first time. The family said it was awaiting official word on the cause of death but believed he had a heart attack. The family "is grateful for the kind thoughts and prayers of all of Dick's countless fans and dear friends," according to a statement released by Enberg's attorney, Dennis Coleman. "At this time we are all still processing the significant loss, and we ask for prayers and respectful privacy in the immediate aftermath of such untimely news."'
Magazine to follow: Tributes and Obituaries
Check out
The Daily Edition
throughout the week for your news updates.
~
SonaliK
is reading
Top Cities & Travel Trends for 2018
by
Lonely Planet