Daily Edition Top 10 (Week of December 21, 2015)
Gabriella Schwarz / December 26, 2015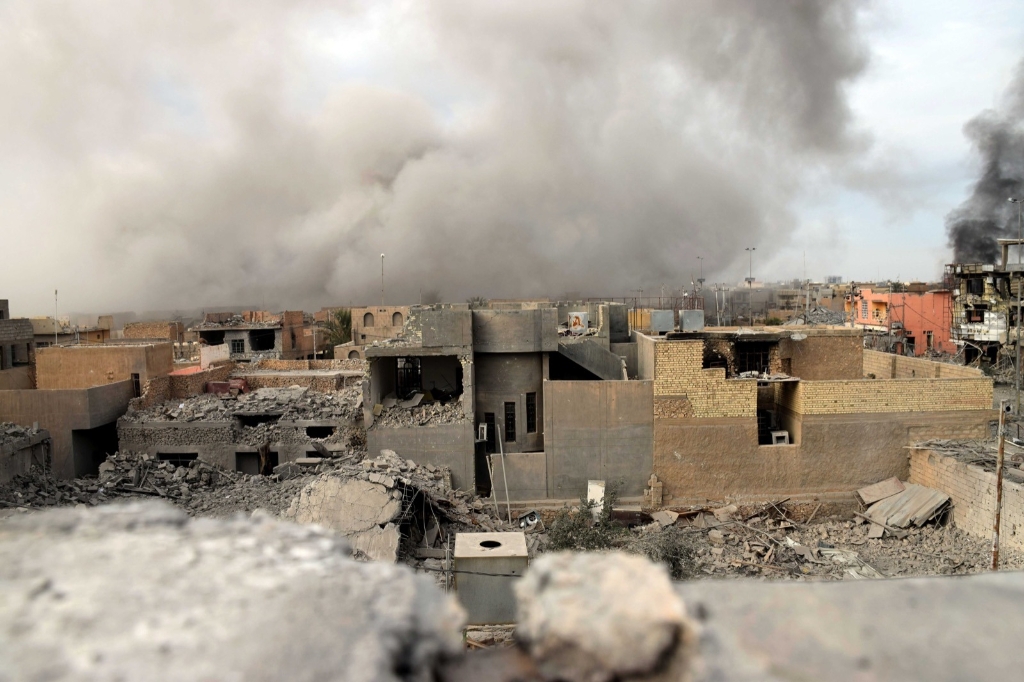 Serious and lighter news dominated the headlines this Christmas week. Iraqi forces closed in on ISIS in Ramadi, Sepp Blatter was banned by FIFA for eight years and a jury issued no indictments in the death of Sandra Bland. But SpaceX made a historic landing, The Beatles' songs were made available for the first time on streaming sites and Pope Francis promoted peace during his Christmas Day message. Read the biggest stories of the week from The Daily Edition.
1. Iraqi forces closing in on ISIS in Ramadi , military official says — CNN, Susanna Capelouto and Hamdi Alkhshali
Top line: "Soldiers are moving slowly through Ramadi's liberated neighborhoods looking for ISIS terrorists amid the IEDs. 'We have to be very patient in order not to lose any soldier or any civilian in the area,' Ibrahim said. With the help of U.S.-led coalition airstrikes, Iraqi forces are continuing a coordinated attack on Ramadi, about 70 miles (113 kilometers) west of Baghdad and the capital of Anbar province."
Topic to follow: Islamic State (ISIS)
2. Sepp Blatter and Michel Platini banned for eight years by Fifa — The Telegraph, Rob Bagchi
Top line: "Sepp Blatter and Michel Platini have both been banned for eight years by Fifa's ethics committee for abusing their positions…He and Platini both claimed the payment was made following a verbal agreement between the pair when the Frenchman worked for Blatter from 1998 to 2002 though not paid until nine years later. The explanation was rejected as 'not convincing' by the ethics committee, though it did add the evidence had not been sufficient to secure charges of corruption."
Topic to follow: FIFA
3. SpaceX Successfully Lands Rocket After Launch of Satellites Into Orbit — The New York Times, Kenneth Chang
Top line: "People living along the central Atlantic coast of Florida have for decades enjoyed the spectacle of rockets headed for space. On Monday night, they were treated to a new sight that may become common: a rocket coming back down to a gentle landing…If rocket stages can be refurbished and relaunched, the cost of traveling to space could be greatly reduced, Mr. Musk has said."
Topic to follow: Space
4. Texas grand jury issues no indictments in jailhouse death of Sandra Bland — The Washington Post, Sarah Kaplan
Top line: "A grand jury will not indict anyone in connection with the death of Sandra Bland, who was found hanged in a Texas jail cell in July. Five months after her death drew national protests, one of the special prosecutors for the case, Darrell Jordan, told The Washington Post that the grand jury decided not to indict anyone, including staff at the Waller County Jail where Bland was held, in connection with her death. The grand jury will reconvene in early January to 'take up remaining issues,' Jordan said."
Topic to follow: Criminal Justice
5. First on CNN: Graham ends his campaign for the White House — CNN, Kate Bolduan
Top line: "Graham's decision — which leaves a field of 12 main GOP candidates (CNN had 13 at its last Republican debate, including Graham) — comes just days after the CNN Republican Presidential Debate in Las Vegas, where he was widely viewed as dominating the undercard debate. However, Graham was never able to break onto the main stage after announcing his candidacy in early June — a reality of the Republican Party's new debate structure that he blames at least in part for his struggles. Graham limped along at less than one percent in national polls, and, in the most recent CNN/ORC national poll, he barely registered. He failed to even qualify for the undercard round in the Fox Business debate in November."
Topic to follow: Lindsey Graham
6. Tornado Hits Birmingham, Alabama, as Severe Southern Weather Continues — NBC News, Ali Gostanian and Cassandra Vinograd
Top line: "Tornadoes and storms which swept through parts of Mississippi, Tennessee, and Arkansas earlier this week left at least 15 people dead."
Topic to follow: Weather
7. Pope Francis backs peace efforts in Christmas Day message — BBC
Top line: "Pope Francis tackled war, terrorism and the migrant crisis in a wide-ranging Christmas message, calling for peace and reconciliation around the world. The pontiff said he prayed for the success of recent UN resolutions for peace in Syria and Libya. The Pope also condemned 'brutal acts of terrorism,' singling out France, Lebanon, Egypt, Tunisia and Mali."
Topic to follow: Pope Francis
8. Clinton: I 'deplore' the tone of Trump's campaign — Politico, Nick Gass
Top line: "When it comes to Donald Trump, nothing surprises Hillary Clinton anymore, the Democratic frontrunner said in addressing the Republican's remark that President Barack Obama 'schlonged' her during the 2008 primary season.
'I really deplore the tone of his campaign, the inflammatory rhetoric that he is using to divide people, and his going after groups of people with hateful, incendiary rhetoric,' Clinton told The Des Moines Register after an Iowa campaign event on Tuesday evening. 'Nothing really surprises me anymore. I don't know that he has any boundaries at all. His bigotry, his bluster, his bullying have become his campaign. And he has to keep sort of upping the stakes and going even further.'"
Topic to follow: 2016 U.S. Presidential Election
9. Here, there and everywhere: Beatles songs to be streamed for first time — The Guardian, Stuart Dredge and Peter Walker
Top line: "From Christmas Eve the full Beatles catalogue will become available on nine separate music streaming sites, including Spotify, Google Play and Amazon Prime. It will even be on Apple Music, eight years after the end of a long and brutal legal battle between the technology company and the Beatles' Apple record label over the use of the Apple logo in the music business."
Topic to follow: The Beatles
10. What movies should you see (or avoid) with your family over Christmas weekend? A complete guide. — The Washington Post, Emily Yahr
Topic to follow: Movies
Read The Daily Edition throughout the week for your news updates.
~GabyS is reading The Guardian's Best of 2015
GET FLIPBOARD ON:
iOS / ANDROID / WINDOWS / WEB
FOLLOW US ON:
FLIPBOARD / TWITTER / INSTAGRAM / FACEBOOK / GOOGLE+ / TUMBLR / YOUTUBE / SOUNDCLOUD / PINTEREST / MEDIUM