Daily Edition Top 10 (Week of December 28, 2015)
Gabriella Schwarz / January 2, 2016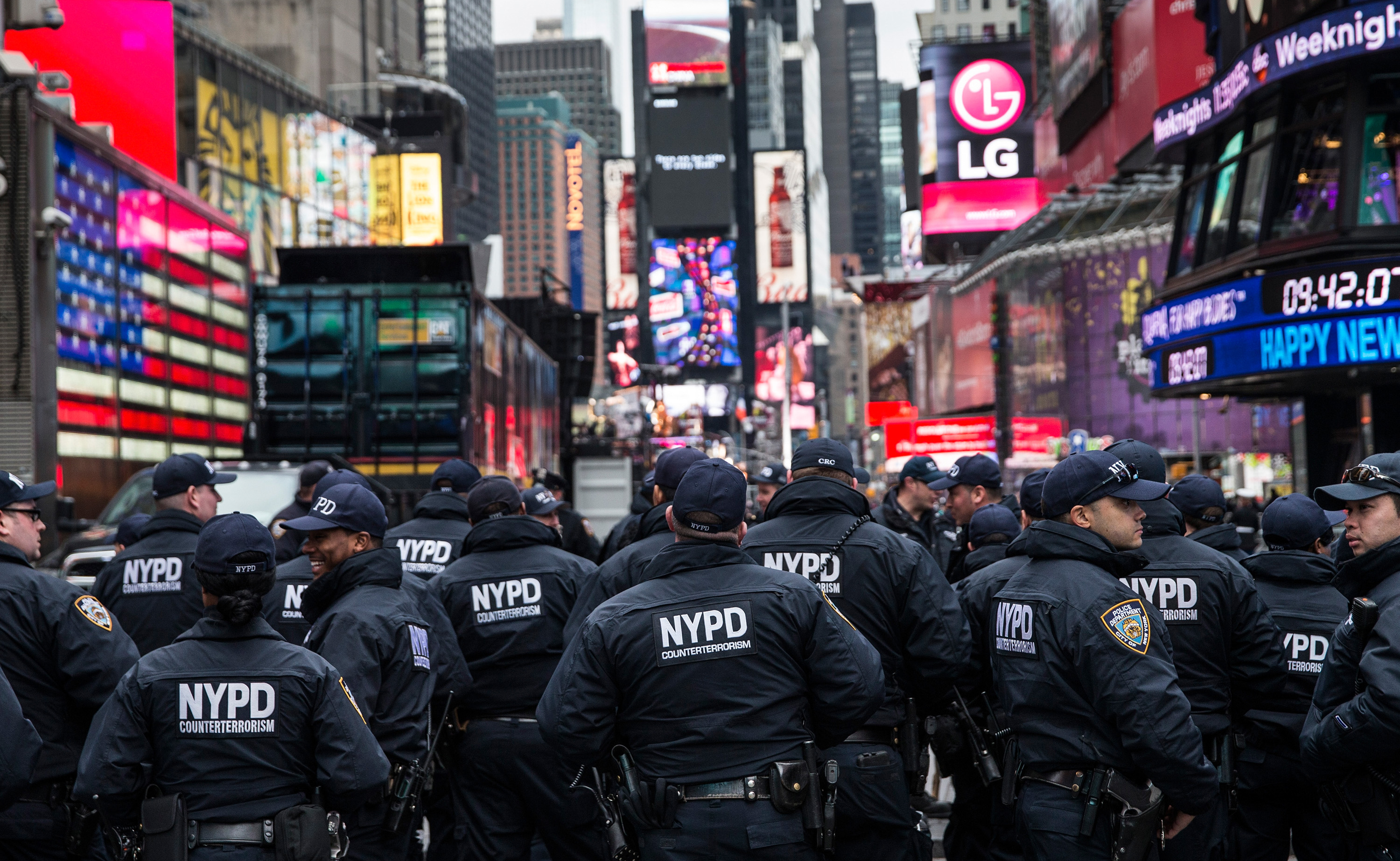 The excitement of ushering in a new year was dampened this weeks by threats of terrorism in many parts of the world, including New York, Belgium, Turkey and Munich. Bill Cosby was charged with sexual assault, extreme weather took lives in the U.S. and Iraqi forces regained control of Ramadi. We also lost giants in music, sports and culture. Read some of the biggest news stories from this week's Daily Edition and pay tribute to the lives lost as we closed out 2015 and began 2016.
1. Belgium Arrests Two Over Suspected Brussels New Year's Plot—NBC News, Cassandra Vinograd
New York Man Planned New Year's Eve Machete Attack for ISIS—Time, Tessa Berenson
Turkey arrests 2 in alleged New Year's Eve attack plot in Ankara—CNN, Jason Hanna
Munich reopens stations after New Year's terror threat—DW
Topic to follow: Terrorism
2. Bill Cosby is charged with sexually assaulting a woman—AP, Maryclaire Dale
Top line: "Bill Cosby was charged Wednesday with sexually assaulting a woman at his home 12 years ago — the first criminal charges brought against the comedian out of the torrent of allegations that destroyed his good-guy image as America's Dad."
Topic to follow: Bill Cosby
3. Extreme weather patterns close out 2015—USA Today, Jessica Durando
Top line: "Historic flooding in St. Louis, Mo., forced authorities to shut down a second major highway, Interstate 55, on Thursday morning. High water rushed southward, threatening more flooding in southern Missouri and Illinois,Tennessee and Mississippi. The flooding has left at least 20 people dead in Missouri and Illinois, mostly involving vehicles that drove onto swamped roadways." (NOTE: The death toll has since increased)
Topic to follow: Weather
4. Iraqi Victory Over ISIS in Ramadi Could Prove Pivotal—The New York Times, Falih Hassan and Sewell Chan
Top line: "Breaking a seven-month occupation by the Islamic State, Iraqi troops on Monday retook most of Ramadi, the most populous city in western Iraq, overrunning a government compound held by the terrorist group at the city center and dealing a setback to its deadly grip on large parts of the country."
Topic to follow: Islamic State (ISIS)
5. Texas 'affluenza' teen is fighting deportation from Mexico; mother arrives in L.A.—Los Angeles Times, Joseph Serna
Top line: "The mother of a Texas teenager known for using his wealthy upbringing, or "affluenza," as a defense in a fatal drunk driving case arrived in custody in Los Angeles on Thursday after authorities say she helped her son flee to Mexico to avoid punishment for possibly violating probation.
Los Angeles County jail records show that Tonya Couch, 38, was booked just after 1:30 a.m. Thursday and was being held without bail."
Topic to follow: Criminal Justice
6. Architect Of Paris Attacks Was Killed In Raid, French Authorities Say—NPR, Eyder Peralta
Top line: "The suspected architect of the Paris attacks was killed during a violent police raid conducted by French authorities in the Paris suburb of Saint-Denis on Wednesday, French authorities say. Abdelhamid Abaaoud was a Belgian national in his late 20s. Authorities believe that Abaaoud was close to Islamic State leader Abu Bakr al Baghdadi."
Topic to follow: Paris
7. Dubai seeks cause of massive hotel fire at New Year—BBC
Top line: The authorities in Dubai are trying to find out what caused a spectacular fire to engulf a 63-storey luxury hotel in the city centre on New Year's Eve. After battling for more than 20 hours, firefighters appear to have extinguished most of the blaze at the Address Downtown Hotel…The tower was evacuated and 16 people were hurt."
Topic to follow: Dubai
8. Emanuel's police plan calls for every street cop to be equipped with Taser by summer—Chicago Tribune, Annie Sweeney
Top line: "Mayor Rahm Emanuel is expected to announce changes in tactics and training for Chicago police on Wednesday, including a goal for every officer on street duty to be equipped with a Taser by summer. A few details of the announcement were released late Tuesday night, and they seemed aimed at addressing several policing concerns that have been put under the microscope in the wake of last month's release of dash-cam video showing a white Chicago police officer shoot and kill African American teen Laquan McDonald in 2014."
Topic to follow: Chicago
9. Tamir Rice shooting: No charges for officers—CNN, Ashley Fantz, Steve Almasy and Catherine E. Shoichet
Top line: "Prosecutors say the police officer who killed 12-year-old Tamir Rice outside a Cleveland recreation center last year won't face criminal charges. Neither will the other officer who was with him."
Topic to follow: Cleveland
10. Natalie Cole, legendary songstress, dead at 65—USA Today, Kristin McGrath
Top line: "Her optimism amid personal struggles and family tragedies was inspirational. Her voice? Unforgettable. Natalie Cole has died at age 65. 'I think that I am a walking testimony that you can have scars,' she told CBS Sunday Morning in 2006. 'You can go through turbulent times and still have victory in your life.'"
Motorhead's Lemmy, heavy metal pioneer, dead at 70: A voice like shrapnel and a bass tone to match—The Washington Post, Justin Wm. Moyer
Top line: "A voice like shrapnel and a bass tone to match. A steady diet of rock-and-roll and rebellion — fueled by, until not so long ago, a bottle of Jack Daniels per day and sexual escapades too numerous to count. Plus: muttonchops. Lemmy Kilmister, singer and bass player of Motorhead, somehow lived to be 70 before he died of cancer Monday. He played hard, he partied hard, and he lived hard — and leaves a venerable oeuvre eclipsed only by his reputation as one of rock's most grizzled survivors. For sheer durability in a field where many a legend is undone by substances or suicide by age 30, only Ozzy Osbourne and Keith Richards come close to Lemmy — and neither is as frequently referred to by only his first name."
Ellsworth Kelly: 'Flexible perfectionist' remembered by Eli Broad and museums around the world—Los Angeles Times, David Ng
Top line: "One of the leading abstract artists of the postwar period, Kelly created works of cleanly juxtaposed colors and shapes, many of which reside in major museums. His prolific career saw forays into paintings, drawing and sculpture. For many, he ranks among the most important American artists of the last 100 years."
Meadowlark Lemon of the Harlem Globetrotters Dies at 83—NBC News
Top line: "Though skilled enough to play professionally, Lemon instead wanted to entertain, his dream of playing for the Globetrotters hatched after watching a newsreel of the all-black team at a cinema house when he was 11. Lemon ended up becoming arguably the team's most popular player, a showman known as much for his confetti-in-the-water-bucket routine and slapstick comedy as his half-court hook shots and no-look, behind-the-back passes."
Check out The Daily Edition throughout the week for your news updates.
~GabyS is reading Tributes & Obituaries
GET FLIPBOARD ON:
iOS / ANDROID / WINDOWS / WEB
FOLLOW US ON:
FLIPBOARD / TWITTER / INSTAGRAM / FACEBOOK / GOOGLE+ / TUMBLR / YOUTUBE / SOUNDCLOUD / PINTEREST / MEDIUM