Daily Edition Top 10 (Week of December 7, 2015)
Gabriella Schwarz / December 12, 2015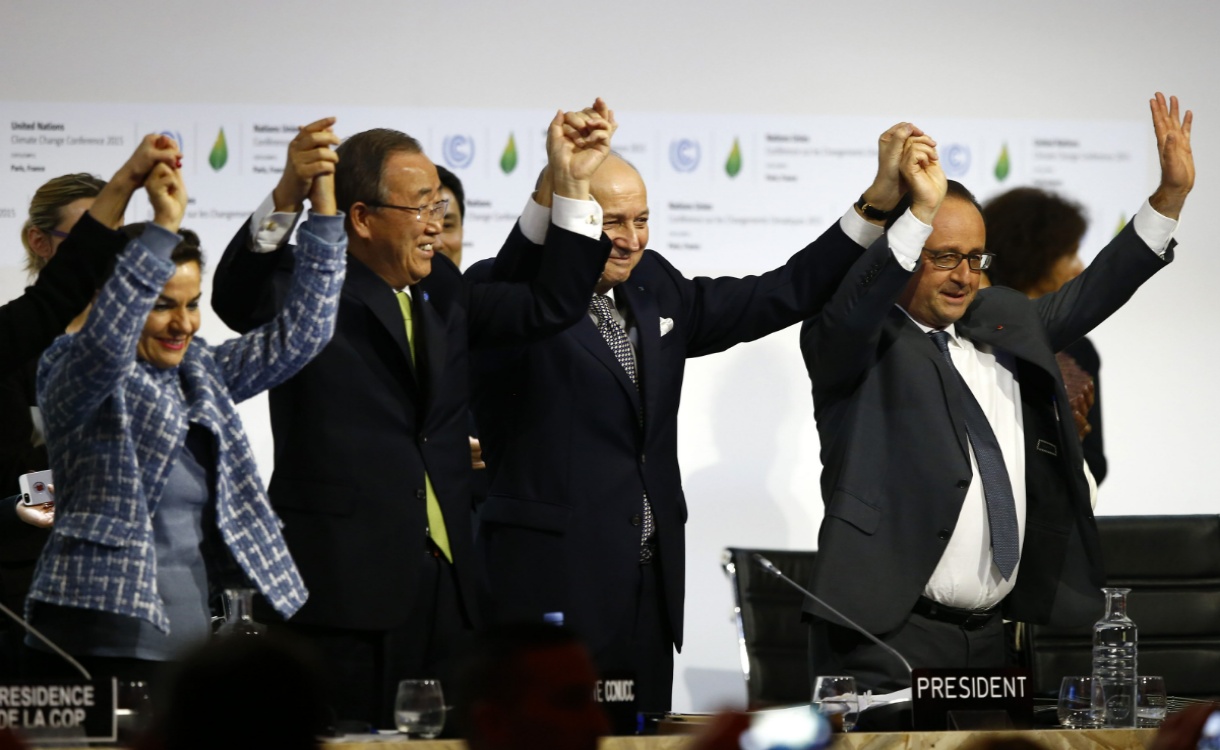 This week started with President Barack Obama vowing to defeat ISIS during an address from the Oval Office and ended with the acceptance of a draft climate deal among 196 parties in Paris. In between, Donald Trump called to block all Muslims from entering the U.S., a third Paris attacker was identified and protesters took to the streets in Chicago. Read the biggest stories from the week that was, as curated in The Daily Edition.
1. Final draft of climate deal formally accepted in Paris – CNN, John D. Sutter and Joshua Berlinger
Top line: "After years of buildup and weeks of negotiations, the final draft of an ambitious, global climate change agreement was formally accepted on Saturday in Paris…The accord sets a goal of halting average warming at no more than 2 degrees Celsius (3.6 degrees Fahrenheit) above pre-industrial temperatures — and of striving for a limit of 1.5 degrees Celsius if possible."
Topic to follow: Climate Change
2. Donald Trump Deflects Withering Fire on Muslim Plan – Th New York Times, Maggie Haberman
Top line: "Repudiated across much of the political spectrum but defended on conservative talk radio, Donald J. Trump on Tuesday stood by his call to block all Muslims from entering the United States. He cast it as a temporary move in response to terrorism and invoked President Franklin D. Roosevelt's authorization of the detention of Japanese, German and Italian immigrants during World War II as precedent."
Topic to follow: Donald Trump
3. Paris attacks: police identify third Bataclan assailant – The Guardian, Kim Willsher
Top line: "A 23-year-old man from Strasbourg, eastern France, has been identified as the third attacker involved in the terrorist assault at the Bataclan music hall in Paris, police sources have said.
Foued Mohamed Aggad went to Syria with his brother and a group of friends at the end of 2013, according to a source close to the investigation. Most of the others were arrested in spring last year after returning to France but Aggad stayed on in Syria, the source said."
Magazine to follow: Attacks in Paris
4. Accused Planned Parenthood gunman says he's guilty – USA Today, Trevor Hughes
Top line: "The man accused of killing three people during an attack on a Planned Parenthood clinic bellowed in court Wednesday that he is a 'warrior for the babies.' Robert Lewis Dear, 57, declared his guilt and said there would be no trial. He was in court to be formally advised of the 179 charges against him, including murder, after a shooting rampage Nov. 27 in Colorado Springs that also wounded nine people."
Topic to follow: Planned Parenthood
5. President Obama: 'We Will Overcome' ISIS Threat – Time, Maya Rhodan
Top line: "The 15-minute speech was more about reassuring the public than announcing any major changes to the ongoing fight against the Islamic State of Iraq and Greater Syria (ISIS) or revealing new details about the ongoing investigation in California. On Sunday night, the Commander in Chief sought to take on the role of the nation's teacher, soberly outlining the threat of terrorism based on high-level intelligence and giving a broad overview of the existing efforts the U.S. is putting forward to defeat and ultimately destroy the terrorist network."
Topic to follow: Barack Obama
6. Protesters Call for Emanuel to Step Down – Chicago Tribune, Dawn Rhodes and Tony Briscoe
Top line: "Long before Mayor Rahm Emanuel tackled police accountability in an unusual speech before the City Council on Wednesday, demonstrators made it clear there was nothing the embattled mayor could say to calm the situation. There was no mea culpa great enough, no promises convincing enough to satisfy hundreds of protesters who converged downtown in a vociferous rebuke of how he has handled issues of police misconduct, brought to the forefront in recent weeks by the controversy over Laquan McDonald's shooting death in 2014. They want Emanuel gone."
Topic to follow: Rahm Emanuel
7. 'Serial' Season 2 Debuts With Bowe Bergdahl Telling 'Desertion' Story – NBC News, Erik Ortiz and Jim Miklaszewski
Top line: "Recounting walking away from his military base in June 2009, Bergdahl says in the premiere episode of 'Serial's' second season, 'I'm going, 'Good grief, I'm in over my head."
'Suddenly, it really starts to sink in that I really did something bad. Or, not bad, but I really did something serious.'"
Topic to follow: Serial (Podcast)
8. Yahoo reverses Alibaba spin-off plan – BBC
Top line: "Yahoo has abandoned a plan to spin off its stake in Chinese e-commerce giant Alibaba…The decision is the opposite of the strategy announced in January to spin off its 15% stake in Alibaba. Yahoo's internet business will now be put into a new company to be listed on the stock market."
Topic to follow: Alibaba Group
9. Eagles of Death Metal take stage with U2 in Paris – CNN, Samantha Barry and Catherine E. Shoichet
Top line: "Eagles of Death Metal took the stage in Paris on Monday for the first time since terrorists killed 90 people at the rock band's last concert in the French capital…On their Facebook page, Eagles of Death Metal thanked U2 for the chance to perform Monday.
'We want to offer our heartfelt thanks and appreciation for everything our brothers in U2 did for us in the aftermath of the November 13 attacks. They reminded us that the bad guys never take a day off, and therefore we rock 'n' rollers cannot either … and we never will,' the band said. 'We are incredibly grateful to U2 for providing us the opportunity to return to Paris so quickly, and to share in the healing power of rock 'n' roll with so many of the beautiful people — nos amis — of this great city.'"
Topic to follow: Eagles of Death Metal
10. 'Transparent' Is Transfixing In Season 2 – NPR, Eric Deggans
Top line: "The show has a lot to prove in its second season, which debuts all 10 episodes Friday (Amazon released the first episode of the new season early last week). Its debut season won two Golden Globes and five Emmy awards, marking Amazon as a contender in the original television series world and earning plaudits for its complex portrayal of a transgender woman. In the second season, viewers see more of Maura's journey, for sure. But what may surprise is that many of the most affecting moments from the new episodes center on the rest of the Pfefferman family.
Topic to follow: Transparent (TV Series)
Check out The Daily Edition throughout the week for your news updates.
~GabyS is reading the immigration topic
GET FLIPBOARD ON:
iOS / ANDROID / WINDOWS / WEB
FOLLOW US ON:
FLIPBOARD / TWITTER / INSTAGRAM / FACEBOOK / GOOGLE+ / TUMBLR / YOUTUBE / SOUNDCLOUD / PINTEREST / MEDIUM