Daily Edition Top 10 (Week of June 13, 2016)
Gabriella Schwarz / June 19, 2016
Forty-nine people were killed and 53 were wounded at a nightclub in Orlando Sunday. The worst mass shooting in United States history reverberated around the world this week as the victims were honored and the investigation continues. Learn more about the attacks and honor those lost this past week.
1. Track the latest on the investigation, the victims and the aftermath in our curated magazine about the attack.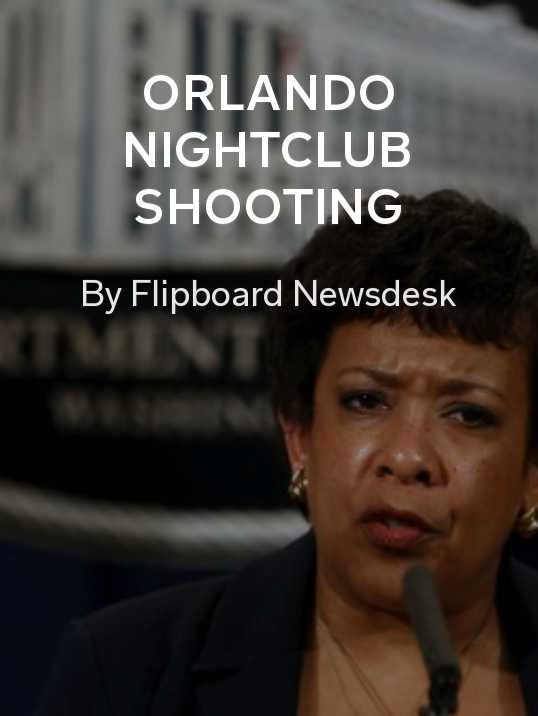 2. Orlando Massacre: These Are the People Who Were Killed at Pulse Nightclub—NBC News, Lisha Fieldstadt, Tim Stelloh and Corky Siemaszko
Top line: Alejandro Barrios Martinez, 21. Jean Carlos Nieves Rodriguez, 27. Paul Terrell Henry, 41. Juan Chavez-Martinez, 25. Deonka Deidra Drayton, 32. Miguel Angel Honorato, 30. Shane Evan Tomlinson, 33. Jerald Arthur Wright, 31. Christopher Joseph Sanfeliz, 24. Jean Carlos Mendez Perez, 35. Joel Rayon Paniagua, 32. Angel L. Candelario-Padro, 28. Leroy Valentin Fernandez, 25. Tevin Eugene Crosby, 25. Martin Benitez Torres, 33. Yilmary Rodriguez Solivan, 24, Jonathan Camuy, 24. Antonio Davon Brown, 29. Franky Jimmy Dejesus Velazquez, 50. Geraldo Ortiz-Jimenez, 25. Akyra Monet Murray, 18.
Topic to follow: Orlando
3. Democrats end filibuster, announce GOP to hold gun votes—Politico, Seung Min Kim and Burgess Everett
Top line: "Sen. Chris Murphy (D-Conn.) and fellow Senate Democrats officially relinquished the floor early Thursday morning after spending nearly 15 hours straight talking about gun control, paving the way for high-profile congressional votes on restricting firearms just days after the worst mass shooting in modern U.S. history…the chamber is likely to vote on two Democratic-backed gun measures: a proposal from Sen. Dianne Feinstein (D-Calif.) meant to bar those on federal terror watch lists from obtaining firearms, and a plan from Murphy and Sens. Cory Booker (D-N.J.) and Chuck Schumer (D-N.Y.) mandating background checks for sales at gun shows and over the internet. Republicans are expected to put forward two of their own proposals for votes."
Topic to follow: U.S. Congress
4. EgyptAir Flight 804: Second black box found—CNN, Michael Pearson and Lorenza Brascia
Top line: "Searchers have recovered the flight data recorder from EgyptAir Flight 804, Egypt's Civil Aviation Accident Investigation Committee said Friday, potentially a key step in helping unravel the mystery of what caused the plane to plunge into the Mediterranean Sea nearly a month ago…Like the cockpit voice recorder, the flight data recorder was damaged, but searchers were able to recover the crucial memory unit from the device, the committee said."
Topic to follow: EgyptAir
5. Labour MP Jo Cox dies after being shot and stabbed—The Guardian, Robert Booth, Vikram Dodd and Nazia Parveen
Top line: "The Labour MP Jo Cox has died after being shot and stabbed multiple times following a constituency meeting. Armed officers responded to the attack near a library in Birstall, West Yorkshire, on Thursday afternoon…
Cox's husband, Brendan, said after her death was announced: '…Jo believed in a better world and she fought for it every day of her life with an energy and a zest for life that would exhaust most people. She would have wanted two things above all else to happen now – one, that our precious children are bathed in love and two, that we all unite to fight against the hatred that killed her. Hate doesn't have a creed, race or religion, it is poisonous. Jo would have no regrets about her life, she lived every day of it to the full.'"
Topic to follow: Jo Cox
6. Disney gator attack: 2-year-old boy found dead—CNN, Eliott C. McLaughlin, Joshua Berlinger, Ashley Fantz and Steve Almasy
Top line: "A 2-year-old boy pulled by an alligator into a lagoon near a Walt Disney World hotel has been found dead, authorities said…The boy's family was at a movie night outdoors at the Grand Floridian resort when around 9 p.m. the boy waded into about a foot of water in a lagoon, authorities have said. Witnesses, including the boy's horrified parents, tried to save him. His father jumped in and tried to pry the gator's mouth open. His mother jumped in, too. But it was too late. The child was dragged underwater in the Seven Seas Lagoon, witnesses told authorities."
Topic to follow: Walt Disney World Resort
7. Microsoft Buys LinkedIn for $26.2 Billion, Reasserting Its Muscle—The New York Times, Nick Wingfield
Top line: "Microsoft has made its most ambitious move in years to reassert itself in a technology market it once dominated. The software giant said Monday morning that it would acquire LinkedIn in a $26.2 billion cash deal. The acquisition, by far the largest in Microsoft's history, unites two companies in different businesses: one a big maker of software tools, the other the largest business-oriented social networking site, with more than 400 million members globally."
Topic to follow: Microsoft
8. Clinton and Obama Hit Trump With One-Two Combo—NBC News, Alex Steitz-Wald
Top line: "Speaking 250 miles apart Tuesday, but as if reading from the same hymnal, President Barack Obama and presumptive Democratic nominee Hillary Clinton delivered simultaneous withering critiques of Donald Trump's response to the Orlando terror attack. The seemingly coordinated salvo from the Democratic Party's two biggest heavyweights is a preview of the months to come, when Clinton will have at her disposal at least two popular presidents, the vice president, her Democratic primary opponent, and a slew of other high-profile Democrats."
Topic to follow: Barack Obama
9. Russia's Track and Field Team Barred From Rio Olympics—The New York Times, Rebecca R. Ruiz
Top line: "Russia's track and field team is barred from competing in the Olympic Games this summer because of a far-reaching doping conspiracy, an extraordinary punishment without precedent in Olympics history…Russia won 18 medals in track and field — including eight golds — at the last Summer Olympics. But when the Rio Games begin on Aug. 5, no track and field athletes will compete under the Russian flag. Not even East Germany, which conducted a notorious doping scheme throughout the 1960s, '70s and '80s, faced such a penalty."
Topic to follow: Olympics
10. Iraqi forces take Falluja government building from Islamic State—Reuters, Thaier al-Sudani
Top line: "Iraqi forces recaptured the municipal building in Falluja from Islamic State militants, the military said on Friday, nearly four weeks after the start of a U.S.-backed offensive to retake the city an hour's drive west of Baghdad. The ultra-hardline militants still control a significant portion of Falluja, where the conflict has forced the evacuation of most residents and many streets and houses remain mined with explosives."
Topic to follow: Fallujah
Check out The Daily Edition throughout the week for your news updates.
~GabyS is reading the Orange is the New Black topic