Democratic Debate Recap: Clinton Commands the Stage
Gabriella Schwarz / December 20, 2015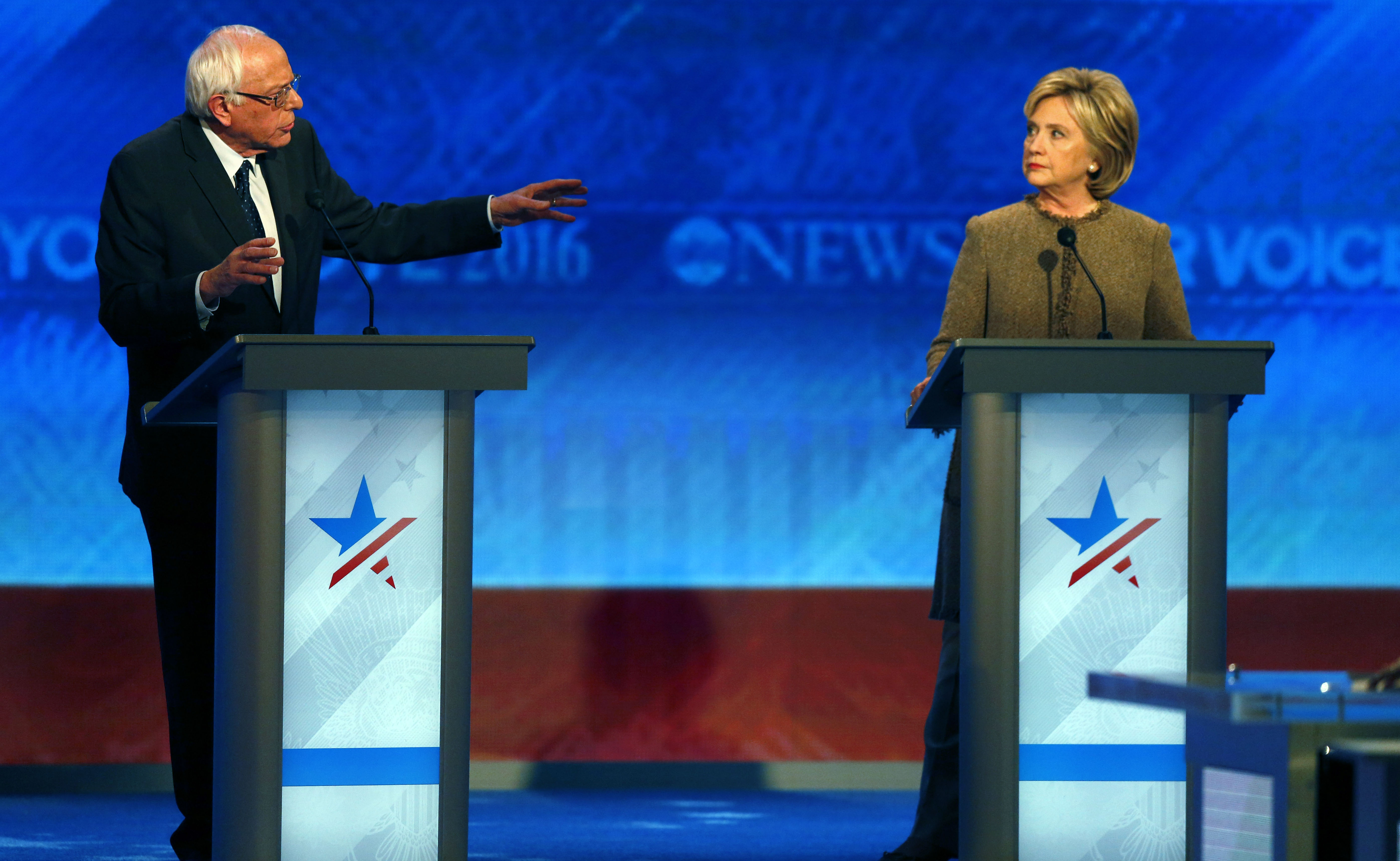 The three Democratic presidential candidates–former Secretary of State Hillary Clinton, Sen. Bernie Sanders and former Gov. Martin O'Malley–sparred on national security, the economy and social issues Saturday during the final debate of 2015. Clinton continued to cement her role as front runner as she fended off attacks from her opponents in the first-in-the-nation primary state of New Hampshire. We spoke to CNN Politics Executive Editor Mark Preston about the night's ups and downs for each candidate and what to expect when the race picks back up after the holidays.
Who was most helped by the debate?
Hillary Clinton, again, showed that she has command of the debate stage. She knows the subject matter, delivers it with a level of confidence and was able to express a side of her that we often don't see: humor. The best example of this is when she failed to return in time–during a commercial break–from visiting the ladies room. When Clinton did come back on stage, she simply said, "Sorry." It made her appear human and many people, particularly women, could sympathize with her situation.
Bernie Sanders was not "most helped" by the debate, but he showed why so many Democrats support him over Clinton and O'Malley. Sanders successfully pounded his progressive message Saturday night, and he was unapologetic about it to the happiness of liberals. The problem for Sanders is that Clinton was strong and steady and when a frontrunner doesn't slip up – she remains the frontrunner.
Who was most hurt by the debate?
Martin O'Malley tried … he tried and … he tried to manufacture that moment that would catapult him from 1% to contender. It didn't work. In this three person debate, he was often overlooked by the moderators and fought to get into the conversation. O'Malley showed that he is willing to throw some punches, but even if he landed a few they did not hurt his competitors.
Did the responses Clinton and Sanders gave about the DNC controversy of the last few days put the issue to bed?
The heated rhetoric between the two campaigns will likely subside now that the principals have addressed the matter. But that does not mean Bernie Sanders campaign is going to stop criticizing the Democratic National Committee for its perceived favoritism of Hillary Clinton. It helps with the campaign's narrative that it is the grassroots vs. the establishment. Otherwise, this is really in insider political story that most people could care less about.
How important are issues of national security vs. the economy in the Democratic electorate (and compared to the Republican electorate)?
National security, terrorism and the safety of the nation is equally important for Democratic and Republican voters. Where the divide is exposed is in how the candidates say they will handle ISIS, the Middle East, and other global hotspots. But there is an expectation from Democratic voters to hear candidates explain how they will address key domestic issues such as spending, and entitlements.
What's the path forward for O'Malley?
You have to give Martin O'Malley credit – he has tried hard to win the Democratic nomination – he practically lives in Iowa, New Hampshire and South Carolina – but his campaign has failed to gain traction. At this point, the only hope he has is if Clinton had to suddenly leave the race, Vice President Joe Biden took a pass at running and the Democratic Establishment was dead set against Bernie Sanders as the party nominee. Then, Martin O'Malley would see a path to the nomination. Unfortunately for him, that is not going to happen. After last night, where O'Malley was highly critical of Hillary Clinton, I would find it difficult to see her putting him in her administration – if she wins. But he is a smart person and will land on his feet.
Clinton is already running against the Republican field. How much of a threat is Sanders?
Hillary Clinton is walking a fine line of trying to make sure she wins the primary, but at the same time not being overtly supportive of liberal views that may alienate her from general election voters. I do think the Clinton campaign is worried about Bernie Sanders, who has proven to be an excellent presidential candidate. His supporters are real and presidential campaigns can be unpredictable – the Clinton campaign is not taking him for granted.
Read more about the debates and polling from this election cycle in CNN's Flipboard Magazine and keep up with the candidates and issues in 2016 Election Central.
~GabyS is reading 2016 Iowa Caucuses
GET FLIPBOARD ON:
iOS / ANDROID / WINDOWS / WEB
FOLLOW US ON:
FLIPBOARD / TWITTER / INSTAGRAM / FACEBOOK / GOOGLE+ / TUMBLR / YOUTUBE / SOUNDCLOUD / PINTEREST / MEDIUM